HTC Tattoo lives up to its name and rebels by getting a tattoo. Mom and Dad at HTC are cool with it - they even set up a whole site dedicated to inking the Tattoo. Modifying the looks of your mobile phone is on the rise recently but most end up a diamond-encrusted golden mess. Not these ones - they range from serious to ironic, and thankfully lack Swarovski crystals.
A "tattoo" is a custom cover adding a design to the front and back of the HTC Tattoo. Don't think it's just tribal tattoos, there are 15 different designs ranging from ones that look like actual tattoos to colorful blobs that probably won't look very good on your shoulder but really bring the plain back cover to life.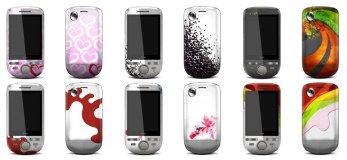 Here are a few of the pre-made designs
If you're not happy with walking into the shop and picking a design from the wall, there's a pretty versatile tool on the site that allows you to make your own. It allows you to pick a general color for the phone, a pattern to spice it up, then you can add text and predefined symbols to it. And if that isn't personalized enough for you, upload your own image, to slap on the HTC Tattoo.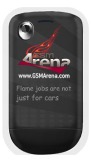 Hm... on second thought, opening tattooarena.com is probably not a good idea
The price for a ready made design is 11.99 euro and custom designs cost 14.99 euro. For each shipment there's 3.90 euro shipping costs. This of course excludes any local taxes, VAT or duties - those depend on your national customs policies, but bear in mind that the tattooed covers are shipped from China and Hong Kong.
Head over to tattoomyhtc.com and make yourself one mean-looking Android device.
A
Just because you wouldn't doesn't mean others with tattooes wouldn't..pure personal opinion not based on the tattoo community..rather a pain to be tagged along with that comment.
C
Stickers or snap on faceplates?
J
The tattooing is only available for the HTC tattoo.
ADVERTISEMENTS