HTC's take on Windows Phone 7
HTC may not have the luxury of modifying WP7's user interface, but they've snuck in their Sense UI niceties nonetheless. That includes the HTC Hub, Stocks and Notes, plus some new additions.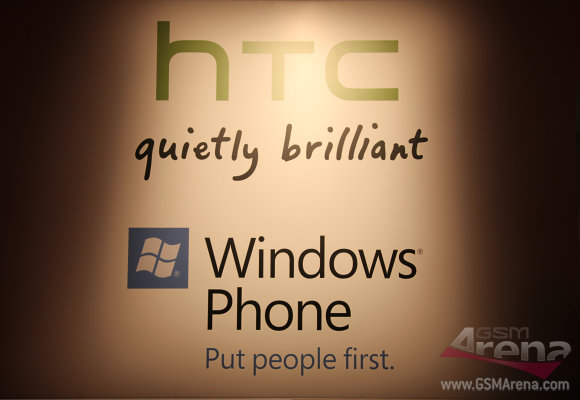 The old apps have been updated since we first saw them - Notes for example syncs with Evernote.
The new apps include HTC Watch, a movie streaming service, is now available in 9 countries, a number that will grow to 11 by the end of October. Also included is Footprints, HTC's handy app for taking photos and notes of the places you visit. HTC have thrown in apps to tackle DLNA duties too.
The biggest change, however, is what they've done with the camera software. They've added touch focus, sweeping panorama, burst mode and a toggle that changes the view to the front camera.





HTC have done a lot of work to make the camera on the Titan and Radar good
These features, the panorama especially will be exclusive to the Radar and Titan and won't be available on other HTC phones even when they get Mango.
HTC also mentioned the general improvements brought by Mango - things like Internet Explorer 9 (which showed Android's browser and Mobile Safari what's what), threaded text messaging and conversation view for email, social integration and others.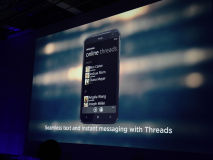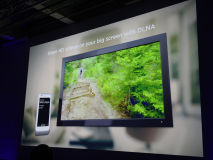 The new HTC phones can do threaded messaging and DLNA
HTC Titan hands-on
The HTC Titan is not a small phone, but with a 4.7" screen we didn't expect it to be. It's not as frighteningly big as you might have imagined either - it measures 131.5 x 70.7 x 9.9 mm.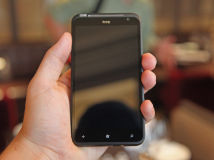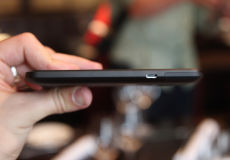 HTC Titan is big but still fits in the hand • It's quite thin too
It weighs 160g, but considering a 4.3" HD7 weighs 2g more, it's not unreasonable. We're not saying it's light - it's not - but not unreasonably heavy for a phone its size.
Anyway, the reason behind the size of the HTC Titan is it's 4.7" S-LCD screen. It has WVGA resolution and not qHD, which has been something of a favorite for HTC lately. We're guessing it's because WP7 isn't very flexible about different resolutions.
The Titan has a unibody design. And when we say "unibody" you should think something like the Sensation (not a true unibody, if you ask us). The back cover hugs the sides of the phone - basically, the screen and phone innards are one piece that pops out. At least the back cover doesn't have plastic elements like the Sensation had.
The camera on the back is an 8MP unit with dual-LED flash. It records 720p video, oddly there's no FullHD recording capability. The camera functionality will be enhanced by HTC's addition to the software. Note that the Panorama feature, while unique among HTC's phones, isn't new to WP7, having debuted on the LG Optimus 7.
The HTC Titan has WP7's CPU to date to back up its titanic ambitions - a 1.5GHz processor (one core only) coupled with 512MB RAM. We didn't have much time to test it properly, but we wonder if that will be enough - Mango brings multitasking to Windows Phone 7, so we thought the RAM amount would be bumped up.
The HTC Titan has an optional dock accessory:.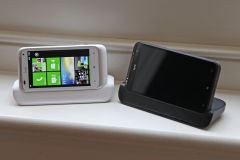 Titan dock accessory next to the Radar's dock
Here go a couple of HTC Titan hands-on videos.