Calling Dexter
The Windows Mobile OS has an unlimited contact list with a plethora of available fields for each entry. Synchronization with MS Outlook is textbook. Unfortunately, there is no letter-by-letter search available in the phonebook so you're left with using the alphabetic filtering or scrolling all the way through the list.
Note: Display screenshots with 3G network indication are taken from the HTC TyTN II review, as its user interface is virtually identical to those in HTC Touch.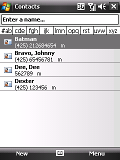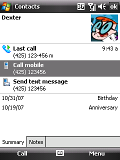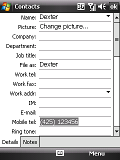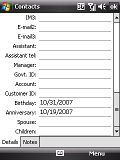 The Contact list has no limitations • in the contact details even the time of the last call made is shown • there are a bunch of fields available to each contact
There is a very practical additional field to each contact - the "Last call". It displays the number and the time the particular contact was last called. A full log is displayed of calls to and from numbers belonging to this contact, as well as call duration and time of call.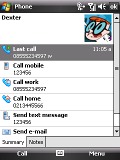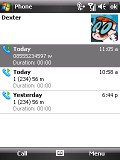 The Last call field and its call log
Sending and receiving messages is done through the centralized Inbox. It has separate folders for SMS, MMS and email. SMS length is virtually unlimited, as well as the memory available for received and sent messages. Inside the multimedia editor you will find the useful option to create multi-page messages containing more than one melody, image or text.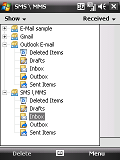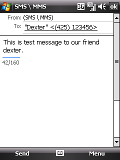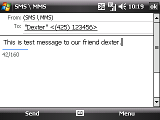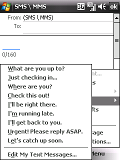 There's one shared Inbox for all messages • typing a test message to our friend Dexter in portrait and landscape view • there is also an editable list of text message templates
The Outlook Mobile email client supports POP3 and IMAP accounts. You can have multiple accounts and you can set the client to automatically check mail at regular time intervals. It has full support for sending and receiving attachments. There is also support for Direct Push. What it means is, instead of checking mail at regular intervals, your messages are delivered to you immediately once they are received by the mail server. The only condition is that your company's Microsoft Exchange server supports Direct Push. Windows Mobile 6.0 offers some upgrades to the email client in comparison to Windows Mobile 5.0 - now you have integrated search, plus support for HTML emails.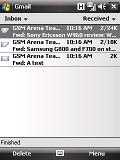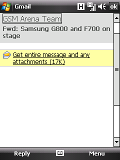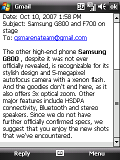 Email folder with some messages • reading an email • viewing attachments
| | |
| --- | --- |
| "... HTC have additionally installed the Audio Manager music player. It does allow you to manage your music files easily - you can sort tracks by artist, album, genre, or composer. You can create unlimited custom playlists and the interface is optimized for finger operation ..." | ADVERTISEMENTS |
There are several text input methods with the HTC Touch, which doesn't have a hardware keyboard whatsoever. The most useful and convenient is the virtual QWERTY keyboard. The keys are small enough to force the user to write with the stylus only, but free third party applications offer really large and convenient keyboards, allowing finger typing. Other stylus-optimized typing methods include support for handwriting recognition. The Block Recognizer allows handwriting with single-stroke gestures, so you have to learn how to write that way (writing is done in a special box). The Letter Recognizer offers a more natural way to write, as you can input normal characters (writing again is done in a special box). With Transcriber you can write wherever you want on the screen in whatever style you may wish.
Here is how these keyboards look, when composing a message. We have also installed a free third-party keyboard optimized for finger typing, which has something in common with the iPhone keyboard.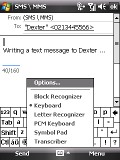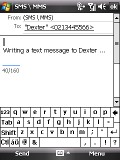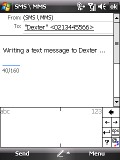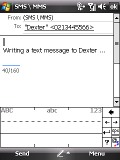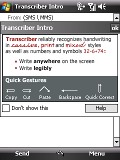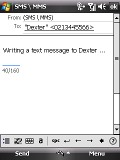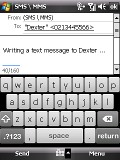 Different keyboard layouts • the iPhone-like keyboard
Managing your files
The built-in file manager of the HTC Touch is the standard Windows Mobile variety. It does a good job finding the files you are looking for. The file manager can create new folders, copy and move files, set tracks as ringtones or simply send files to other devices.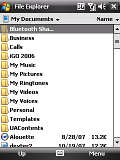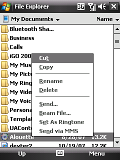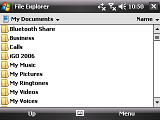 The File Manager offers all the basic functionality • landscape view
The Picture gallery of Windows Mobile is an application called Pictures&Videos and, as the name implies, you use it to browse the multimedia files in question. As far as pictures are concerned, you can zoom in and out, as well as preview them in landscape mode. The files are shown as either thumbnails or as a plain list. There's a shortcut that allows you to turn on the camera directly from this application. You can even do some basic editing on the images.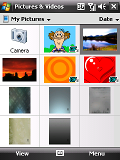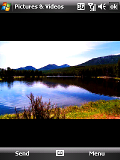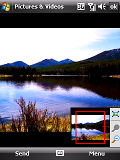 Browsing images as thumbnails • opening an image • zooming in
The primary multimedia player of all Windows Mobile devices is the preinstalled Windows Media Player. Besides music, it allows watching video and streaming TV. You can sort tracks by artist, album or genre and you can create custom playlists.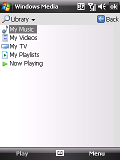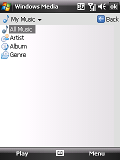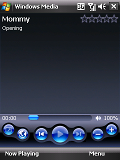 Sorting tracks in the Music Library • playing a track
HTC have additionally installed the Audio Manager music player. It is a strange name for a music player but it does allow you to manage your music files easily - you can sort tracks by artist, album, genre, or composer. You can create unlimited custom playlists and the interface is optimized for finger operation.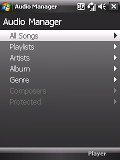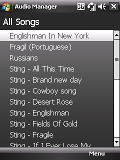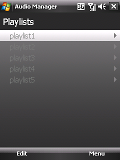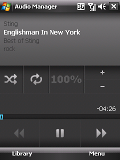 Filtering tracks • browsing playlists • playing a track
The Streaming Media application is another HTC touch to the software package of the phone. It allows you to watch or listen to streaming content. It follows the same stylus-free design of the Audio Manager.
We installed a TCPMP player and the needed codecs to play DivX and XviD video files. Playing movies at near-VGA resolution with the HTC Touch is a hard case. We were forced to convert those to near-QVGA in order to play them properly. This was a result we expected, given the mere 200MHz processor. The slow processor is really the Achilles' heel of the phone. In a contemporary hi-end device like HTC Touch the last thing to expect is an inadequate 200MHz processor, the kind that used to power smartphones back in 2004. A 400MHz processor is the minimum nowadays for a hi-end PocketPC, running on Microsoft Windows Mobile 6.0 Professional. Currently, around 40 phones run on 201 MHz TI OMAP 850, most of them by HTC and operator-branded devices based on the HTC platform. Among them: MiTAC Mio A501, A502 and A702; Asus P526 and P527 and, finally, Hewlett-Packard iPAQ 514. As regards HTC, the devices are: HTC P4350, HTC P3350, HTC P3400, HTC S710 and HTC S630.