The new contact manager is a winner
Contact management is usually considered one of the strongest points of Windows Mobile. You have unlimited contacts list, unlimited info fields for each contact and brilliant synchronization options. Shame it was so damn ugly.
But that's no more. HTC have added a new interface here which uses a small thumb icon for a person's picture, set against a gray background with nice font. You can pick a letter of the alphabet by using the letter column placed on the right.
Searching by gradual typing is also available.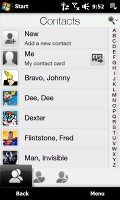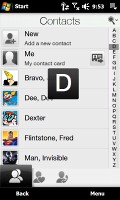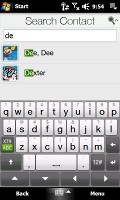 Phonebook with thumb scrolling • searching by typing or via the alphabetical list
Unfortunately editing a contact throws you back into the old WinMo skin. But hey, you still have a plethora of available info fields - and if by any rare chance, those are not enough, you can always rename some of the existing ones and use them instead.
Viewing a contact is a whole new experience. HTC have done a great job again redesigning the whole interface into something quite stylish and visually attractive.
There are some functional changes too. The contact's information is divided into groups - names, communication and information. There are four different icons at the bottom - the current info, all SMS with this contact, all emails and call history.
Excellent call management as usual
Making calls is always a priority for any cell phone - that still holds true for smartphones such as the HTC Touch Diamond2.
The Phone application offers Smart dialing, so you hardly ever need to go to the Contacts list in order to dial a number.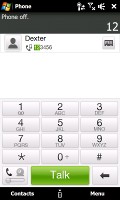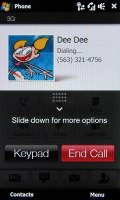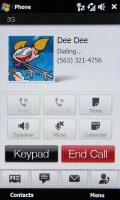 Smart Dialing • Dialing a contact
The built-in accelerometer gives the HTC Touch Diamond2 a familiar cool feature: you can mute the ringer by simply turning the phone face down on the table. If you turn the handset back up, the ringing won't resume by itself.
Don't worry, it's unlikely your calls will get muted accidentally in your pocket - the feature is set up in such a way that it's more likely to not engage at all rather than engage for no particular reason.
One point of note though is that if the Diamond2 is already face down when a call comes in, the feature won't be available.
The HTC Touch Diamond2 boasts two other user-friendly features that make call management even better. First of all, pulling out the active stylus during a call will automatically turn the display on and launch the Notes application. It even puts down the call details (the caller's name and the time of call) on the note for you.
And secondly, the HTC Diamond2 comes with a feature that's available on many feature phones - reject call with SMS. When you reject a call, the handset automatically sends the rejected caller a preset text message.
We've never found that particularly useful since you may have a dozen different reasons for rejecting a call and there's hardly a universal message text that can cater for them all.
Anyway, with the HTC Touch Diamond2, the SMS is not sent automatically. Instead you are prompted to review and possibly edit the template before dispatch.
Here is how the Diamond2 stacks up against some other handsets we've tested. More info on our test can be found here.
| | | | | |
| --- | --- | --- | --- | --- |
| Speakerphone test | Voice, dB | Pink noise/ Music, dB | Ringing phone, dB | Overal score |
| Apple iPhone 3G | 66.1 | 62.1 | 71.1 | Below Average |
| Blackberry Bold 9000 | 70.0 | 66.6 | 68.9 | Average |
| HTC Touch Diamond | 66.7 | 75.9 | 66.0 | Good |
| HTC Touch Diamond2 | 69.1 | 66.6 | 76.7 | Good |
| Samsung M8800 Pixon | 75.7 | 69.6 | 82.1 | Very Good |
| HTC Touch HD | 77.7 | 73.7 | 76.7 | Excellent |
Great messaging
The HTC Touch Diamond2 supports SMS, MMS and email. SMS and MMS share an inbox and a message editor and thanks to TouchFLO, you can enjoy thumb scrolling in the inboxes and through longer messages.
The Message tab offers a great interface for managing messages. With the nice interface and touch-optimization it's highly unlikely you will ever switch back to the standard Windows SMS inbox.
Threaded SMS is also available on the Touch Diamond2, just as it is across Windows 6.1.
The email inbox is also available as a homescreen tab with an eye-catching view. The email editor will hold no surprises for experienced WinMo users as it has not changed at all.
Setting up your email is easy as it is on most of the latest mid or high range phones. You type your email and password and all the other fiddly options are configured automatically.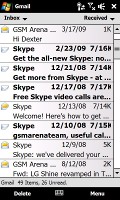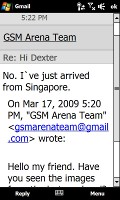 Browsing the email inbox • reading an email
Perhaps now is a good time to mention input options on the Touch Diamond2. HTC have equipped the device with a set of home-grown thumbable virtual keyboards. It's a commendable feature since the default Windows Mobile keyboards are fit for stylus use only.
The first keyboard is a regular 9-key multi-tap keypad, the second one is a brand new full QWERTY and the third one is a regular WinMo not-so handy QWERTY optimized for use with a stylus.
The new QWERTY differs from the previous one in the button architecture and a five-row design that gives you all four navigation arrows in the final row. In landscape mode you get the typical three-row full QWERTY with nav-keys on the right.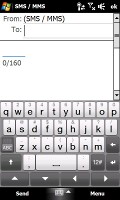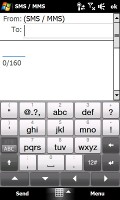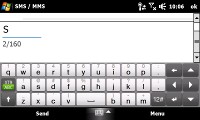 The touch-optimized keyboards on the Diamond
In applications where screen auto-rotation is enabled, you also get larger landscape versions of those keyboards. The HTC Touch Diamond2 can rotate its screen almost anywhere and use the new and improved landscape QWERTY keyboard. It seems that HTC have taken user feedback on board.