Head-to-Head
HTC Touch Diamond vs. Samsung i900 Omnia: Head-to-Head

Touchwiz UI vs. TouchFLO 3D
Both Samsung i900 and HTC Touch Diamond offer touch-optimized Home screens. These are actually plug-ins that run on top of Windows Mobile, so all underneath is still the muddy waters of the not so thumbable Microsoft OS.
It's been a year now since Apple iPhone is out and its ground-breaking user interface took the industry by a storm. Windows Mobile had been around long enough on touchscreen PocketPCs but still failed to pick up the gauntlet thrown by the iPhone. So device manufacturers created their own customized touch interfaces that don't necessarily require a stylus to make the Microsoft OS a bit more competitive and much more intuitive.
It took almost a year to see all manufacturers introduce their solutions. With the HTC Touch Diamond we are looking at the third generation TouchFLO - a really mature and impressive piece of software. The Omnia is Samsung's first attempt in this field, but they're building on their expertise in full touchscreen feature phones and they have achieved some impressive results too.
Samsung i900 offers a choice of two Home screens for users to pick from, as well as a launcher menu that looks and feels like a regular feature phone interface.
HTC have their spanking new TouchFLO 3D, in which the effortless access to the most used features is combined with some eye-catching graphics and animations. A lot has been said about TouchFLO 3D already - some users tend to find it a little sluggish.
By the way, here's an official HTC TouchFLO 3D demo to check out:
We upgraded our Touch Diamond to the latest ROM version available 1.37.707.1. It comes from Singapore and is even newer than the one found on UK-released devices for example. Yet, we couldn't see any substantial speed gain - all there was were some minor bug fixes, which make the TouchFLO 3D a bit more intuitive and predictable.
Anyway, we didn't find the TouchFLO interface slow before the upgrade in the first place, nor do we find it any noticeably faster with the new software. The TouchFLO 3D is pretty responsive once you learn the various ways to control it and it only lags when for some reason you switch to the underlying Windows interface.
The Samsung i900 Omnia CPU is clocked higher than the Diamond's and it indeed pays off. Omnia was faster than the Diamond in most of our software benchmarks. Still the system response when opening various system menus is subjectively the same.
Some of you may claim that it's natural for the Diamond to be a bit slower - after all it has a lot more screen pixels to draw with the higher VGA resolution, but then again it has a dedicated graphics chip using 64MB of the onboard RAM to handle that.
Beside the thumbable interface, another iPhone-inspired feature that has found place on both devices is the massive embedded storage. The iPhone was among the first devices to pack 4GB, 8GB and 16GB of onboard memory in a similar fashion to the popular Apple iPods. Windows Mobile devices are now obviously taking up and the HTC Diamond offers 4GB of embedded memory, while the i900 Omnia has two versions - one with 8GB, and another with 16GB worth of storage.
That said, both the HTC Diamond and the Samsung i900 Omnia are really capable devices that make for a really interesting head-to-head. It's our pleasure to clock the opponents.
No place like Home
Samsung i900 Omnia offers a choice of two alternative Home screens. The first one is the Touchwiz UI. The same interface is used by the Samsung F480, which is not a smartphone, so Samsung have done a rather impressive job at porting it to Windows Mobile. With the Touchwiz UI, you have a blank screen and a bar full of widgets, which are simply begging to be taken out for a spin on your screen.
What that means is the Widget bar hosts a number of small applications, which can be dragged onto the unpopulated screen and moved around to the user liking. If any is to be stashed away, all you need to do is drag it back to the bar.
Some of the applications available as Widgets are a digital clock, an analog clock, a world-time clock, a birthday reminder list, a photo browser, ringing profile selector, a music player, an FM radio, a Notes widget, and a calendar plus several shortcuts to Windows applications such as Notes, Games, etc.
It's an impressive list but they are not that practical and when you get bored you can switch to the more pragmatic tabbed Home screen.
The first tab of this alternative Home screen shows a large clock and the date, plus access to SMS, Email inbox and the Calls log. The second tab allows quick access to favorite contacts and the third tab is a quick fix for frequently used settings such as: changing ringing profiles, screen auto rotation, Bluetooth, Wi-Fi, mouse, LED flashlight and USB mode. You switch between tabs with an intuitive finger sweep.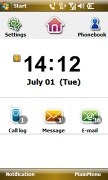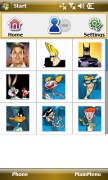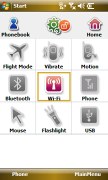 The second Omnia Home screen is more practical
Alongside those two Home screens, there is also the MainMenu, which acts as some sort of an application launcher. The MainMenu is a lot like a regular feature phone menu and gives access to Samsung's very own calls log, installed applications, phonebook, music player, camera, FM radio, media library and image gallery. You also have access to Windows Mobile messaging and settings, as well as a grid of shortcuts to frequently used applications (this one is customizable unlike the MainMenu itself).
Samsung's very own in the paragraph above means that Samsung have added custom applications (such as the Phonebook or Calls Log), that are much more thumbable than their Windows alternatives. In fact, they remind a lot the Apple iPhone interface.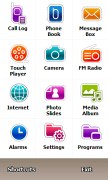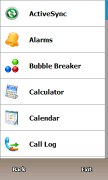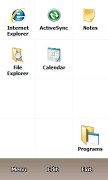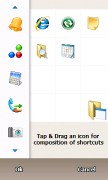 The Omnia Main Menu, the applications list and the customizable shortcuts page • customizing the shortcuts page
The HTC Touch Diamond also offers an impressive Home screen, which goes by the name… you've guessed it… TouchFLO 3D.
The TouchFLO 3D is like the Samsung Home screen on steroids. You have full screen tabs along with some impressive graphics. You can move through the tabs with a single finger sweep, or by scrolling the tab thumbnails at the bottom of the screen until you hit the one you need.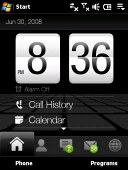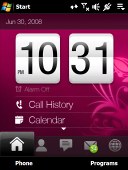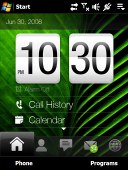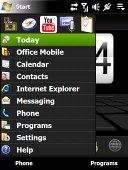 The TouchFLO 3D Home tab with different wallpapers • the Start menu
The TouchFLO 3D tabs include the home screen (with a large clock), favorite contacts, text messages, emails, Internet, photos and video, music, weather, settings and a customizable application launcher. Now, one thing the Samsung Omnia lacks is the Weather tab - you probably can install a separate weather forecast application but it won't look even half as good as the TouchFLO one.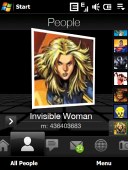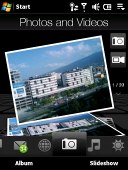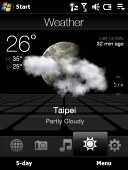 Some of the info tabs on the TouchFLO home screen: people, photos & videos. Music, weather
We find the number of tabs a bit too much - some of them are totally redundant, such as the Internet tab, while others could have been merged in one - such as SMS and email. There are people that don't use email on their mobile, so basically our biggest grudge against the TouchFLO 3D interface is that you can't select which tabs will be shown.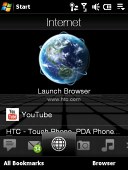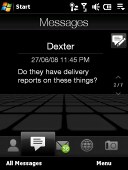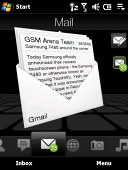 The Internet tab seems redundant, the SMS and Email tabs could have been combined in one