Head-to-Head
HTC Touch Diamond vs. Samsung i900 Omnia: Head-to-Head

Multimedia management and performance
Both the Samsung Omnia and HTC Touch Diamond offer generous storage. The Diamond comes with 4GB of built-in memory, while the Omnia has two versions - one with 8GB and another one with 16GB worth of data storage. Our test Omnia unit had 8GB on-board.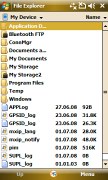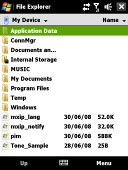 The WinMo file manager on the Omnia and Diamond
The Samsung Omnia even has an additional microSD card slot, which easily worked with 4GB and 8GB memory cards. However, the downside of Omnia's implementation is that the slot is not hot-swappable.
The Diamond on the other hand, doesn't have a slot at all and that may turn out to be an issue for those users who purchased software that ships on a memory card and that can be run only from that memory card - most GPS navigation applications are a good example.
We tested the read/write performance of Samsung i900 and the Touch Diamond in both software benchmark and real life tasks. This round is a draw, since each fared well in some tests and produced less impressive results in others.
We concluded our real-life test on a Windows XP-based PC where both devices were connected in USB Mass Storage mode. The Omnia turned out faster in the Write operation (copying from the PC to the handset), while the Diamond snatched the lead in the Read operation (copying from the handset to the PC). Here are the results:
HTC Touch Diamond copy/paste performance:
PC to handset -> 2 MB/s
Handset to PC -> 5.9 MB/s
Samsung i900 Omnia copy/paste performance:
PC to handset -> 3.9 MB/s
Handset to PC -> 5.2MB/s
Image galleries are excellent
When it comes to image browsing, both manufacturers have introduced touch-optimized solutions of their own. The Samsung Omnia Media Album is really fast displaying and browsing its 5 megapixel images fullscreen. It's actually a full featured file browser that shows only multimedia folder contents. Since it's universal (not only photo-centric), you can filter the shown files by type - image, video, music, and documents.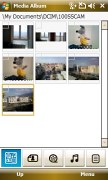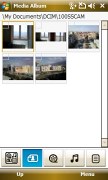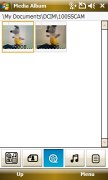 Browsing multimedia and filtering content
Back to image browsing, the Media Album certainly benefits from the auto screen rotation feature. Zooming is as easy as on the Apple iPhone for example. You zoom in and out by simply dragging your thumb up or down the image. The first zoom step is a bit slow, but we are talking 5 megapixel images here. At this point we are really pleased with the Samsung solution.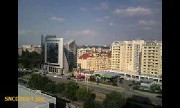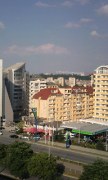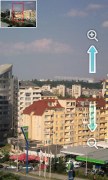 The zooming gesture is remarkably user friendly
Further on, if you want to see a slide show of your images, you can use the dedicated app that Samsung have also preinstalled.
The Touch Diamond offers a nice thumbnail browser straight from the Photos and Videos tab on the Home screen. There's another thumbnail browser in the Album app. Once the image is opened, you can make use of the auto screen rotation feature to view it in landscape mode or you can zoom in with a circular gesture on the display (it's TouchFLO, baby) or on the scroll wheel. Once you zoom in on the image you can start panning by holding your thumb on the image for a second, or you can use the D-pad for that purpose.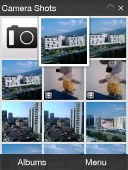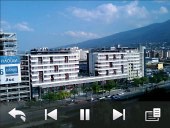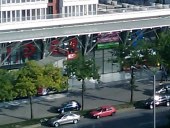 The Diamond image viewer is extra sweet
Scrolling to the next image is a matter of a single finger sweep and it's almost instantaneous. The image viewer actually has the same functionality as in the HTC Touch Cruise.
It's got to be said that the Touch Diamond has a certain advantage when it comes to image browsing since this is one of the applications where VGA does count big time. The images look great on the high resolution screen.
Music is always important
Both Samsung Omnia and the Touch Diamond have good music players, which make heavy use of album art. The HTC music player is accessible straight from the TouchFLO home screen with cool Apple-like cover flow animation for you to pick an album. In case you want to filter tracks by other criteria beside album, the Library shortcut will take you to the player's backend where you can sort music by artist, genre, composer, purchased tracks or simply create custom playlists. The visual interface of the library is fluid and stunningly reminiscent of iPhone's very own music player.

The attractive music player plays directly from the home screen
Equalizer presets are available only when you have the headset plugged in. They are not part of the music player itself but of a separate application called Audio Booster. That setup allows you to make use of the presets when you also watch videos or even when you listen to music with an alternative player.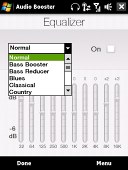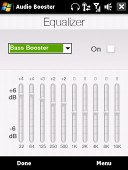 The Audio Booster app is a system wide setting
Unfortunately, there is no 3.5mm audio jack on the headphones, so unless you buy yourselves a third-party adapter, you can't listen to music with another headset.
The Samsung Touch Player caters for the music department on the Omnia. Again, you can sort music by album, artist, and genre or you can create custom playlists. Sorting the tracks by album brings the album cover interface, which offers anything else but smooth scrolling. Despite that annoyance, the album covers look nice and large and can also be displayed full screen while you're listening to music.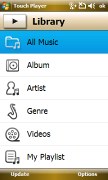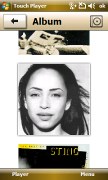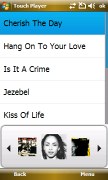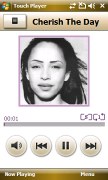 The music library • browsing albums • browsing album tracks
Unfortunately, the Samsung Touch Player lacks any equalizer presets; shuffle and repeat are the only related options.
Audio quality
Windows Mobile devices have never been known for even decent audio output. Their business mindset has so far served as a good excuse for the poor audio. However, as both the Omnia and the Diamond are now considered to be multimedia devices as well, it is about time this changed.
Well, the Touch Diamond and the Omnia are arguably up to the task. They did get some pretty impressive readings (especially the Omina) in some of the test fields. However, the Samsung failed to get decent IMD and THD levels. The HTC outdoes it by a large margin here but is nowhere near in terms of frequency response.
It seems as though HTC have put some sort of high-pass filter in the Touch Diamond, hence the frequency response graph you can see posted below - you can see that everything under 100 Hz seems cut off.
However you can see for yourselves that those devices represent a real progress in comparison to previous Windows mobile devices we have tested. Anyway, they are still behind the best music phone standards.
Update: Now that we got a retail version of the Samsung i900 Omnia in our hands we can confirm that it performs slightly different in terms of audio quality than the beta unit we had at first. The distortion levels are dramatically improved and are now very good but the noise level, the dynamic range and the stereo crosstalk readings are somewhat worse. As a whole however the high distortion is far more likely to damage the sonic experience provided by the phone so we consider this a change for the better.
| | | | | | | |
| --- | --- | --- | --- | --- | --- | --- |
| Test | Frequency response | Noise level | Dynamic range | THD | IMD + Noise | Stereo crosstalk |
| HTC Touch Diamond | +0.42, -2.46 | -84.0 | 87.0 | 0.023 | 0.338 | -85.6 |
| Samsung i900 Omnia | +0.34, -1.14 | -94.1 | 95.0 | 0.348 | 0.683 | -96.5 |
| Samsung i900 Omnia (retail) | +0.37, -1.15 | -79.3 | 79.3 | 0.0039 | 0.027 | -78.7 |
| Asus P750 | +0.55, -3.34 | -86.3 | 86.2 | 0.0081 | 0.926 | -76.2 |
| LG KS20 | +0.80, -3.60 | -85.6 | 88.7 | 0.063 | 1.310 | -86.7 |
| Nokia N81 | +0.39, -1.13 | -86.6 | 95.8 | 0.041 | 0.040 | -69.9 |
| Samsung U600 | +0.41, -1.12 | -89.2 | 86.5 | 0.0040 | 0.019 | -86.9 |
| Apple iPod | +0.41, -1.16 | -91.6 | 91.8 | 0.0043 | 0.015 | -83.6 |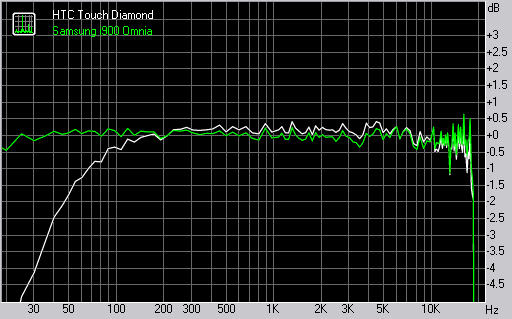 HTC Touch Diamond and Samsung i900 Omnia frequency response graphs
You can learn more about the whole testing process here.