Head-to-Head
HTC Touch Diamond vs. Samsung i900 Omnia: Head-to-Head

Portable video players
Both contenders today have some nice video players. The Samsung Omnia is the first DivX certified Windows Mobile device, so you get DivX playback straight out of the box. To enjoy a versatile video support on the Diamond, you will probably need to purchase a dedicated video player, which has support for more file types than the stock HTC one.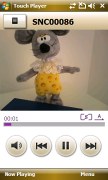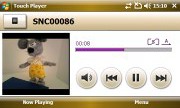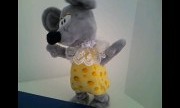 Playing a video on the Omnia's Touch Player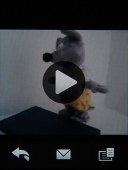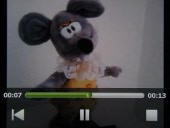 Playing a video on the Diamond's player
We resorted to the well-known Core player, since the free TCPMP player didn't run on either handset, probably due to some incompatibilities with Windows Mobile 6.1.
Both devices were pretty good at near VGA-res XviD video playback – we played a DVD ripped movie encoded with XviD for playback on desktop PC and luckily there were no skipped frames. The Core player, as well as a software benchmark we used additionally, reported that the Touch Diamond has a better video playback performance (about 50% better) – it's probably due to the dedicated graphics chip. We are glad that HTC have finally sorted their low video performance issues that plagued the Touch Cruise and the TyTN II.
The Samsung Omnia has a widescreen display that should generally be better at widescreen videos. But in reality, even widescreen videos looked better on the higher resolution Diamond screen. So here you go, that's another score for the Diamond VGA display. We guess the Diamond is a sealed deal already for movie aficionados.
Connectivity and web browsing
Both the Touch Diamond and the Omnia offer excellent connectivity options - HSDPA 7.2Mpbs, Wi-Fi and stereo Bluetooth 2.0 + EDR are all on board.
The Omnia has quad-band GSM and tri-band HSDPA support straight out of the box. With the Diamond there's only tri-band GSM and dual-band HSDPA support, however there will be two localized version to cover world-wide markets.
Update (July 04): We received word from Samsung that currently the Samsung i900 Omnia only has 2100MHz HSDPA support, which is mainly used in Europe/Asia. But since there are future plans for entering the American market, there will be a second (American-band) version of the handset, which will have 850/1900MHz HSDPA support. How's that as a 4th of July news for our fellow Americans - it seems they will have to wait just a bit longer before getting a truly 3G-enabled Omnia.
USB 2.0 support is also present of course, but the Samsung Omnia loses a point in its implementation due to several reasons:
It uses the Samsung proprietary connectivity port instead of a universal miniUSB port
In USB Mass Storage mode it can either show the contents of the 8/16GB storage or the memory card, not both
It doesn't prompt choosing USB connection mode (ActiveSync or Mass Storage), you have to preset that in advance
In terms of transfer speeds, we already informed you that the Omnia is better in Write operations, while the Diamond scores higher in Read operations.
On the other hand, the Touch Diamond lacks a memory card slot, which proves quite an inconvenience for many users especially those that have or are about to purchase applications that ship on a memory card.
Web browser
Both devices are equipped with the latest version of the Opera browser, which makes the Internet Explorer Mobile redundant. The Opera 9.5 browser is extensively touch-optimized and seems heavily inspired by the iPhone Safari browser.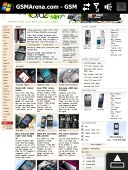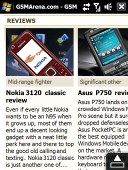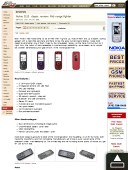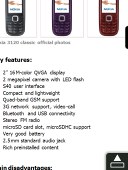 GSMArena.com on HTC Touch Diamond (Opera 9.5)
While it fails to deliver the same level of usability as the Safari browser, it manages to compensate by throwing in a few features that totally lack on the iPhone, such as text copy/paste, Flash support and the download manager.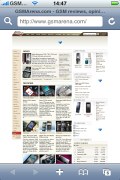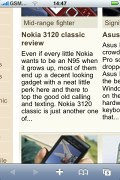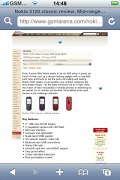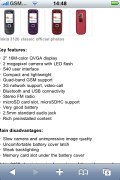 GSMArena.com on Apple iPhone (Safari)
The Diamond VGA resolution display snatches a point again in the web browsing department. When the browser loads the full website preview, the minute text still remains recognizable, while it's totally illegible on the Omnia.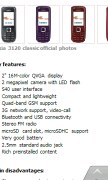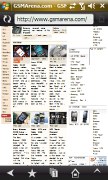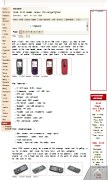 GSMArena.com on Samsung Omnia (Opera 9.5)
Further on, the zoom-to-fit-screen feature produces paragraph text which is much more legible on the Diamond than the Omnia. You really need to get your specs on in some cases as the Omnia font is too tiny. While we are just joking about the goggles, it's still a bit hard to read those letters without zooming in closer, which is one extra click on top of the double-tap-to-fit-on-screen magic that the Opera 9.5 offers. To fix that on the Omnia, you have to set the minimum font size to Medium in the web browser settings.
There are two drawbacks that we've noticed on the Diamond implementation and the reason still remains a mystery to us.
Firstly, at times trying to pan a web page makes the web browser just zoom in or out without any logical reason. That behavior can be a real bugger and we hope they fix it in some of the next software updates, since the Omnia doesn't suffer from it at all.
And secondly, once you've zoomed in on a page, the screen auto rotation feature stops working. You have to zoom out again for it to be available again. Once more, the Omnia doesn't suffer from that flaw. And if that's not really a glitch, but an intended feature, we are yet to hear about the rationale behind it; it's beyond us at this point.