Head-to-Head
HTC Touch Diamond vs. Samsung i900 Omnia: Head-to-Head

Nicely packed with software
The Touch Diamond and the i900 Omnia both come loaded with additional third-party software to meet various Windows Mobile user needs. We are not going to cover all the additional software right now, since both the devices tend to offer similar applications such as Acrobat Reader, Mobile Office, RSS Reader and Streaming Media manager.
It's nice that both the Omnia and the Touch Diamond offer Task Managers. The Samsung Task Manager is readily available throughout the whole user interface upon a press-and-hold of the side mounted Main Menu key.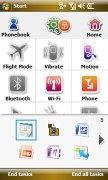 The Omnia task manager is available throughout the whole user interface
The Diamond's Task Manager is available only via the TouchFLO homescreen interface upon a tap in the top right corner. We would have liked it better if this Task Manager was available across the Windows Mobile interface too.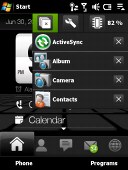 The Diamond task manager is available only on the TouchFLO home screen
Samsung have also added a custom Alarms application, which frankly is a welcome treat given the limited Windows Mobile app.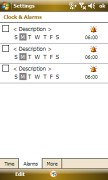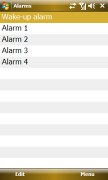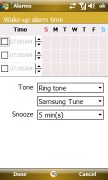 The standard WinMo Alarms app and the custom Samsung one
A touch-optimized unit converter is also on board. Samsung have even thrown in a Video Editor, which not only allows you to edit videos, but you can also create ones out of a set of images - for example your camera photos. The resulting videos are in QVGA resolution in MPEG4 format.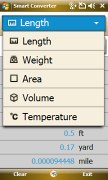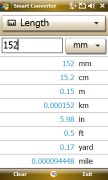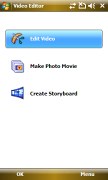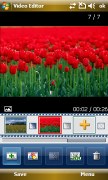 The touch-optimized unit convertor is excellent • the Video Editor might be a fun way to share your vacation photos
HTC Touch Diamond doesn't have a video editing application, but thanks to the preinstalled MP3 Trimmer you can crop MP3 tracks to make your own ringtones. HTC have also put the Remote Desktop Mobile client, which, if you ask us, should come on board Windows Mobile devices by default.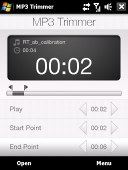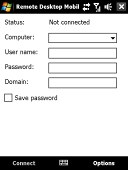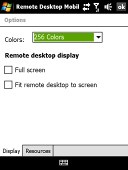 MP3 trimmer for making your own ringtones • the Remote Desktop is a remote computer access application
Next, the Diamond impresses with the amusing Teeter game, which puts the built-in accelerometer to good use. Navigating a ball around a maze of holes became a favorite pastime of our team members. Teeter easily impresses with its polished graphics and the handset even produces well-balanced vibrations each time your ball hits the walls of the maze.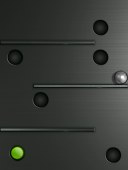 The Teeter game is highly amusing and is really life-like
And finally, kudos to HTC for the excellent YouTube client, which offers a fluid and excellent looking interface - even better than the one on iPhone.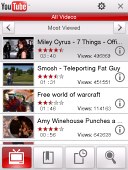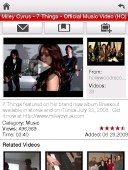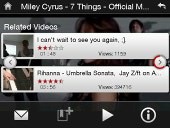 The Diamond YouTube client: Most Viewed Videos tab • video info display • related videos
GPS navigation
Both the HTC Touch Diamond and the Samsung Omnia feature built-in GPS receivers. The Diamond is equipped with the Qualcomm gpsOne chipset, which seems as capable as the famous SiRF Star III, however it doesn't seem as energy-efficient as the latter. We currently don't know the make of the GPS chipset integrated in Samsung i900 Omnia.
Both devices support A-GPS - it means you can download current satellite data over Wi-Fi or cell towers for a much faster satellite lock.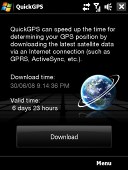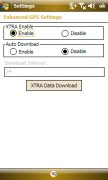 The Diamond A-GPS data download manager • the Omnia A-GPS data download manager
Neither device has a GPS navigation application pre-installed, so you have to purchase one separately. The Samsung Omnia however comes with Google Maps on-board, which is easy and free to install on the Diamond too.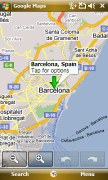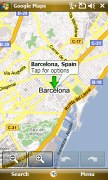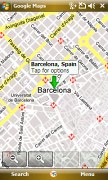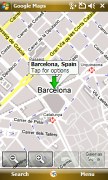 Viewing a map on the Samsung Omnia (Google Maps, Barcelona)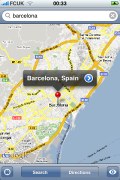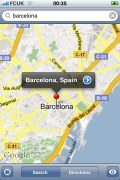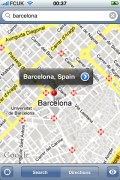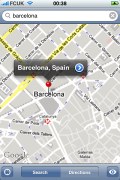 Viewing a map on the first-gen iPhone (Google Maps, Barcelona) - the higher resolution is an advantage
Both Windows Mobile devices performed admirably as in-car navigation units. When it comes to displaying maps on screen, the Touch Diamond pretty much has upper hand thanks to the VGA display. It clearly offers much more detail than the iPhone examples ata relatively the same magnification.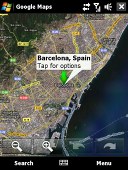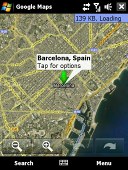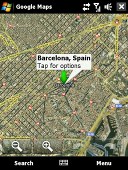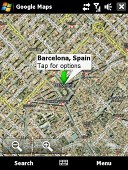 Viewing a map on the Touch Diamond (Google Maps, Barcelona)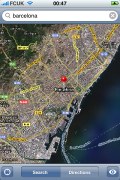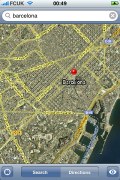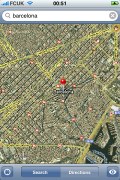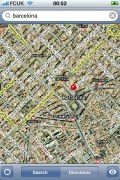 Viewing a map on the first-gen iPhone (Google Maps, Barcelona)
We did a dedicated GPS battery test to see how far you can get with either device in GPS mode. The HTC Touch Diamond scored rather low due to its smaller battery and larger resolution display. The Diamond ran out of juice after 2 hours and 20 minutes of full satellite lock in still position. Under the same conditions we clocked the Samsung Omnia at 4 hours and 20 minutes. You should bear in mind that in a moving vehicle those numbers will be lower.
Just for the sake of comparison, the HTC Touch Cruise and the HTC TyTN II lasted about 3.5 - 4 hours in this same test. The Asus P750 however managed to outshine them all by a good margin - it kept going for 6 hours straight.
Conclusion
Well, it's the final whistle in our head-to-head. Tempted as we are to not leave it a tie and send it to a penalty shootout, we just have to pay due respect to both contenders. After all it's not the score that makes the game exciting. Sometimes a draw can be as interesting to watch, and this one here sure ain't goalless.
Anyway, it's nearly impossible to give a conclusive judgment as to which of these two fine PocketPCs deserves your money better. The Samsung i900 Omnia and the HTC Touch Diamond are both excellent choices with their own set of advantages and shortcomings. The good thing is they hardly overlap, so getting your priorities right is all you need to make the right choice.
You can certainly get the short version of their virtues at the beginning of this review, we won't be repeating all of those here.
The main point to make here is that there isn't a perfect device that's got it all for all consumer groups even in this high-end segment. Instead, when you go after one of these extra sweet devices you should carefully weigh your priorities and pick the one that covers most of them.
iPhone 3G is still to see a reality check, but it's almost sure that these two can give the latest Apple device a good fight. Maybe they still can't challenge the iPhone interface, but they are finally getting closer.
With HTC Touch Diamond and Samsung i900 Omnia, Windows Mobile handsets no longer seem chubby and nerdy. The next generation of PocketPCs match style with the best performance in their class.