HTC Touch HD gets video previewed, available for pre-order at 619 euro

The uber-phone of them all, the HTC Touch HD has been caught in action by a French gadget website and it seems like the reviewer is really impressed even in this pre-release stage. The other HD news today is that the PocketPC is up for pre-order over at Amazon.de, which means we finally have a pricing.
As it seems a good pile of cash, or exactly 619 euro (890 US dollars), can make you one of the first owners of the high-resolution, high-spec'd, high-everything HTC Touch HD. Interestingly enough, that price tag goes good 20 euro below the pre-order price of Sony Ericsson XPERIA X1.
So, now that the price is clear, we are more than eager to see the real-life performance of the Touch HD. Unfortunately, currently our only clue on the matter seems to be a French website, which is apparently down at the moment.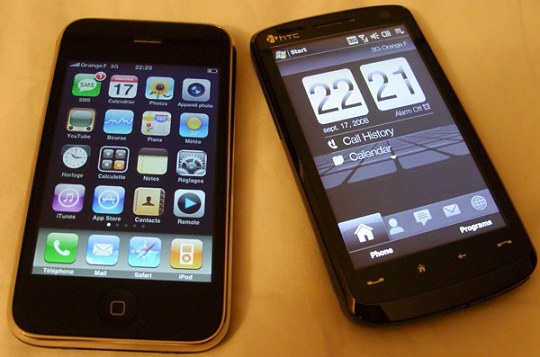 Before it went down however, we managed to grab the reviewer's first impressions and a photo or two. To sum it up, the high-res display looks marvelous (especially the TouchFLO 3D), the UI response is snappy, camera makes nice pictures, the accelerometer is sensitive and can be fine tuned, and finally, the Touch HD is no bigger than the iPhone 3G.
Although the website is down, the guys there managed to upload a video preview (in French). You can check it out here, or hit this high-quality link over at YouTube.
In case you've forgotten what the HTC Touch HD is all about, head off to the lengthy specs page.
T
1)will the screen (64 K) be poor compared to iPhone or Nokia? 2)does anybbody have (good) experience with handwriting recognition on HTC 2.8" models? can you write e-mails or calendar apointments with it, or only notes? 3)anything wise to say on ...
D
You can compare phone photos here: www flickr com/cameras/brands/ (i removed the dots from the link, not sure if I can post links here). Select the Apple and the N82 and check which of them has better landscapes, night shots, portraits, macro, etc. P...
?
I think you have a different issue. You have an issue of human's uncontented nature. What next? Complain that it does not have AM radio? LOL. I've had the iphone 3g for two months now, and I never experienced it freeze when you press the home ke...
ADVERTISEMENTS