A better TouchFLO (continued)
The next tab is the new completely updated calendar. It's nicely touch-optimized and packed with new functionality. You can change the month by sweeping your finger up or down, while selecting a particular day will open the appointment view.
If your choice is a day from the next five upcoming days then you'll also get the weather forecast for it (of course that's available only if you set and updated the weather in the Weather tab).
The Stock tab is a well known tab from the HTC Touch HD and Touch Diamond2. It allows you to add stocks and track their changes.
The Photos and Video tab is the same as before. It gives you access to your images and video files, which you can scroll with finger sweeps. Two additional shortcuts allow you to start the camera or camcorder directly from here.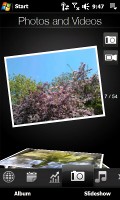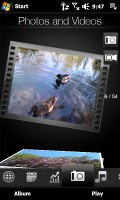 The Photos and Video tab: an image and a video on display
The Music tab has no changes too. It displays albums with their covers and you can flip through them much like you would on the iPhone with its famous Cover Flow.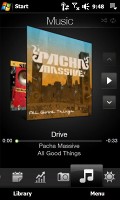 The Music tab with sweet album art
The Weather tab continue to amaze with its beautiful graphics. You can check the weather in up to 7 locations and you can flip through them with a finger sweep. You can also get a 5-day forecast for these locations via the first context key.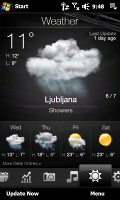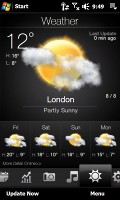 The Weather tab still impress with graphics
The next tab is Settings and it lets you control various system options and replaces the old and confusing Windows Mobile Settings page. New additions from Diamond2 are also here – customizing tabs, contact card, mail setup and finally, accelerometer options and calibration.
The two context buttons give you further settings - that is to say those innumerable confusing WinMo options - and the Advanced page lets you select wireless or Bluetooth devices.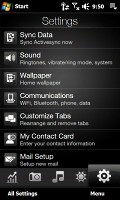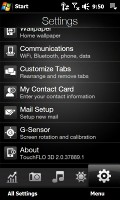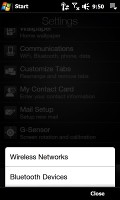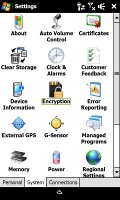 The System tab • the standard WinMo options
First of all, the Settings tab allows you to set the ringing profile, volume level and ringtone all from one central place, which is really handy. Even pressing the volume rocker brings up a fancy custom-made fullscreen slider instead of the usual WinMo mini-sliders.
With the customizing tab option you can re-order and, if necessary, hide some of the Home screen tabs.
You also have access to the HTC custom Communications manager, which handles all on-board transceivers.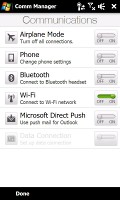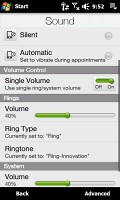 The Comm manager • the user-friendly sound settings
HTC have replaced the System status screen too. When you touch the icons on the top of the Home screen, you'll bring up the notifications area where you can check missed events, operator messages, etc. This idea is most probably borrowed from the Android notifications, which do the same.
Unfortunately, the Communications manager for quick toggling of connectivity options is no longer accessible by touching those icons.