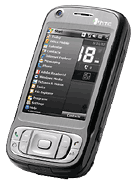 G
Eten glofiish X800 has the same or superior specs (except for the camera and the keyboard)

The Iphone looks better (but the specs are inferior to P4550 & X800)
m
the Y and the Z are probably switch because it's an German version of the phone
a
haven't htc found out that the 65k displays are out of date even my 3years old p910i has 256k colors display
A
no doubt HTC P4550 has very good features, design etc. performance can be known only after using it. It is the only gadget that has also covered 4G Technology. I would appreciate if you have used Intel Processor and enabling HSCSD, because as I am a techie I would like to own a gadget that contains everything in one device. I request you to consider my opinion and upgrade it to that extent..
y
3 MP, 2048x1536 pixels,video; secondary VGA videocall camera

aoto focus really nice.
H
Does anyone know if T-Mobile enable their Video Call feature? How do they charge? Is it per use like ATT?
N
Specs are nice...GPS, 3mp Camera....3G, video calls....just perfect...
By the way, guys who are comparing it with Eten WM6 new phone....that does not have 3mp Camera.
J
It's either this phone, or the hopefully soon to come Eten M900. It has a better screen and has a radio. But the Kaiser has many other better specs (you can read them yourself). If anyone knows anything about the Eten M900, let me know.
G
Hey is this the one where the screen can be tilted up? If so, this is a cool and powerful device!
Total of 2453 user reviews and opinions for HTC TyTN II.