Hardware
Visually the HTC U11 Life is a smaller copy of the flagship U11 - a classic smartphone look made more attractive by the Liquid glass back. Some might not like the bezels, but others won't mind. The comparison to the Google Pixel 2 is apt as it was built by the same company and has bezels of similar proportions.
The screen - a 5.2" SuperLCD panel with 1080p resolution (424ppi) - appears to match the larger LCD panel of the U11 in terms of image quality. The colors are pleasing if a bit oversaturated.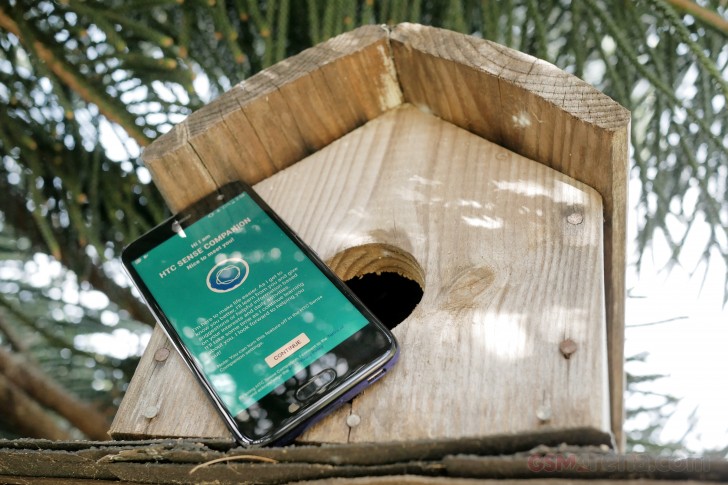 The U11 Life is more compact though not massively smaller than the flagship U11. The 0.3" difference in screen size is enough to make it fit more comfortably in small hands. The back of the phone feels flatter, but barely so (this helps mask the fact that the Life is 0.2mm thicker).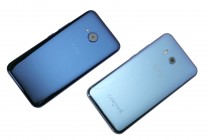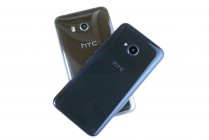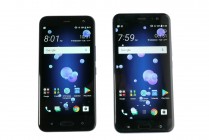 HTC U11 Life and U11 side by side
And the U11 Life is nearly half the price of the Pixel 2 and the flagship U11 (both currently sitting at $650). Some cost-cutting measures were employed, however, so it's not a direct replacement.
For one, the back is no longer glass, liquid or otherwise. Instead HTC used acrylic with paint on the inside. We have to say that it looked identical to us and we may not have noticed the change in material.
Still, acrylic is softer than glass meaning that it's more prone to scratching. At least the paint will never wear out, it's on the inside.
By the way, HTC says that the Sapphire Blue was the most successful U11 color worldwide. The Life will also come in Brilliant Black and Ice White.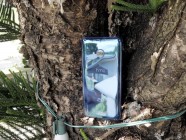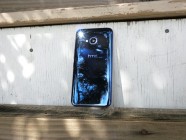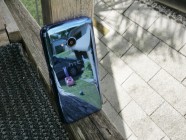 The back reflects its environment and always seems to change color
The frame of the phone has been changed as well, it's now made of polycarbonate instead of aluminum. The upside of this is that there are no more antenna lines. Polycarbonate is less rigid than aluminum, but does not bend permanently.
A third material change sees Gorilla Glass 3 take the place of GG5 used in the flagship device. We have not noticed any meaningful improvement in scratch resistance between Gorilla Glass versions lately so that will probably have minimal impact to durability.
Despite all these material swaps, the HTC U11 Life retains the IP67 dust and water resistance rating - it can go under up to 1m of water for up to 30 minutes.
We mentioned that not everyone is opposed to a bit of bezel and that is especially true if you're getting stereo speakers in return. Except you are not with the Life - there's only a single speaker on the bottom. There's also no BoomSound here.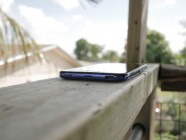 Single loudspeaker in the center, USB-C port off center
Speaking of, the USB-C port is on the bottom and we have to say that it bugs us slightly that it is off-center. Another issue we have is the lack of fast charging - the best you're getting is 10W, which is pretty standard. The other U11 comes with a 15W QuickCharge 3.0 charger for example.
The U11 Life has a 2,600mAh battery, about as big as on the HTC U Play. 3,000mAh batteries are fairly common in this size class, but we'll not be deducting any points until we run our complete battery test.
Connectivity
The HTC U11 Life will be available only in GSM flavor. The company says that very few Verizon and Sprint users go for unlocked phones, so it wasn't worth it to make a CDMA model.
This is mostly a US issue. There, the phone will work on both AT&T and T-Mobile with the latter having "aggressive pricing" through its website. Anyway, VoLTE and Wi-Fi calling are supported as is HD Voice.
Let's go back to the USB-C port for a moment. It's wired only for USB 2.0 speeds, which is likely not much of an issue for most. It is also the only wired port so this is where you plug in the USonic headphones.
The headphones are included in the retail box (a new pair sells for $40 on HTC.com) and feature built-in noise cancellation. It is very rare to see noise-canceling headphones bundled with a phone, these days you may get no headphones at all (we're looking at you, Google). This phone is certified for Hi-Res audio to boot.
For local connectivity, the HTC U11 Life one-ups its larger sibling with Bluetooth 5.0 (the U11 will get it once its Oreo update arrives). As we see it, the major benefit of version 5.0 is the increased range (4x) and new channel selection algorithms that reduce interference by LTE and Wi-Fi transmissions. Basically, you'll get a much better reception on your BT5.0 compatible headphones.
The phone also offers HTC Connect, which can connect to Apple AirPlay compatible devices, another way to stream media wirelessly.