Antutu's top ten best-performing smartphones of May take the average benchmark scores of all the tests run on Antutu's benchmarking app during the entire month of May. This is the first month since the iPhone 7 Plus' release that Apple's fastest iOS device is no longer the fastest smartphone in the world.
The HTC U11 has surpassed the iPhone 7 Plus in Antutu's overall performance benchmark. With an average score of 180,079, the U11 is well above the iPhone 7 Plus' average score of 174,299. Trailing behind are the Xiaomi Mi 6 in third at 172.4k points, the Galaxy S8 and S8+ in fourth and fifth at around 172.3k points.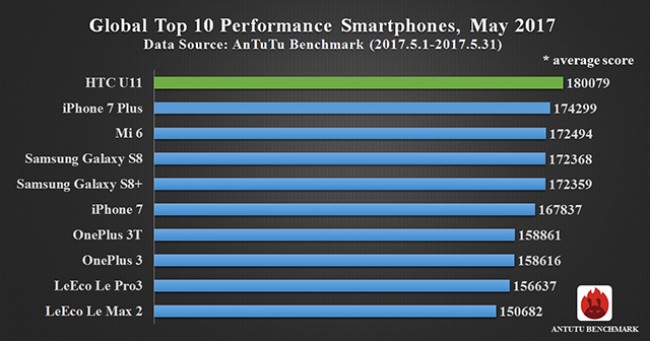 From last month, the iPhone 7's spot was over taken by the Xiaomi Mi 6 and the Galaxy S8/S8+. In fact, the iPhone 7's average score dropped, which is a common occurrence as smartphones age and software is updated. In the iPhone 7's situation, Antutu speculates that the reduction in UX and single-core scores for the iPhone 7 could be attributed to the iOS 10.3 update.
We're seeing a much smaller performance gap between Android and Apple's smartphones than we've seen in the past few years. We'll only be seeing even more powerful and efficient chips on smartphones in the coming years. Some may ask: Do they need to be this fast and powerful? Well, that's a different conversation for another day.
Check out the source link for Antutu's top 10 ranking for iOS and Android devices.
Source | Via
F
It's off subject but just want to say HTC our business is still enjoying the HTC A9 immensely. One of the very best look and feel handsets. You should do another with 3000 battery. Logo on the back to increase screen and leave finger print sensor on ...
D
They got into benchmark throttling issue. So one plus five is out of the list regardless of month.
?
OP5 with its benchmark cheating, the numbers would be worthless.
ADVERTISEMENTS