Edge Sense
New to the U12+ is an updated version of the U11's squeeze feature: Edge Sense 2.0. This new version brings a couple of notable features: a third "edge" gesture is possible thanks to some new sensors in the frame that can detect the position of your fingers. Double tap either side and the default action is to shift the display into one-handed mode. Of course, you can customize this action to do whatever you'd like.
The other new feature is called "Holding Gesture" and uses those hand-detection sensors to detect when you're holding the phone in your hand. If you're using a single hand, it will override the rotate feature so you can keep reading whilst lying on a couch or bed. The other feature is similar to Samsung's Smart Stay: as long as you're holding the phone in your hand, the display won't turn off - pretty neat.
You can also set an "In-app squeeze". A short-squeeze in the camera app will hit the shutter button or begin recording while a long-squeeze will flip to the front camera view.
There's a Beta feature that lets you set an in-app squeeze action within any app, but it's basically a shortcut to a single or double tap within the app so if you set a short squeeze to open the Facebook Stories camera, it won't work once you start scrolling through your feed.
Software buttons
HTC has done something totally different with the buttons on the HTC U12+. They have been completely digitized, as in - they no longer press and click like traditional buttons. Pressure sensors that are needed for Edge Sense now have a second purpose: the "buttons" on the right side of the phone are actually nubs, and when pressure is directed into one of them, you get the haptic vibration of the input that was registered.
There are a couple of reasons that HTC did this: waterproofing is easier and not actually having button cutouts in the frame makes the phone structurally superior. We'd also imagine that Edge Sense 2.0 uses beefier pressure sensors, so putting actual buttons into the frame might require more space. In its current state, however, we have to report that the benefits don't outweigh the tradeoffs.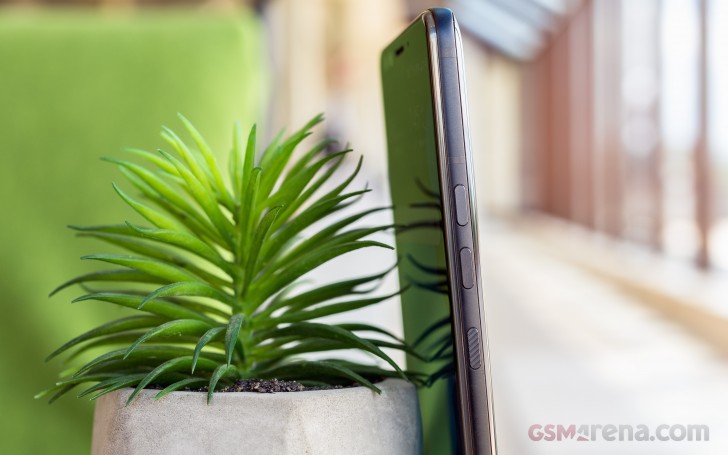 The tradeoff is currently that customers will need undergo a short learning curve to become acquainted with these buttons. You don't need to press these all that hard, apply medium pressure in a smooth and consistent action and the feedback will come. There's not really a delay, it is more of a wink in time.
Pressing the power key is no problem, but what may frustrate users is cases where you need to press the button consecutively such as when raising or lowering the volume. Of course, you can press-hold the key but rapid-firing the volume buttons won't work as they do with literally any other phone.
One potential issue that we ran into was the Edge Sense trigger getting in the way of trying to press a digi-key. Our sensitivity was pretty moderate for Edge Sense, so it didn't actually trigger an action, but had the sensitivity been much lower, it would definitely get in the way of trying to change the volume.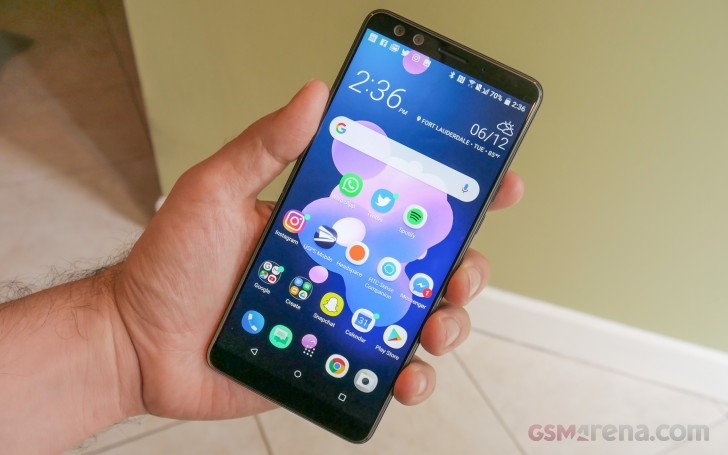 Also, during our balloon test while setting up Edge Sense, we found the + volume key inadvertently registering even though hand was down in the squeezable area.
There was not really anything wrong with the current physical keys that are on billions of phones around the globe. Folks are switching phones more often nowadays and a smartphone may become obsolete after it stops receiving updates in three years anyway, so this isn't a consumer pain-point as big as, say, the headphone jack being gone.
We think this wasn't an issue that HTC needed to solve. Ironically, now HTC created a problem that it needs to solve: the company will release an update sometime during the summer that will let the user adjust the sensitivity of these digital keys.