Sense UI with Android 8.0
HTC's Sense UI has gotten leaner over the years but is still different enough to offer a unique experience versus vanilla Android. In HTC Sense, you won't find redundant apps - the default browser is Chrome, Google Photos is the gallery, and there is no unnecessary assistant.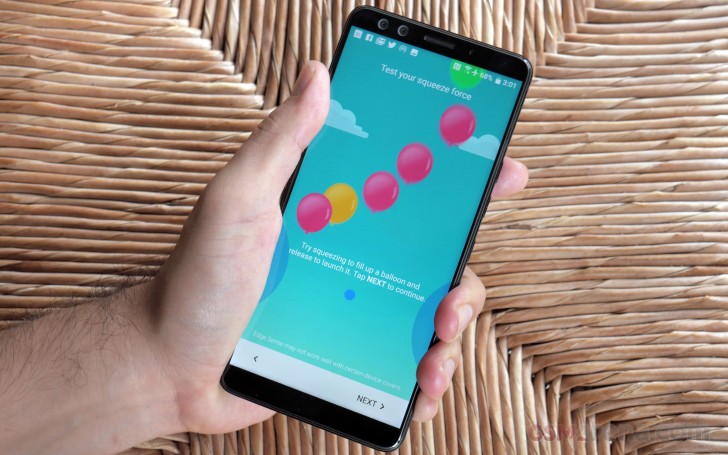 There is HTC's Companion App, but it's hardly a rip-off of Google Assistant. It's a contextual application that monitors your activity and nudges suggestions and tips that might help you along your day.
For example, it may remind you to charge your phone if you don't have enough juice to make it to your dinner meeting (provided it is in your calendar). This has been around since the HTC U Ultra and hasn't changed too much since its debut.
There is a new feature called Smart Display. It shows you a dashboard of information including the time, battery life, and notification icons. By default, this screen is shown to you when picking the phone up. Otherwise, you can have Smart Display be permanently on, or during a set schedule.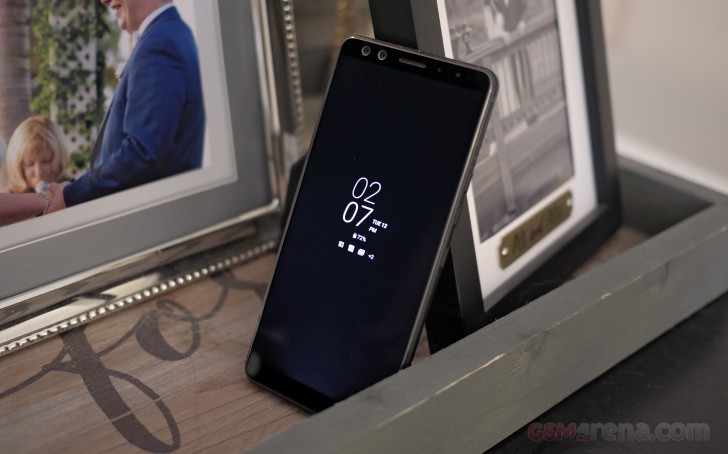 We found that the Smart Display didn't work very well in direct sunlight since it isn't such a bright display. If you happen to be grabbing lunch outside in broad daylight, you will likely have trouble seeing the Smart Display cluster.
The lockscreen offers handy shortcuts for quickly accessing whatever app you need. We do miss this feature from stock Android, whose lockscreen shortcuts are only the Camera or Google Assistant.
There's a nice small weather and clock widget at the top with a small icon reflecting current weather conditions, the current temperature, and of course the time.
There's actually an app drawer here and there are two ways to access it. You can either tap the app grid just above the home button, or you can swipe up like you would on the Google Pixel or Samsung's launcher.
HTC offers themes that also work with the default TouchPal keyboard. You can find pre-made ones or customize your own.
The app drawer is well organized and reminds us of how Samsung has begun organizing its app drawer by categorizing apps into groups, therefore tidying up the app drawer. You can sort the apps by the most recently installed, alphabetically, or you can rearrange them however you like.
Blink Feed is still here and it's just a swipe to the left of your home screen. We're not fans of unifying all feeds to a single one, but apparently some HTC users still are. There's support for many social networks, YouTube, news, and whatever else you like to consume.
The U12+ offers face unlock for quick access to your phone. As with any other conventional face unlock feature on Android, it is less secure than using a PIN, pattern, or fingerprint. Despite having two front facing cameras, the right-most camera is the only one at work.
The customizable navigation bar is a feature that came with the U11+. Since the latter and the U12+ now have on-screen navigation keys, there's a whole second navigation bar with various useful shortcuts like screen recording, toggling the navigation bar, accessing quick settings, and taking a screenshot. All you need to do is swipe to the left to access this second panel.
This will likely be your go-to screenshot method because the traditional way to do with on Android (holding the power and volume (-) key for a moment) is now impossible because of the digital buttons.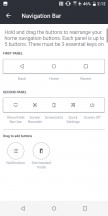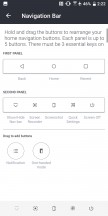 Nav bar: first panel • second panel
The fingerprint scanner is quite quick and reliable. If you don't have a fingerprint set up, you can still use it to take selfies in the camera app, and wake the phone from sleep.
Boost+ is HTC's optimizer app for clearing junk files, freeing up RAM, looking for possible battery saving settings, lock apps behind a pattern lock, and the manager apps feature is nice to delete a bunch of apps at once.
TouchPal is the default keyboard for HTC Sense. It works with HTC's themer so you can change its appearance when you change the theme. It also supports gesture typing and access to emojis. There are plenty of features in this keyboard but we're not big fans of HTC's emoji.
The Zoe Video Editor has been around for a few years and is even available to download to any Android phone. It's a super easy way to throw a bunch of video clips and photos and let it whip up a montage that looks cute for social media.
Performance
HTC's flagship packs the Qualcomm Snapdragon 845 CPU and pairs it with 6GB of RAM. 2018 is the year that we're finally seeing RAM break past 4GB in more flagships than before. The U11 had both a 4GB and 6GB RAM model. With the U12, 6GB comes on both 64GB and 128GB models.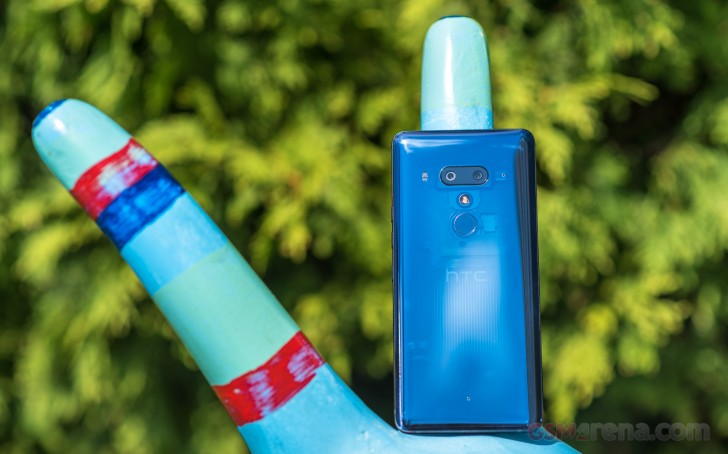 The U12 is well-equipped to handle any multitasking and high-performance gaming or CPU-intensive app that you can throw at it. We testing it against other competitors in the same class. The unit we tested was a 6GB + 64GB retail unit.
In the GeekBench's multi-core test, The U12+ scored much like the other Snapdragon 845 devices, but the iPhone X's A11 Bionic still reigns atop the multi-core test. Still, the Galaxy S9+'s Exynos 8895 scored similarly to the other Qualcomm devices with a Snapdragon 845. The Xiaomi Mi Mix 2S led the pack, though not by too much more.
GeekBench 4.1 (multi-core)
Higher is better
Apple iPhone X
10215
Xiaomi Mi MIx 2S
9158
OnePlus 6
9011
HTC U12+
9001
Samsung Galaxy S9+
8883
Sony Xperia XZ2
8466
Samsung Galaxy S9+ (SD 845)
8349
OnePlus 5T (Oreo)
6759
Nokia 8 Sirocco
6725
Huawei P20 Pro
6679
HTC U11+
6654
Google Pixel 2 XL
6428
HTC U11
6393
In single-core testing, the advantage of the Exynos 8895 is more apparent when compared to its Qualcomm competitor. The U12 hangs back just behind the Xiaomi Mi Mix 2S while the Galaxy S9+ hangs even further behind despite having the same CPU.
GeekBench 4.1 (single-core)
Higher is better
Apple iPhone X
4256
Samsung Galaxy S9+
3771
Xiaomi Mi MIx 2S
2468
HTC U12+
2456
Sony Xperia XZ2
2454
OnePlus 6
2450
Samsung Galaxy S9+ (SD 845)
2199
OnePlus 5T (Oreo)
1974
HTC U11+
1939
Nokia 8 Sirocco
1934
HTC U11
1919
Google Pixel 2 XL
1915
Huawei P20 Pro
1907
Last year, the HTC U11 was able to get the best performance out of the Snapdragon 835 during the time it first became available. This time around, the Mi Mix 2S appears to be the one who worked the 845 to its full potential. Samsung, OnePlus, and HTC are all very close behind when it comes to the AnTuTu benchmark. Meanwhile, the Exynos-powered Galaxy S9+ lags slightly behind in overall score.
AnTuTu 7
Higher is better
Xiaomi Mi MIx 2S
270814
OnePlus 6
264200
Samsung Galaxy S9+ (SD 845)
264044
HTC U12+
263696
Sony Xperia XZ2
259244
Samsung Galaxy S9+
246660
Huawei P20 Pro
209884
Nokia 8 Sirocco
209577
OnePlus 5T (Oreo)
207072
Google Pixel 2 XL
203119
Next up is GFXBench's on and off-screen tests. The off-screen test renders an image with FHD-resolution regardless of the actual display's resolution. This makes it easier to compare graphics performance apples-to-apples. The U12+ is right at 60 fps, while the Galaxy S9+ and Mi Mix 2S made it to 61 fps.
GFX 3.1 Manhattan (1080p offscreen)
Higher is better
Samsung Galaxy S9+ (SD 845)
61
Xiaomi Mi MIx 2S
61
HTC U12+
60
OnePlus 6
58
Sony Xperia XZ2
55
Samsung Galaxy S9+
47
Apple iPhone X
44
Google Pixel 2 XL
42
HTC U11
41
Huawei P20 Pro
40
OnePlus 5T (Oreo)
40
HTC U11+
35
Nokia 8 Sirocco
34
Things change for the on-screen portion of the graphics testing. Both the OnePlus 6 and Mi Mix 2S, as well as the Xperia XZ2 all have resolutions of FHD or FHD+ so they have an advantage over those with QHD resolutions or higher. The U12+ is well down the list because of its QHD+ resolution.
GFX 3.1 Manhattan (onscreen)
Higher is better
OnePlus 6
55
Xiaomi Mi MIx 2S
55
Sony Xperia XZ2
51
Apple iPhone X
51
Huawei P20 Pro
37
OnePlus 5T (Oreo)
37
Samsung Galaxy S9+ (SD 845)
34
HTC U12+
33
Samsung Galaxy S9+
24
HTC U11+
21
Google Pixel 2 XL
21
HTC U11
19
Nokia 8 Sirocco
18
We have no complaints with the performance of the HTC U12+. Sense UI is quite well optimized and doesn't bog down Android since it is lean and snappy. Even running a benchmark repeatedly didn't slow down the U12+ as the all glass and metal build does a good job of dissipating heat from the phone's interior. The U12+ performed in line with other Snapdragon 845 devices, as it is expected.