Edge Sense
HTC calls its new squeeze feature Edge Sense and that fits well with HTC's UI, also called Sense. The sides of the phone are embedded with pressure sensors. This allows you to have two gestures to program to whatever app you'd like. One that may be particularly useful is the Camera app, though, you can achieve the same result by double-pressing the power key and using the volume rocker to take the picture.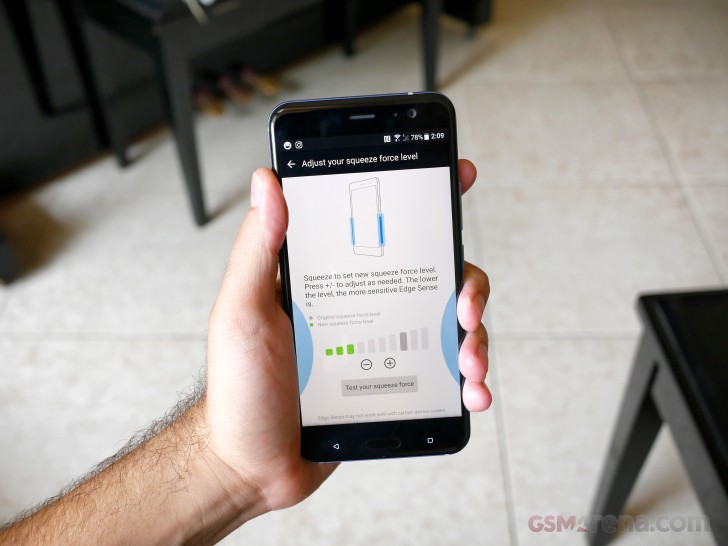 The first time you squeeze the phone, you'll be prompted to set up the Edge Sense feature. You'll follow a tutorial that shows you how long and how hard you're squeezing with the help of on-screen visuals to guide you. Note that your ability to squeeze may be affected by the kind of case you use, so keep that in mind when shopping for one.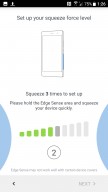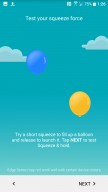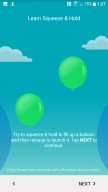 Setting force level • Testing force level • Learning Squeeze-and-hold
Advanced mode is what lets you program two gestures. The default gestures are: short squeeze opens camera, a second squeeze takes the photo. It's worth noting the UI purposely has a delay built into it as to wait for you to stabilize the camera before taking a shot. That way, the phone isn't trembling mid-shot.
The other default action is a squeeze and hold will activate Google Assistant Voice command. Doing the same thing while the keyboard is open will activate voice-to-text typing.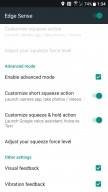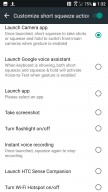 Edge Sense in Settings • Programming a squeeze gesture
Sense Companion App
The Sense Companion isn't meant to be "just some other assistant". It was created and first debuted on the HTC U Ultra and is meant to compliment Google Assistant's existing features and functions; this follows the theme of getting rid of redundant apps. Take note, Samsung.
What the Companion app does is takes various behavioral data points like location, time, and fitness activity, and develops recommendations to make that can benefit you. For example: If you normally leave work at 4PM every day and your calendar lists dinner reservations in the city, your Companion App would recommend that you top up your battery, hours before you leave work.
In order for Companion App to work best, it's recommended you allow a bunch of permissions to the app so that the app's AI engine can make the best recommendations based on your location, time between calendar events, active phone usage, and fitness/activity data.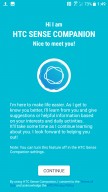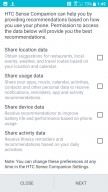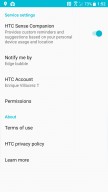 HTC Sense Companion setup and settings
Recommendations are given via a non-obtrusive bubble that you can move and replace until you can get to it later. The more you take action on these recommendations, the smarter the Companion app gets by learning which recommendations you care or don't care about.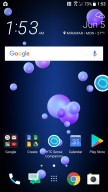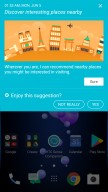 Recommendation bubble • Recommendation
Android Nougat with Sense UI
Sense UI has gotten leaner over the years with the most drastic reduction happening last year when HTC decided that it would let Google take care of the core apps by shutting down HTC's in-house apps like: browser, calendar, and gallery among others. If you've used the HTC 10 on the newest Nougat update, you'll know what to expect.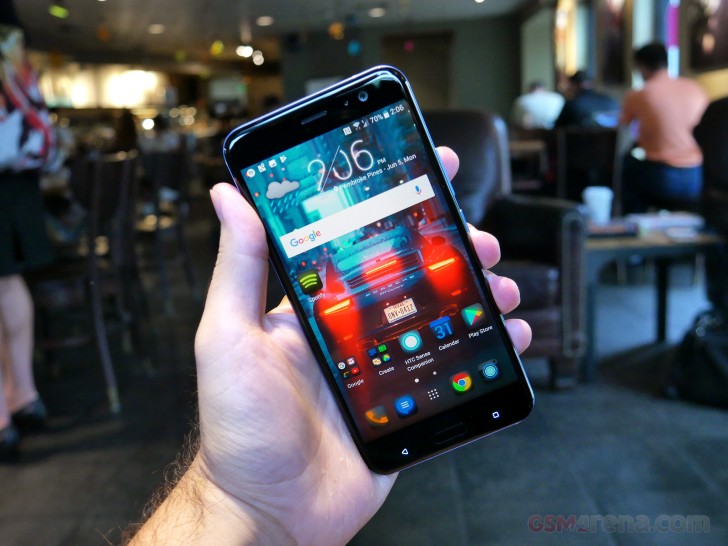 Let's get right into it, because there's a lot to cover here. Starting off ways to wake the device: there are several enabled by default. You can press the power key, double tap the screen, tap the fingerprint sensor, or slide up on the screen to unlock from sleep. Interestingly, if you don't have any security set up, swiping up fully unlocks the phone, while any of the other methods only gets you to the lockscreen where you can check your notifications and choose whether to swipe to unlock the phone.
Speaking of the lock screen, it also offers you four app shortcuts, which are identical to the ones you have on your homescreen.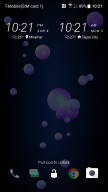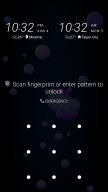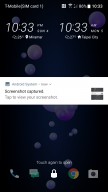 Pull icon to open app • Secure lock screen • Double tap to open
You can add up to five fingerprints, and you can disable the tap-home-button-to-wake feature. Know that even the slightest brush with your arm will wake the screen, so if you handle your phone a lot, chances are the screen will come on. Phone will not accidentally wake in a pocket or bag thanks to proximity sensor.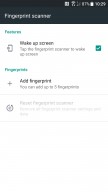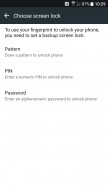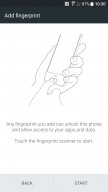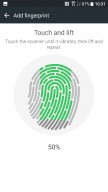 Adding a fingerprint • requires a secure lock screen • scanning finger
There are a couple of default home pages, though you may add as many as you'd like. The main app drawer is organized to fit all pre-installed apps into a single page. Apps in the drawer can be manually arranged or sorted by install date or alphabetically.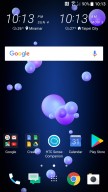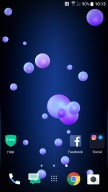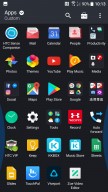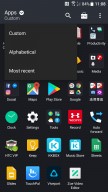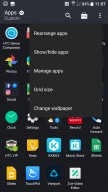 Home screen • Home screen 2 • App drawer • Ways to organize • Drawer settings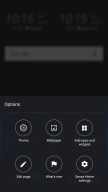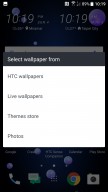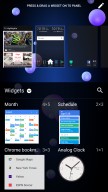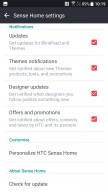 Launcher settings • Wallpaper chooser • Adding a widget • More settings
A swipe to the left brings you to BlinkFeed, which you can either disable altogether, make it yours by adding feeds, or even set it as your default home screen. Your docked apps are even laid over BlinkFeed. HTC has been expanding BlinkFeed's functionality for years now, so you can add a wide variety of feeds and social networks to it.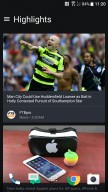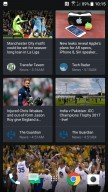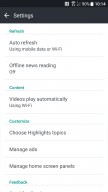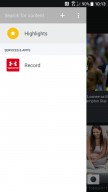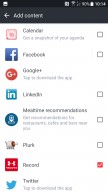 BlinkFeed • Scrolling BlinkFeed • BlinkFeed Settings • Adding feeds
HTC has added a powerful theming engine to the U11 for those who love to customize every aspect of the phone's appearance. Using the themer requires you to log in with a Facebook, Gmail, or HTC account.
You can change many aspects of the theme down to the notification sounds, dialer color scheme, and wallpapers in various locations. For those who really want to go all out, there's even an advanced theming tool available from themes.htc.com.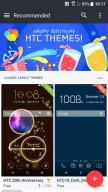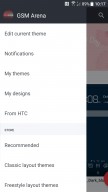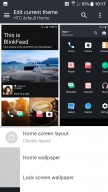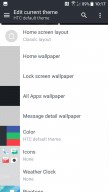 Recommended themes • Theme menu • Editing a theme
HTC offers two kinds of themes: classic themes and freestyle themes. The first one is self-explanatory, but the freestyle option is intended for folks to add apps or widgets however they'd like. Combine it with your favorite custom widget maker to create your unique setup.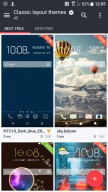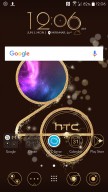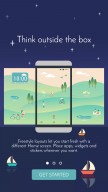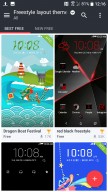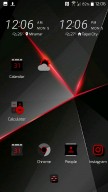 Choosing a "classic layout" • Classic theme • Freestyle themes
HTC Sense supports Android's native multi-window support. To use it, open any app, then press-holding the Recents key will let you choose another app that's already been opened. The UI will tell you if an app doesn't support multi-window. The looks of the notification shade and the quick settings are mostly stock.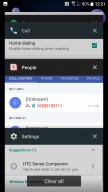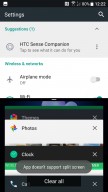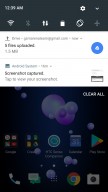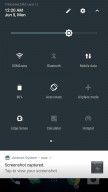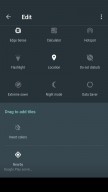 Recents • Multi-window • Notification shade • Quick settings • Edit quick tiles
Finally, HTC's Boost+ app offers some power-user options. There are automatic optimizations like Boost and Clear junk which clear RAM and cached files, respectively. 'Optimize background apps' disables apps you haven't used in 3 days or more. You can disable this per app.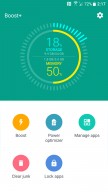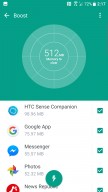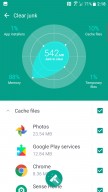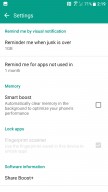 Boost+ • Boost • Clear junk • Boost+ settings
"Power Optimizer" is a simplified way of managing your power-hungry apps. If an app has "Foreground optimizer" enabled, it will adjust the screen resolution at which the app is rendered to save power and boost performance. Not all apps can be optimized this way. If an app is "Background optimized" it won't continue running in the background.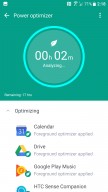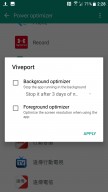 Power Optimizer • Types of optimizations
The unit we tested was a Taiwanese retail unit, so we were unable to play with the U11's Amazon Alexa integration. We'll update this section once we get our hands on a US retail device.