Edge Sense
Remember that "squeeze" pun we mentioned earlier? No? Well, it was bad anyway... The HTC U11 has at least a few interesting software tricks. The first of these actually has some hardware backing as well. HTC has embedded pressure sensors in the sides of the U11, allowing it to recognize the squeezing of your phone.
The way the software is leveraging this extra sense is shortcuts. You can map a quick or long squeeze to an action of your liking. HTC is calling it "Edge Sense" and in its current state, the above description pretty much does it justice.
Usability is a bit limited, but there are a few interesting use cases we can think of. For instance, you can toggle the flashlight on without looking at the device at all or fiddling with any controls. You can also use Edge Sense to take a quick selfie.
Probably best of all, the sensors and gestures work regardless of skin contact, so glove operation is a go. You can also adjust the sensitivity level of the sensors, so you don't accidentally activate them by simply holding the U11. If HTC goes the extra mile to implement convenient gestures all throughout the UI, Edge Sense could actually be a lifesaver during cold winter days.
HTC has taken its AI efforts in a pretty interesting direction. Instead of populating the Companion app with an increasing number of features that play catch-up and provide redundant alternatives to things Google Assistant already offers, HTC has decided to complement the popular platform. This is in stark contrast to platforms like Samsung's new Bixby, which even has its own dedicated hardware button.
One example is monitoring user behavior on-device and generating helpful reminders based on that. Like, if the phone detects you have a calendar event sometime late at night, it will check your battery level and remind you to top off if it detects you probably won't make it through your scheduled event.
You can like or dislike these notifications and help the Companion app fine-tune its behavior even further.
Another interesting decision on HTC's part involves a collaboration with both Amazon and Qualcomm. There are lots of devices these days that integrate Google's voice assistant and its "OK, Google" trigger word. The U11 is no different - you can wake it up in this manner as well.
However, the U11 also features integration with Alexa and its voice assistant service. In case you are not familiar with the platform, it powers Amazon Echo devices and is actually even more advanced than Google's offer when it comes to third party compatibility (Alexa Skills) and interfaces. Oh yeah, the U11 can simultaneously listen for either of the "Alexa" or "OK, Google" hotwords.
If you own any IoT connected devices or most kinds of smart home automation tech, chances are Alexa can communicate with them. Setting everything up properly can be a bit of a challenge. Once you do, you can utilize powerful voice controls and automation, all through your phone.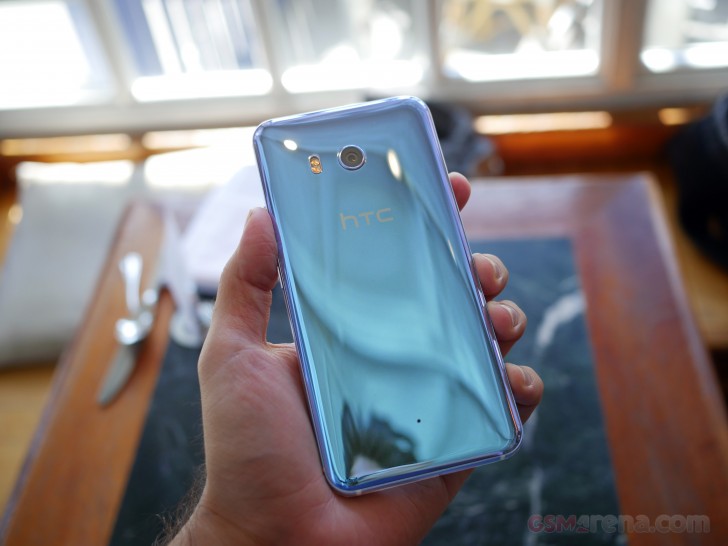 As for the Qualcomm connection, HTC worked with the chip manufacturer to ensure one of the four microphones on the U11 are listening at all times and constantly hearing for trigger words in the background. The feature worked quite reliably during our tests at a busy and noisy diner.
Of course, Alexa integration still has a few kinks, which HTC needs to work out. Still, its an ambitious step that could prove tempting to the right crowd of tinkerers, AI or home automation enthusiasts.