Boom Sound speakers and active noise cancellation
The HTC U 11 is loud. Like seriously - you can't have a conversation while the music is playing - loud. We are really impressed with how much audio power is crammed into the handset. In typical HTC fashion, the U 11 has a stereo setup. However, unlike some previous implementations, one of the speakers is not front-facing. Instead it resides on the bottom bezel, where it is may be easy to cover accidentally depending on your repertoire of phone-handling positions.
The second one doubles as an earpiece and what an earpiece, indeed. Quality sounded pretty crisp - mids and lows were both well reproduced. In fact, these speakers are louder and richer-sounding than the HTC 10's.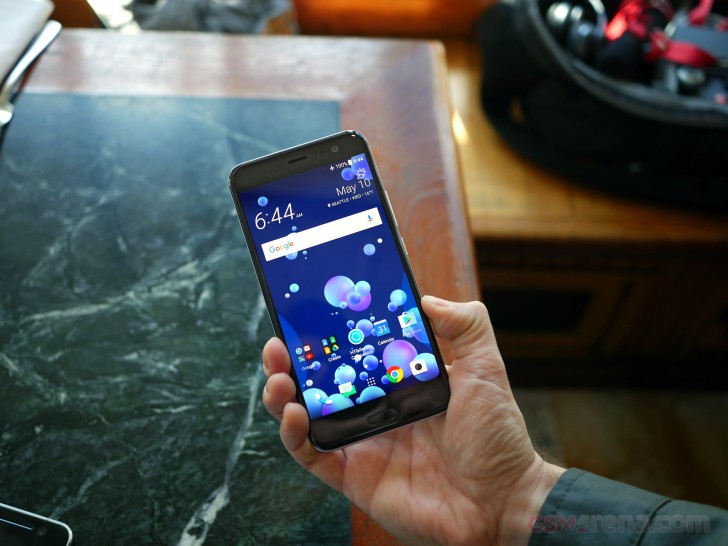 Speaking of audio, HTC's bundled headphone solution is arguably even more interesting. But first, the not so thrilling part - just like the U Ultra and U Play, the U 11 does not have a 3.5mm audio jack. HTC has adopted the modern Type-C output approach, instead. Naturally, from a user standpoint that means adopting the "dongle lifestyle". At least the little adapter is included in the box.
Unlike many competitors, however, HTC has a pretty good reason, or perhaps excuse, for ditching the tried and true analog jack. Its new USonic earbuds come with a couple of smart features that actually require the transfer of data to and from the phone. This enables these earbuds to do some active noise cancelling for you.
For one, they are fitted with sonar technology, whose sensors apparently detect how sound travels in your ears. This data is then used to create a custom sound profile. It's one of those features PR departments love. But, while it is really hard to judge on the merits of ear-canal analysis, active noise canceling is really easy to appreciate and instantly fall in love with.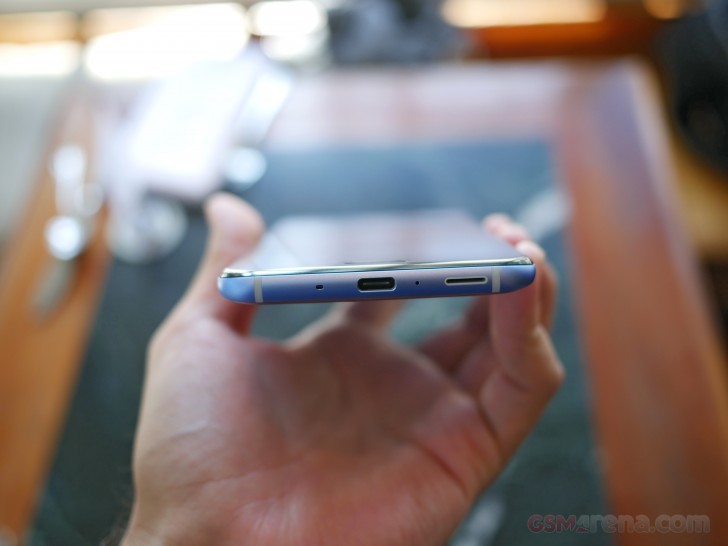 Instead of doing all the heavy lifting themselves, the USonic earbuds use the U 11's array of four microphones and its processing power to generate the necessary wavelengths and drown out surrounding noise. We were quite impressed with this feature.
Performance benchmarks
The HTC U 11 scored the coveted Snapdragon 835 chipset - something lacking on the HTC U Ultra. HTC's new darling is among the earliest offerings with Qualcomm's top chip, though not the first. That means we have some interesting competition to test it against.
The Xiaomi Mi 6 is another S835 phone, as is the Galaxy S8+. We also tested the S8+ with Samsung's own Exynos 8895 chipset. We also put the Mate 9 that uses Huawei's in-house Kirin 960 chipset as a reference. The other competitors (aside from the iPhone, obviously) came out with the older generation Qualcomm chip, the Snapdragon 820 or 821.
Too many chip names that mean nothing to you? Fret not, bar charts will make everything clear. AnTuTu puts the whole system to a test and here the U 11 came out the winner (well, sharing 1st place with the Mi 6, but on top nonetheless).
It edged out some best-sellers like the iPhone 7 Plus and Galaxy S8+ (both versions). This puts the HTC U Ultra and LG G6 in a tough spot - both are 2017 models that offer late 2016 performance. And we won't even mention the HTC 10 evo.
AnTuTu 6
Higher is better
HTC U 11 (S835)
177343
Xiaomi Mi 6 (S835)
177326
iPhone 7 Plus (A10)
174987
Galaxy S8+ (Exynos)
174070
Galaxy S8+ (S835)
168133
HTC 10 (S820)
154031
LG G6 (S821)
141895
Pixel XL (S821)
141186
HTC U Ultra (S821)
139750
Huawei Mate 9 (Kirin 960)
122826
We tested the HTC U 11 with 4GB of RAM, though for the next benchmark the CPU is all that matters - all eight cores of it. As you can see, moving from four cores (in the Snapdragon 820/821) to eight cores (in the 835) had a noticeable impact on multi-core performance. The new cores aren't that much faster on their own, though.
GeekBench 4 (multi-core)
Higher is better
Galaxy S8+ (Exynos)
6338
HTC U 11 (S835)
6125
Huawei Mate 9 (Kirin 960)
6112
Galaxy S8+ (S835)
6106
Xperia XZ Premium (S835)
5837
iPhone 7 Plus (A10)
5664
HTC U Ultra (S821)
4201
Pixel XL (S821)
4152
LG G6 (S821)
3648
HTC 10 (S820)
3621
GeekBench 4 (single-core)
Higher is better
iPhone 7 Plus (A10)
3473
HTC U 11 (S835)
1993
Xperia XZ Premium (S835)
1943
Galaxy S8+ (Exynos)
1938
Galaxy S8+ (S835)
1915
Huawei Mate 9 (Kirin 960)
1898
LG G6 (S821)
1792
HTC 10 (S820)
1708
HTC U Ultra (S821)
1647
Pixel XL (S821)
1507
The HTC U 11 also flaunts Qualcomm's latest GPU, the Adreno 540. The chip maker claims a 25% boost in 3D rendering performance compared to the previous generation chipset
Basemark X supports that claim, the increase compared to HTC 10 is actually a bit over a quarter. Compared to Snapdragon 821 phones like the LG G6, the difference is smaller (~20%) but still a tangible improvement.
Basemark X
Higher is better
Galaxy S8+ (Exynos)
43862
Xperia XZ Premium (S835)
38507
HTC U 11 (S835)
38399
Huawei Mate 9 (Kirin 960)
36519
HTC U Ultra (S821)
35875
Galaxy S8+ (S835)
34951
LG G6 (S821)
32041
Pixel XL (S821)
30861
HTC 10 (S820)
28882
Going up to the newer graphics platform, the Mali G71 GPU (S8+/Exynos and Mate 9/Kirin) seems to have a better handle on things than the Adreno. Still, Qualcomm has delivered extra oomph for flagship games.
Basemark ES 3.1 / Metal
Higher is better
iPhone 7 Plus (A10)
1517
Galaxy S8+ (Exynos)
1111
HTC U 11 (S835)
836
Galaxy S8+ (S835)
817
Huawei Mate 9 (Kirin 960)
794
Xperia XZ Premium (S835)
727
LG G6 (S821)
647
Pixel XL (S821)
626
HTC U Ultra (S821)
582
We know there's more to a phone than just chipset, but the HTC U 11 shows a clear superiority over the U Ultra when it comes to performance. Even outside of HTC's stable the U 11 is a brawler - matching or beating many pretenders to the 2017 flagship throne.
Conclusion
It turns out it's the HTC U11 that's destined to be the real successor to the HTC 10 and not the U Ultra. Even though the two U phones share the extravagant colors and flamboyant design, it would be the HTC U11 that will have all eyes on itself. And deservedly so - it's got some unique hardware features such as Edge Sense and it's properly equipped with some screaming hot hardware to go with it. This phone can't come out soon enough. Good thing we already have secured a review unit. Stay tuned!