HTC's performance in this year's third quarter was underwhelming and the final quarter for the year isn't starting off great either. The company announced its revenues for the month of October - $588 million, which is down from the $1,508 million it made in October last year.
That's 61% down year-on-year, while last year's results were up 36% compared to October 2010. This is the biggest year-on-year slide that the company has reported this year.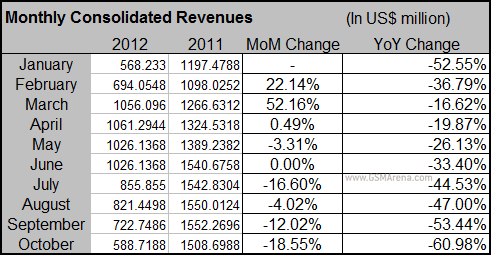 In its Q3 press release, HTC forecasts $2 billion in revenues for the fourth quarter of this year, though it remains to be seen if it will actually hit that mark or if it'll continue the slide down.
HTC does have the holiday shopping season to look forward to and (Microsoft is hoping for this too) Windows Phone 8 might pick up faster than its predecessor.
?
Yes! Take a look at your previous phones like HTC HD2!! It is 3 yrs OLD, yet it can run ICS/ WP7/ WMO .. it has 512 / 1gb internal storage .. (large for its time) But why does it last so long? Because of sd slot + removable battery! If...
E
Been said a million times before, really SAD! Stop acting and imitating the FRUIT! When you dumped replaceable battery, SD Card, slow OS upgrade you killed all your loyal customers in Android which was your core customers instead you go and try to...
P
Agree totally, isn't a flagship just that. Why wait 6 months and release a One X+ with bigger battery and faster CPU. Why didn't they do it first time around to the One X and make it a FLAGSHIP device HTC have lost their way and their profit, wh...
ADVERTISEMENTS