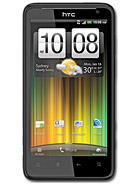 N
1080p at 60fps. That is freaking fast for a mobile phone. If it can possibly do 720p at 120fps and VGA at 240fps/480fps, that would be great on a portable device like that.
D
Its not rubish , its good becuz it has high specs battery is less but its really nice
M4068298
Weak battery. Why they don't want to learn?? 1650 mAh is supposed to power a 3.7 inch screen, not a 4.5 inch. I like HTC, but they make many mistakes.
?
1620 milliamps for a dualcore 1.5 and a 4.5 inch screen= less than 8 hours of normal use and its dead
Total of 313 user reviews and opinions for HTC Velocity 4G.