Messaging
The HTC Wildfire can handle all common types of messages - SMS, MMS and email. Google Talk is in charge of instant messaging. Email support is excellent with support for Exchange out of the box and social media buffs will be pleased with the level of integration of that content as well.
The on-screen full QWERTY keyboard on the HTC Wildfire works in both portrait and landscape modes. Button size is decent and sensitivity just fine and we had no problems using the keyboard.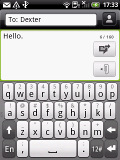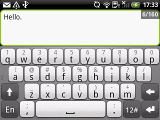 The on-screen QWERTY is quite good in landscape
Composing a message is a little frustrating as the text box only takes a small part of the screen even if you hide the keyboard, which really only gives you little to work with.
To add recipients, just start typing a name or number and choose from the contacts offered. After choosing a name it's added in a bubble under the main textbox, where you can view or remove it by single tap.
A press-and-hold on the text box gives you access to functions such as cut, copy and paste. You are free to paste the copied text into any other application like email, notes, chats, etc. and vice versa.
Adding multimedia content to a text message will turn it into MMS. You can just add a photo or an audio file to go with the text, or you can choose to go into a full-blown MMS editor depending on your needs.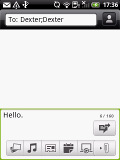 Attaching a media file turns texts into MMS
Two Email clients as usual: HTC Mail and Gmail
Gmail is one thing that you can't expect to have changed much compared to other Android handsets.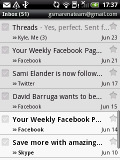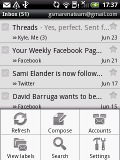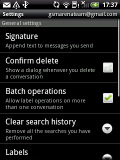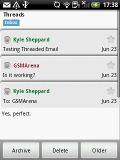 Batch operations lets you manage multiple conversations • reading emails
The extended Gmail features include spam report and of course conversation-style email view mode.
When replying to an email you can opt for either Gmail or the generic mail client, and set one of the two options as default. The reason behind most Android handsets coming with two email clients is the added corporate Exchange ActiveSync support.
The standard HTC Mail app is the same too. The general Inbox displays the last sync time, the sort order, the email account in use and the actual messages of course.
At the bottom there are five virtual buttons that let you filter the inbox. You may opt to view conversations, emails with attachments only, unread mail only or display the messages from your VIP mail groups.
Email sorting is possible (in either ascending or descending order) by date, subject, sender and size. The chosen filter is displayed in the top right corner of the display.
There's hardly anything the HTC Wildfire lacks in terms of email features. What you basically have is a local copy of your Gmail account bundled with its main functionality plus a Microsoft Exchange compatible alternative client, which can manage multiple POP and IMAP accounts.