FM radio
The HTC Wildfire is also equipped with an FM radio, which has a pretty simple interface. It automatically scans for the available stations and allows you to mark some of them as favorite for easier scrolling. It also supports RDS and allows loudspeaker playback.
Good audio quality
The audio guts of the HTC Wildfire are probably identical to what you can find inside the HTC Tattoo. As we already managed to confirm they are able to provide nicely clean audio output and pretty decent loudness (though the Tattoo is a tiny bit louder).
The noise level, dynamic range and stereo crosstalk are the best part of the HTC Wildfire audio output, but the frequency response is virtually spotless too. The distortion levels aren't the best we have seen but they are very good nonetheless.
And here go the results so you can see for yourselves.
| | | | | | | |
| --- | --- | --- | --- | --- | --- | --- |
| Test | Frequency response | Noise level | Dynamic range | THD | IMD + Noise | Stereo crosstalk |
| HTC Wildfire | +0.12 -0.63 | -84.8 | 87.2 | 0.018 | 0.156 | -84.8 |
| HTC Tattoo | +0.12 -0.63 | -84.8 | 87.2 | 0.018 | 0.156 | -84.8 |
| Samsung I7500 Galaxy | +0.13 -1.04 | -83.8 | 86.3 | 0.023 | 0.118 | -75.2 |
| Sony Ericsson XPERIA X10 mini | +0.18 -1.64 | -86.5 | 88.9 | 0.028 | 0.409 | -83.8 |
| Samsung I5700 Galaxy Spica | +0.26 -3.47 | -88.6 | 88.5 | 0.011 | 0.774 | -80.2 |
| HTC Hero | +1.04 -2.13 | -91.3 | 92.3 | 0.458 | 0.902 | -95.8 |
| HTC Magic | +0.21 -2.20 | -85.6 | 88.8 | 0.025 | 0.220 | -86.0 |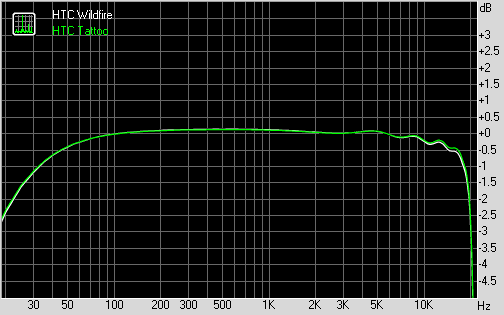 HTC Wildfire vs HTC Tattoo frequency response graphs
You can learn more about the whole testing process here.
A 5 megapixel snapper
HTC Wildfire has a 5 megapixel camera for a maximum image resolution of 2592 x 1936 pixels and a LED flash. At least on paper, the Wildfire seems just as capable in terms of still imaging as the high-end HTC Desire.
Thanks to Android 2.1 the Wildfire has a camera interface that is competitive outside the Google OS world. There are a number of customizable settings ranging from ISO speed to aspect ratio and auto focus.
We are yet to see modern-day features such as face, smile and blink detection for example, but the gap is closing.
Unfortunately, the usability is still pretty bad with most of the options sitting on a retractable tray at the left side of the viewfinder which can either be dragged out by a finger sweep or by pressing the menu key.
You get a shortcut for activating the flash and exposure compensation around the viewfinder but that's pretty much that. The only other shortcut leads to the gallery and that hardly help much with the photography itself.
We can't quite comment on the HTC Wildfire image quality. Our unit has a major camera defect. It's most likely a faulty lens ruining the entire left side of scenes. Interestingly though, it doesn't affect macro shots – in close focus the bad part of the lens is not used. Anyway, judging by the macro shots and the usable part of images – colors are way off. To an extent that we can't even imagine this ever passing quality control. We're obviously out of luck here – it's simply a faulty unit and we'll try and update this review shortly.
Here go the samples for you to check out.






HTC Wildfire camera samples
CIF video
HTC Wildfire records CIF videos at 15 fps, which is nothing to be excited about.
The camcorder interface is similar to the still camera's and there is a surprising (by Android standards) number of customizable options. You can set the video resolution, encoding type and recording limit.
As far as image adjustments are concerned you get exposure compensation, contrast, saturation and sharpness settings as well as color effects and white balances settings.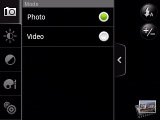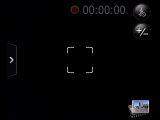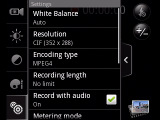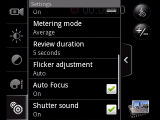 Camcorder has plenty of options
Auto focus is also there for you to enable but the Wildfire only focuses before the recording starts and acts as a fixed focus camera after that. In our test unit, this actually works in our favor – there's no trace of the blurring we saw in still images.
But anyway, video quality is bad. There's purple tint all over, the amount of resolved detail is poor and the framerate (15fps) ruins the whole thing.
Check out a sample CIF@15fps video clip.