Organizer and apps (continued)
The Stocks application gives you quotes from Yahoo finance.
The Voice recorder might be pretty useful for making audio notes and the weather app brings Yahoo's weather forecast for your area a click away.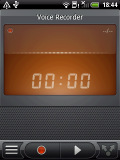 Making a voice memo with the Voice recorder
The HTC Footprints app lets you geotag images and save them in diverse categories such as favorites, shopping, dining, etc accompanied by a personal note. Once you take a picture of a place you can look up its address and location using Google Maps.
Friend Stream shows the latest status updates of your friends. To use this widget/app you must link your profile to Facebook/Twitter/Flickr and have matching friends to your phone's contact. After this is done properly, their latest updates will be noted in the Friend Stream widget/app.
Finally Twitter fans will appreciate the preinstalled Peep app, which allows you to update your profile on the world's largest social network. You'll need to download the Facebook app since it's not preloaded.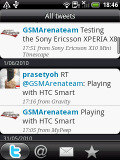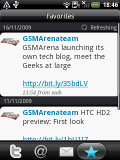 The Peep app let you update your Tweeter profile
GPS and Google maps
The HTC Wildfire comes with a built-in GPS receiver. It got satellite lock in just over two minutes without the A-GPS on, which isn't too bad at all.
Google Maps is standard equipment in any Android package and of course makes an appearance on the Wildfire as well. Unfortunately, voice-guided turn-by-turn navigation by Google Maps still has limited availability (US and a few European countries).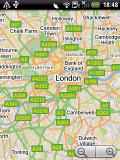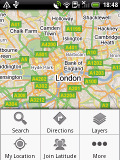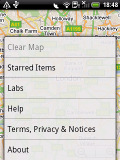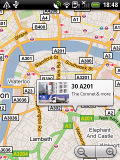 Google Maps is an incoherent part of the Android platform
You can still plan a route and track your current location so it is better than nothing but you have to rely on network data for downloading the map info. Quite surprisingly, the pinch-zooming is available along with the double tap one, unlike the HTC Legend.
The Street View mode is supported in Google Maps and it's probably the most fun part of Google Maps. It gives you a 360-degree view of the surroundings where it's available. When the digital compass is turned on it feels like you're taking a virtual tour of the location.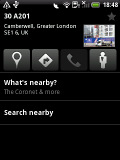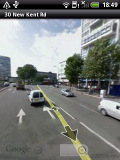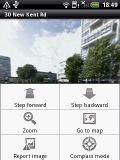 The Street view is quite impressive indeed
There is no alternative navigation application preinstalled so if you want one, you will have to visit the Android market and pick one yourselves.
Android Market is growing
The QVGA screen is limiting in terms of compatible content on the Android market. The market applies automatic filtering, listing only applications compatible with the QVGA resolution.
The structure of the Android Market is quite simple – featured apps on top and above them, three sections (Applications, Games and Downloads). There is also a shortcut up there for initiating a search.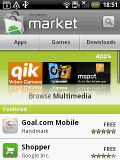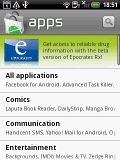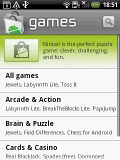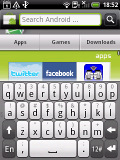 The Android Market will give you access to more than 30 000 applications
The Applications and Games sections are divided into subcategories (e.g. Communication, Entertainment etc.) so you can filter the apps that are relevant to you. Of course, there is also an option of displaying them all at once, but you will probably need days to browse them all that way.
Searching is very easy – just tap the search button and type what you're looking for (e.g. "navigation"). From then on, it's pretty easy to choose – each app has a rating, a short description by the author, user comments and screenshots.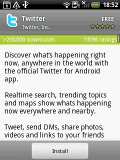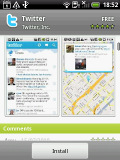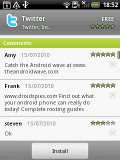 Each app has a short description, screenshots and user comments
There are all kinds of apps in the Android market and the essential ones are well covered (file managers, navigation apps, document readers etc.).
Of course, 100000 or so apps is nowhere near what the iPhone users have at their disposal but no one actually installs thousands of apps so you will probably find what you are looking for here too. Besides, the Android market is the one with the largest percentage of free apps across all platforms.
Android 2.2 Froyo will allow installing apps on the memory card, so new elaborate apps and killer games are likely to appear as soon as it is released. This will boost the Android Market chances of catching-up with the Apple AppStore.