Signed and sealed
HTC Windows Phone 8X review: Signed and sealed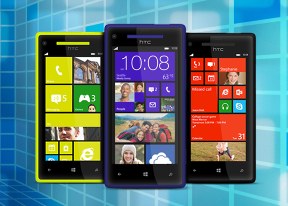 Expanded connectivity
The HTC Windows Phone 8X has quad-band GSM/GPRS/EDGE support and quad-band 3G with HSPA.
The local connectivity is covered by dual-band Wi-Fi a/b/g/n with DLNA and hotspot, and stereo Bluetooth 2.1. Bluetooth is no longer limited as to what it can do - there file transfer support now.
There is Mass Storage mode for the internal phone storage and you can upload files without needing to install any software. There is no requirement where you put your files (specific folders, etc.). If the phone has the appropriate app to recognize a file, you'll have access to it. Since there is no WP file manager, you'll have to access the unrecognizable files only via a computer.
The phone knows music and video, as well as pictures and documents. But if you have let's say a ZIP or a RAR file, you won't be able to attach it in emails, because there is no file manager and there is no app to recognize this file and list it in the phone.
In addition to your phone storage you also get at least 7GB of SkyDrive cloud space.
The HTC Windows Phone 8X also has NFC connectivity, but the only app to use it is Wallet. Unfortunately we won't know if that has any potential to become actually useful for at least few more months.
NFC is still useful for file sharing and it works across other platforms with NFC support. Sending a picture with a Samsung Galaxy Nexus, for instance, wasn't a problem and the same goes for webpages.
Internet Explorer gets more powerful, keeps the old looks
The Internet Explorer on Widows Phone 8 brings got a major upgrade, but it kept its old looks. Almost everything Microsoft has done on the IE is under the hood and the end result is close to excellent.
Just don't expect Flash support, there is none and Adobe has officially abandoned the mobile browsers. Silverlight doesn't work either.
As usual the URL bar is always visible at the bottom of the screen (but the status bar at the top of the screen is auto-hides, so you don't actually lose any screen real estate) and next to it is the refresh button. You can, of course, bring up the extended settings, which offer a great deal of options - tabbed browsing, recent history, favorites, share options, pin to Start, find on page and advanced settings..
The URL bar also serves as a search bar. Unfortunately you can use only Bing as search provider, because using the URL bar as a search filed automatically redirects you to the Bing Search app.
The browser interface is quite minimalist - you have only the URL bar at the bottom with a reload icon to the left. Swiping the bar upward reveals shortcuts for tabs, recent, favorites, add to favorites, share page, pin to start and settings. The settings menu offers the usual options like location, allow cookies, delete browsing history and it does offer to choose a global preference for mobile or desktop site versions.
The browser makes the controls in web pages look just like their equivalents in native apps. So, a web app can look just like a native app with practically no extra effort from the designer.
And finally, you can open more than six tabs simultaneously. Eight or ten worked just fine
We expected the HTC Windows Phone 8X to match the Samsung Ativ S performance in the SunSpider and BrowserMark benchmark tests and it delivered. The smartphone actually did a little bit worse than its Samsung competitor, placing third spot in the JavaScript-centric SunSpider and failing even more miserably in BrowserMark.
SunSpider
Lower is better
Samsung Ativ S
891
Apple iPhone 5
915
HTC Windows Phone 8X
923
Samsung Galaxy Note II
972
Motorola RAZR i XT890
1059
Samsung Galaxy S III
1192
Meizu MX 4-core
1312
LG Optimus G
1353
LG Optimus 4X HD
1446
HTC One X (Tegra 3)
1468
BrowserMark
Higher is better
Apple iPhone 5
189937
Samsung Galaxy Note II
185034
Meizu MX 4-core
158404
Samsung Galaxy S III
157176
Motorola RAZR i XT890
149038
LG Optimus 4X HD
147582
HTC One X (Tegra 3)
140270
LG Optimus G
118126
Samsung Ativ S
64817
HTC Windows Phone 8X
51027
Bing search is here to stay
When you search on Bing, one of the things that might be offered as a relevant result is an app from the Marketplace. For example, searching for "travel" will offer a travel tool app. This feature is called App connect.
Bing also offers song recognition and barcode scanner. The new feature here is Local Scout. Thanks to the dedicated app and its provided service, you can search for various points of interest near your location.
The camera scanner can also snap a photo of text, perform OCR and translate it into another language.
Of course, Bing does regular web searches for pages or images and can look for interesting locations nearby.