Best Buy has kicked off pre-orders of the Nokia Lumia 920 and the HTC Windows Phone 8X for AT&T. The Nokia flagship is priced at $149.99 with a two-year commitment, while its Taiwanese counterpart has gone below the three-digit mark at $99.99.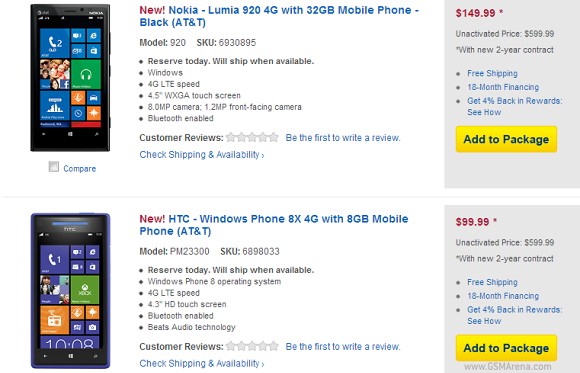 There is no specific information on the shipping dates for the two smartphones - Best Buy has only mentioned that it "will ship when available." We believe that we will find out more about the dates on the Windows Phone 8 event on October 29.
With the HTC Windows Phone 8X and the Nokia Lumia 920 sporting quite similar specifications and a $50 price difference, all signs point at a serious battle for market share shaping up. Microsoft however, won't mind any of the two devices coming out on top.
Update: Nokia Lumia 920 has been removed from the pre-order page. The HTC Windows Phone 8X however is still available.
l
Lumia 920 is now the new technology using high technology and trying to capture by the other brand. Im very very sure this wireless charging and sensitive screen will pirated by samsung and other brand. And sell it to a high prize. What a wasting mo...
D
i.e. Android is a king, which will make you a servant, WP is a servant, which will make you a king. Lol!
D
No doubt, high end Android phones are the best choice for you. Judging by your comments you need phones to spend time with, to fill your day, and androids are best to make you their servant. But there are people like me who prefer the phones to serve...
ADVERTISEMENTS