Shortly after the HTC Windows Phone 8X announcement we learned that the SIM-free version of the device might cost a rather hefty £399. It turns out that wasn't entirely accurate as Three UK, will be selling the smartphone off-contract for the easier to swallow £350 ($564 / €436).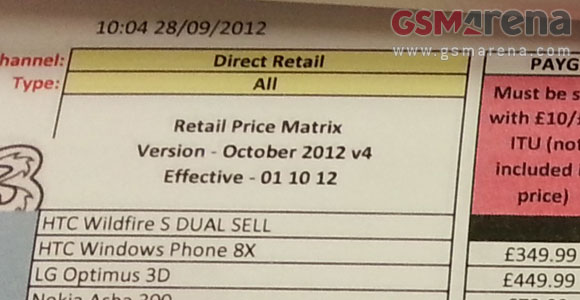 The image above was sent to us by a source from Three UK who wished to remain anonymous. As you can see, the PAYG (no-commitment) price of the smartphone stands at £350. You will also be able to grab the HTC Windows Phone 8X for as low as £29 if you are willing to sign a two-year £30/month contract.


The full list of Three UK plans for the HTC 8X
There's still more than a month until the 8X arrives in UK on November 15, so let's hope other UK retailers follow Three UK's lead and bring their prices down as well.
Thanks, anonymous tipster!
?
Another troller identified. This self confess WP user is sitting on floor tiles locked behind Windows consist of 8 bars. With only a mere 4% OS market share and making so much noise.
?
Windows phone 8 will be the most intuitive OS on a phone. So many features have not been announced yet. Anyone that thinks Windows phones is boring clearly hasn't used the phone or set the phone up fully.
y
My boring windows phone is so boring and restricted and all the apps cost a fortune.Its even out of date now after microsoft conned me into buying such a horrible device.Ill never waste money on boring rubbish like this again.
ADVERTISEMENTS