Possible design and specs of an upcoming handset codenamed HTC 'Zeta' have been leaked courtesy of Engadget. This phone is supposed to have a 2.5GHz quad-core APQ8064 CPU and 1GB of RAM. Other interesting items on the spec sheet are a 4.5-inch 1280 x 720 display and Ice Cream Sandwich pre-installed along with Sense UI.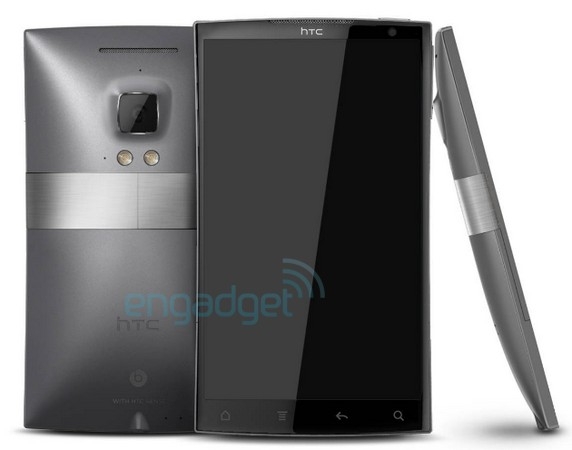 The handset supposedly measures 109.8 x 60.9 x 9.8mm and weighs 146g. Inside you'll find 32GB of storage space, 8 megapixel rear camera with dual-LED flash and 1080p video recording, 1.3 megapixel front-facing camera, Bluetooth 4.0, Beats Audio and an 1,830mAh battery.
On the outside the device has an interesting pincushion design that is narrow in the middle and widens towards the top and bottom. We can see the earpiece grille right at the top edge along with the camera sensor. What is curious though is the presence of the keys below the display. Since this phone will come with Ice Cream Sandwich pre-installed, ideally it should not have any keys. Unless, HTC has decided to go their own way and stick with the keys for now.
On the back we can see the two plastic portions with a metal band running around the middle. The middle portion is significantly raised and then tapers towards the sides. On the top is the loudspeaker, camera lens and flash and near the bottom is the beats logo and a bump for the headphone jack.
As is usually the case with these things this image could be fake but there are enough details in there to prove otherwise. Note the slight mismatched fitting on the top left side of the metal band on the back of the phone. Also, on the side shot on the right, you can see an L-shaped cut showing where the battery cover comes off. And although we were initially thrown off by the lack of volume control buttons on the left side of the phone, we realized that HTC has moved them on to the right side on their recent phones. So for all we know this could probably even be a photograph of the real thing. We should find out for sure soon enough.
G
Design is ugly, nice specs tho. 2GB RAM wouldn't be bad o.o.
a
1gb ram no , 2gb ram yes and tegra 3+ gpu pls!
a
holy shit . . . . quadcore 2.5 gigahertz . . . . . mini alienware . . . . my future phone
ADVERTISEMENTS