HTC haven't handled their bootloader policy with the greatest finesse, but after being somewhat reprimanded by their many followers, they were quick to try and make good on the can of worms they had opened.
As we've already mentioned they've promised a fair many things and what they unveiled just the other day solidifies their promises to bring a smile back to your faces. For all you devs and tinkerers out there, rest easy as HTCDev.com is now online and awaiting for you to have a good root around.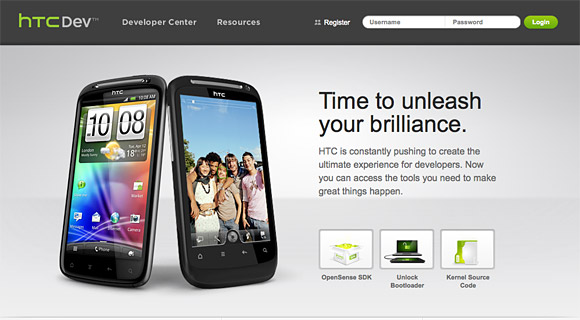 This new resource brings two of the three elements promised by HTC to the table which are available now. First off the Open Sense SDK, a set of tools designed to help developers harness the potential of the HTC Sense APIs and add-ons. APIs such as those used for the Scribe technology found on the HTC Flyer tab.
Part two of the new site is made up of the kernel source code, something HTC have made available for a while now, although this site will be it's new permanent home.
The final piece of the puzzle is undoubtedly the most anticipated, but to some it must still come as a disappointment that HTC have not yet unleashed their bootloader on the world. When it does become available, the bootloader unlock web tool will work initially with the HTC Sensation, followed by the EVO 3D and the US variant, the Sensation 4G.
Sadly there's no officially launch date for the bootloader web tool but chances are, it'll be very soon. Keep your eyes on the source link to find out more./p>
a
htc is the best of the best
ADVERTISEMENTS