Rumors about HTC working with Google on a Nexus tablet have been abundant this year. We've heard quite a few times that an 8-inch or 8.9-inch device would be coming, and that it would be manufactured by HTC, and not Asus - the company responsible for both Nexus 7 iterations.
Now though almost all the details about the upcoming HTC tablet have been leaked. It may be called Nexus 9 when it launches, and its codename is Volantis (or Flounder). It's got an 8.9-inch touchscreen indeed.
However, it comes with a very odd resolution: 2048x1440. That would be a big departure from previous Nexus tablets, which all had 16:10 aspect ratios. The new Nexus is closer to the iPad's proportions, though it's not 4:3 like Apple's tablets either. And that's strange, since the source of this leak claims that the Nexus 9 will have 4:3 aspect ratio. So something's off here, do note that.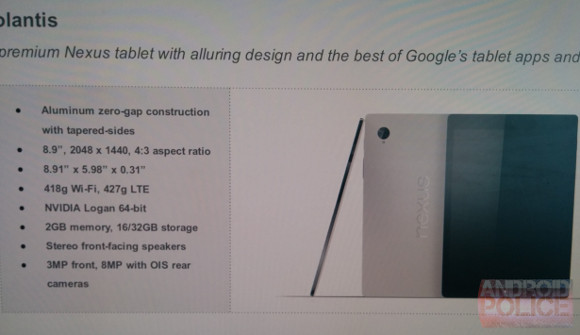 What you see above is the original leaked slide about the Volantis. Based on this, the folks over at Android Police created the render you can see below, making the tablet itself front and center.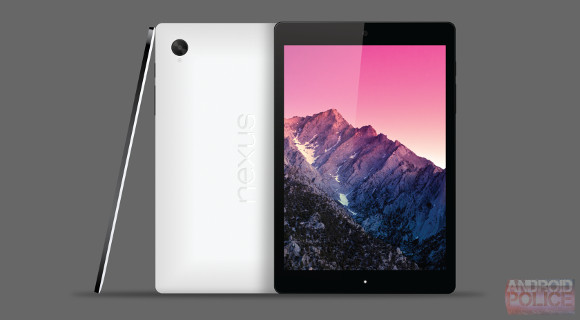 The Nexus 9 is said to come with Nvidia's Tegra K1 64-bit chipset, 2GB of RAM, and 16 or 32 GB of storage space. An 8MP camera with optical image stabilization will be on the back, with a 3MP snapper on the front.
The tablet will sport a zero-gap aluminum construction, and it should also have stereo front-facing speakers (though they aren't depicted in the leaked render, as you can see).
Its dimensions apparently will be 226.3 x 151.9 x 7.9 mm, and it shall weigh 418g (in Wi-Fi-only) or 427g (with 4G LTE).
In terms of pricing we're looking at $399 for the 16GB model and $499 for double that. This is for Wi-Fi-only versions, mind you. The ones with LTE may go into $600+ territory, which means the Nexus 9 will be as expensive as the iPad Mini with Retina Display. That's an interesting move considering that all of its predecessors have been very affordable compared to their competitors.
The Volantis should be released alongside the Android Lollipop iteration, or whatever it ends up being called, sometime during the fourth quarter of this year - so don't expect to see it next week at Google I/O. The tablet could come with a few official accessories such as a keyboard case.
According to Android Police, this leak is legit. The hardware exists, and it's already been seen inside Google. Of course certain details may change before release, but the image accompanying the specs does raise some questions, though - it seems to depict a plastic device, and the front speakers are invisible.
And then there's the issue with the display, said to be 4:3 but with a leaked resolution that doesn't have that aspect ratio.
So, as always, do take this with a grain of salt. Then again, since we've had so many rumors about a Nexus 8 or 9 being in the works, one probably is. And this may just be it.
?
Love my 2nd generation 7 perfect size great screen , battery, and pretty fast, my only complaint is rear speakers, making it bigger will ruin it for me, and it won't fit in a suit pocket!!!!!'
T
It could be that the real resolution is 2048x1536, with the extra 96 pixels used for the navigation buttons on the bottom.
D
I don't give much credit to this leaks. If the design comes out as rendered, it is begging to get demanded by Apple. Besides, Android's biggest OEMs have ALWAYS have 16:10/9 displays. Another no go is the pricing. That pricing game is VERY simil...
ADVERTISEMENTS