Huawei has just lifted the curtains off of its new device lineup here at the MWC, starting with the Ascend D quad and D quad XL Android smartphones.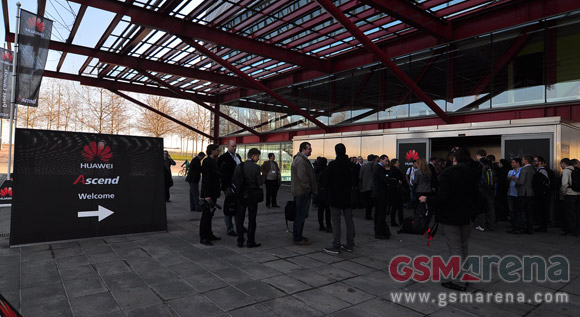 Ascend D quad
The Ascend D quad features Huawei's very own K3V2 quad-core processor with clock speeds ranging from 1.2GHz to 1.5GHz garnished with 1GB RAM. The Chinese claim this is the fastest processor in the world right now, so we're very excited to give it a try and test it for ourselves.







Huawei Ascend D quad official photos
Back on the Ascend D quad specs, it sports a 4.5-inch display with HD 720p resolution with a 32-bit true color graphic processor and 330ppi pixel density, which Huawei say should give the iPhone 4S a run for its money. Huawei also take pride in the excellent sunlight legibility of the phone.





Huawei official event MWC 2012
At the back, the quad-core Ascend D counts on an 8MP camera with a back-lit sensor, recording 1080p FullHD video, while a 1.3MP camera at the front takes care of the video-conferencing duties.
To keep the Ascend D quad running, Huawei have thrown in a 1800mAh battery, which they say will be good for two days of normal usage. The company says they made this possible thanks to proprietary power management technology providing up to 30% longer battery life.







Huawei official event MWC 2012
Huawei's quad-core flagship is also quite slim measuring at 64mm in width and 8.9mm in thickness and is one of the slimmest phones to run Android 4.0 Ice Scream Sandwich now. It also weighs in at approximately 130 grams which is not that bad for an Android smartphone with such specs.
In the feature list of the Ascend D quad are also a Dolby Digital 5.1 sound enhancement and earSmart technology which does wonders for noise cancellation, according to Huawei.
Expect the Ascend D quad to start its global market invasion around Q2 or Q3 of this year. Huawei claim their flagship will sell 15-25% cheaper than Samsung devices, although specific prices weren't disclosed.
Huawei Ascend D quad XL
The company also debuted the Ascend D quad XL version with a larger 2500mAh battery using the same chassis as the Ascend D quad. In the near future we should expect an even beefier 3000mAh version to be released.
Huawei Ascend D1
The Huawei Ascend D1 is the second phone to get unveiled. It is a dual-core droid very similar to the D quad as far as the rest of the specs go - Android 4.0 Ice Cream Sandwich, 4.5" IPS+ 720p screen (330ppi same as the D quad), 8MP camera with 1080p video capture.
The Ascend D1 uses a TI OMAP 4460 chip rather than a Huawei-made one, it's clocked at 1.5GHz and is coupled with 1GB RAM. The D1 also packs quad-band 2G and penta-band 3G (with 21Mbps HSDPA and 5.76Mbps HSUPA).
The camera uses an 8MP backside illuminated sensor and shoots 1080p videos. This camera enjoys the company of dual-LED flash and HDR effect option. There's a 1.3MP front-facing camera too that does 720p videos.
The Huawei Ascend D1 has 5.1 surround sound emulation with Dolby Mobile 3.0 Plus and two microphones for noise reduction (Huawei calls is Audience earSmart).
D
What is price of Huawei Ascend D quad XL??? How can I buy it in Shanghai, CHINA. Regards, Abbas Jaffar Email: abbas.jaffar@hotmail.com
s
They're having problems /which is to be expected.if they can release it currently.It will be the best smartphone available. Choose XL if you can handle the bulk,and need to be future ready.It's a shame they're not 64bit but the XL should make you f...
D
Just here to ask when will huawei ascend d quad xl arrive in the Hong Kong market and what will be the price?
ADVERTISEMENTS