Kicking off its Mobile World Congress 2014 appearance Huawei has come out with the Ascend G6 smartphone, the world's thinnest 7" tablet in the face of the MediaPad X1, the 8" MediaPad M1 and the TalkBand B1 wristband wearable, which were all but expected.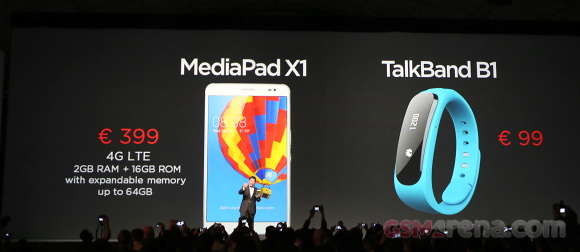 By far the most interesting of the lot is the MediaPad X1, which is just 7.18 mm thick, outdoing the Nexus 7 2013's 8.4 mm and the iPad mini 2's 7.5 mm. It comes with a much narrower body, tipping the scales at an impressive 239 g. The 7" screen sports a 1080p resolution and surpasses the 300 ppi threshold for a sharp experience at 323 ppi.
The Ascend G6 and MediaPad M1 smartphone and tablet share LTE Cat 4 for an affordable dash into high-speed data on the go.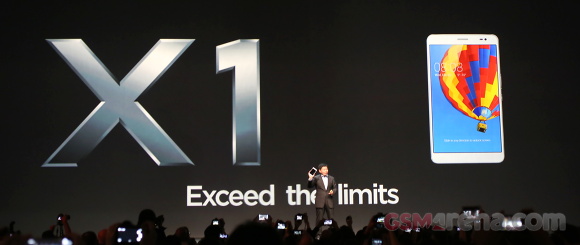 The Ascend G6 brings a 4.5" screen of qHD (540 x 960) resolution, a quad-core 1.2 GHz processor, 5 MP camera on the front and an 8 MP one on the back.
The MediaPad M1 has dual speakers on the front, capable of DTS surround sound. In between them sits an 8" 1280 x 800 display. The slate comes with a 4800 mAh battery that is reverse charge compliant and can charge other devices with a dedicated cable.
All devices are rocking Android 4.2 Jelly Bean with Huawei's Emotion UI on top. The Ascend G6's LTE version will cost €250, which will be out after the 3G version, which is going to the shelves this quarter. The MediaPad M1 will cost €299 and will launch in May. The MediaPad X1 will cost €399.
D
but sir Huawei Mediapad x1 is different is the first impressed phablet from Huawei ..
m
I got it for my wife and she loved it dpi is great crisp but home button on side is bad that you press it if u wanna hold it in your hand while lying back,,love the screen,,and contrast,better than ipad mini 2,,,iran
m
will to have one when it comes to nigeria