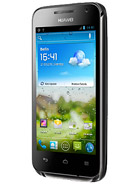 L
Nice phone. Huawei make good phones with high quality and still low price.
D
I'm loyal to Huawei ( the u8650 was my first real smartphone ). Good little unit, but the better buy is the Pantech Burst...
End of....
m
This was realesed in Berlin weeks ago, so why no official pictures and specs yet?
D
In Myanmar/Burmar u can have it for 150$
a
Wen am making video call on my phone HUAWEI ASCEND G300 other part can not see me on there android phone bot I can see them "Tango video call" thanks
k
How can i install viber app on this phone,show app not install, please


r
sepol p, 11 Sep 2012This phone have not secondary camera.But G330 has a secondary camera. Only G300 doesn't have one.
r
zapfatte, 13 Sep 2012 this phone is way cheaper than g330 phone but way higher specs compare... moreI think you are confused between G300 & G330.
n
This phone already launched in china in August & is available in around 189 dollars. No one offering such specs in this price. I have bought one and its awesome. Its easy to root this phone for installing google play.
z



this phone is way cheaper than g330 phone but way higher specs compare g330 phone
N
How about the GPU is it going to have Adreno 200 (like the g300) or it is going to get an upgrade to the Adreno 205?
s
This phone have not secondary camera.
?
the marketing strategy of many cos. is painful to say the least when India is concerned...the joy of getting it is killed much before it is supplied in our country..so far the age old ascend g 300 is not available.. pitty these chinese cos.!and the likes of them.
t
is this phone will be available in India also? how about its Gpu? please
Total of 115 user reviews and opinions for Huawei Ascend G330.
ADVERTISEMENTS