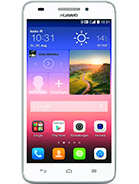 ?
good smart phone, i like it. i prefer 2 sims also. many huawei smart phone do not support an other fonts,that is shortcoming point
p
I dont care about battery issue watsoever..important thing is dis kimd of smartphone has a LTE connection..and its simple yet one of the best wen it comes in midrange phone..i do nelieve that Huawei is worth my money..my previous huawei phone was HONOR 2 and its one of the best display for a budget phone that i had since then..so cmon HUAWEI send this to PHILIPPINES and takey money..lol
D
plZ tell me about his voice recoring? is this beter than samsung galaxy s4 in voice recording?

N
please tell me about his Voice Recording?Is this phone is better than Samsung galaxy s4 in VOice recording?
j
Nice spec for thw money. Better hardware then latest moto G. I would consider this over a moto G for sure.
D
Huawei seems to be don't believe in gorilla glass. And why should they? They believe in their display quality and durability.So no need to hide it with gorilla glass.This phone will rule the world in coming days mid range segment of smart phone as the specs says. Blindly go for it as the brand HUAWEI is enough and stop being cheated by Sony,Samsung etc.I will be the 1st customer to grab this fine when available in India.
E
Low Battery not feasible Huawei losing their market must review battery structure.
Total of 272 user reviews and opinions for Huawei Ascend G620s.