Google Maps and Navigation
The Huawei Ascend Mate comes with a GPS receiver, which took about 80 seconds to get satellite lock upon a cold start. You can use the A-GPS functionality to get near instantaneous locks. Alternatively, network positioning will also do if you only need a rough estimate of your location.
The Ascend Mate comes with Google Maps and Navigation (region dependent). Voice-guided navigation has become a viable solution since the v5.0 update. Vector maps are smaller and easier on the data traffic and reroute is an option if you go off course without the need to connect to the Internet. In fact, the only time you need a data connection is when you initially plan the course - Navigation will cache the needed maps.
Quite naturally, the app also supports the Street View mode. If it's available in the area you're interested in, you can enjoy a 360-degree view of the surroundings. When the digital compass is turned on it feels like making a virtual tour of the location.
Google's app uses vector maps, which are very data efficient. The latest version has an easy to use interface for caching maps - you just choose "Make available offline" from the menu and pan/zoom around until the desired area is in view (there's an indicator showing how much storage caching that area will take). You can later view cached areas and delete ones you no longer need.
Note that there's a limit to the size of the area you can cache - you can't just make all of Europe available offline, not even a whole country. We managed to cache Berlin and parts of the surroundings before Maps told us the area is too big. There's no address search either in the cached maps and you can only cache map data in supported regions of the world.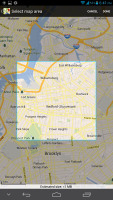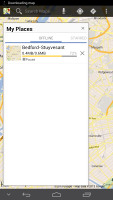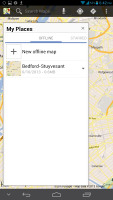 Making an area of the map available for offline usage is very easy
If Google Maps Navigation doesn't do it for you, you can grab another from the Android Market - there are both free and paid alternatives.
The Play Store
Running Android Jelly Bean, the Huawei Ascend Mate has access to the latest apps and the microSD-expandable memory guarantees you won't have trouble with storage space.
The Store is organized in a few scrollable tabs - categories, featured, top paid, top free, top grossing, top new paid, top new free and trending. The in-app section is untouched though and it's very informative - a description, latest changes, number of downloads and comments with rating. There is usually a demo video and several screenshots for most apps too.