Controls
With the navigation keys moved over to the screen, the things to note at the front of the Huawei Ascend P6 are above the 4.7" IPS+ LCD. There's a status LED and sensors left of the earpiece and a 5MP front camera on the right.
Yep, that's a five megapixel camera up there and Huawei is really proud of its front-facer. It's a fixed focus unit, but one that does some great portrait shots and has the Beauty Face option available. It also shoots 720p videos @ 30fps. We'll get into more detail there in the camera chapter of the review.
In terms of controls, we've got a pretty crowded right side with a Power/Lock key and a volume rocker, followed by microSIM and microSD card slots compartments. These are small trays that take an eject pin to open.
Now, as far as we know, there is also a regionally available Dual SIM version of the Ascend P6. In the dual SIM case, both metallic trays accommodate SIM cards and there is no microSD slot. To make up for that, the dual SIM version comes with 16GB of storage instead of only 8GB.




The right side of the Huawei Ascend P6
The eject pin is inserted into the 3.5mm audio jack on the left-hand side of the device - that's an unusual solution, but we can see the point: that way the eject tool is always available and it also protects the port from getting filled with dust.
On the other hand though, one risks misplacing the eject tool every time they need to plug a headset -the tiny piece is really easy to lose.




The 3.5mm audio jack on the left
The top of the Huawei Ascend P6 accommodates the microUSB port and the secondary microphone, which is used for active noise cancellation in calls.



A look at the top of the Ascend P6
Across at the bottom, the primary microphone is the only thing of interest.


The primary mic pinhole at the bottom
The 8 megapixel camera lens is placed in the top left corner of phone's back. The single-LED flash is next to it too. The discrete loudspeaker grille is in the bottom left corner.



The 8MP camera lens at the back
The Huawei Ascend P6 comes with a nice rubber case in the box that tightly wraps around the handset. The case is transparent so the phone's good looks aren't sacrificed and it will do a nice job of keeping it safe. It inevitably adds to the thickness though.




Huawei Ascend P6 original bumper case
The Huawei Ascend P6 is powered by a 2000 mAh Li-Ion battery. The phone scored a very reasonable 46-hour rating in our real-life battery test. The moderately-sized screen and the energy-efficient chipset might actually deserve the credit for this good performance. Find the complete breakdown here.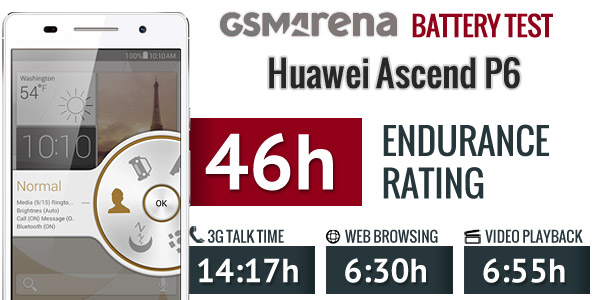 Display
The Huawei Ascend P6 has a 4.7" IPS+ LCD of 720p resolution. This works out to a pixel density of 312ppi, which is almost the same as what the Apple iPhone 5 has.


Huawei Ascend P6 4.7" IPS+ display
The Ascend P6 offers wide viewing angles with no color shift and little contrast loss when you view the display at an angle. The colors are spot on, the contrast is great and generally we are very pleased with the image quality.
Display test
50% brightness
100% brightness
Black, cd/m2
White, cd/m2
Contrast ratio
Black, cd/m2
White, cd/m2
Contrast ratio
Huawei Ascend P6
0.14
136
986
0.62
670
1080
Sony Xperia ZL
-
-
-
0.44
575
1294
Sony Xperia Z
-
-
-
0.70
492
705
Huawei Ascend Mate
0.23
222
982
0.67
711
1053
HTC One
0.13
205
1580
0.42
647
1541
HTC Butterfly
0.14
173
1200
0.45
501
1104
Samsung I9505 Galaxy S4
0
201
∞
0
404
∞
Oppo Find 5
0.17
176
1123
0.51
565
1107
Samsung N7100 Galaxy Note II
0
215
∞
0
402
∞
LG Optimus G Pro
-
-
-
0.41
611
1489
Nokia Lumia 920
-
-
-
0.48
513
1065
LG Optimus G
0.14
197
1445
0.33
417
1438
Nexus 4
0.22
314
1447
0.45
608
1341
Samsung I9300 Galaxy S III
0
174
∞
0
330
∞
Apple iPhone 5
0.13
200
1490
0.48
640
1320
The screen brightness control in the Android notification area is a single virtual key with four steps: Automatic, 100%, 50% and 0% brightness. There's no brightness slider as in competing Android devices.
Hidden further down in the Display settings, there is an additional Smart Backlight toggle - this could be enabled to assure the automatic brightness control doesn't do rapid jumps when adjusting the illumination level. If switched on, the Ascend P6 will calculate the next light transition point in a bright lighting environment and maintain a gradient brightness variation .
Sunlight contrast ratio
Nokia 808 PureView
4.698
Apple iPhone 5
3.997
Samsung I9300 Galaxy S III
3.419
Nokia Lumia 925
3.402
Samsung I9505 Galaxy S4
3.352
Samsung Omnia W
3.301
Samsung Galaxy S
3.155
Samsung Galaxy S4 mini
3.127
Samsung Galaxy S4 zoom
3.118
Nokia N9
3.069
Samsung Galaxy Note
2.970
HTC One S
2.901
Samsung Galaxy S II
2.832
Samsung Galaxy S II Plus
2.801
Huawei Ascend P1
2.655
Sony Xperia ZR
2.672
Nokia Lumia 900
2.562
Nokia Lumia 720
2.512
HTC One
2.504
Sony Xperia Z
2.462
Samsung Galaxy S III mini
2.422
Motorola RAZR i
2.366
Samsung Galaxy Note II
2.307
Apple iPhone 4S
2.269
HTC One X
2.158
Nokia N8
2.144
Oppo Find 5
2.088
BlackBerry Z10
2.051
Apple iPhone 4
2.016
HTC One mini
2.003
Sony Ericsson Xperia ray
1.955
Samsung Galaxy Camera
1.938
HTC Butterfly
1.873
Huawei Ascend P6
1.865
Sony Xperia V
1.792
Sony Xperia U
1.758
LG Optimus 4X HD
1.691
HTC One V
1.685
BlackBerry Q5
1.682
LG Optimus Vu
1.680
LG Optimus GJ
1.666
HTC Desire V
1.646
LG Optimus G Pro
1.552
LG Optimus 3D
1.542
Nokia Asha 302
1.537
Nokia Lumia 610
1.432
Gigabyte GSmart G1355
1.361
HTC Desire C
1.300
Nokia Asha 501
1.270
LG Optimus L7
1.269
LG Optimus L9
1.227
Meizu MX
1.221
Sony Xperia E dual
1.203
Samsung Galaxy Pocket
1.180
Sony Xperia tipo
1.166
Samsung Galaxy mini 2
1.114
You can find all about our display testing routines here.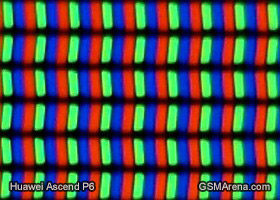 Huawei Ascend P6 screen under a microscope
The Huawei Ascend P6 also offers the rare option to adjust the screen's color temperature. It's a slider that gives you control on whether the screen has a cooler or warmer (blue vs. amber) tint.
Finally, the 4.7" IPS 720p touchscreen is also highly sensitive thanks to the Magic Touch tech, which allows you to use it even with gloves, a feature that will surely come in handy in cold weather.