Display
The Huawei Ascend P7 introduces a brand new IPS display of 1080p resolution. This works out to an excellent pixel density of 455ppi, which is among the best in the 1080p class.


Huawei Ascend P7 1080p IPS display
The display offers really wide viewing angles with minimum color distortion. The colors are great, the blacks are quite deep and the contrast is excellent too. We are very pleased with Huawei's latest display and image quality.
Display test
50% brightness
100% brightness
Black, cd/m2
White, cd/m2
Contrast ratio
Black, cd/m2
White, cd/m2
Contrast ratio
Huawei Ascend P7
0.13
101
807
0.79
668
843
Huawei Ascend P6
0.14
136
986
0.62
670
1080
Huawei Ascend Mate
0.23
222
982
0.67
711
1053
Oppo Find 7a
0.33
280
842
0.68
580
852
Oppo N1
0.25
285
1118
0.47
553
1164
Samsung Galaxy S5
0
274
∞
0
529
∞
Samsung Galaxy S4
0
201
∞
0
404
∞
HTC One (M8)
0.20
245
1219
0.46
577
1256
LG G2
0.10
149
1522
0.45
667
1495
HTC Butterfly S
0.15
165
1117
0.43
451
1044
Oppo Find 5
0.17
176
1123
0.51
565
1107
Apple iPhone 5
0.13
200
1490
0.48
640
1320
The screen glass is reflective and the sunlight legibility, while not great, is still decent and you won't have much trouble operating even under direct sunlight.
Sunlight contrast ratio
Nokia 808 PureView
4.698
Apple iPhone 5
3.997
Samsung Galaxy Note 3
3.997
Samsung Galaxy S5
3.549
Samsung I9300 Galaxy S III
3.419
Nokia Lumia 925
3.402
Samsung I9505 Galaxy S4
3.352
Samsung Omnia W
3.301
Samsung Galaxy S
3.155
Samsung Galaxy S4 mini
3.127
Samsung Galaxy S4 zoom
3.118
Nokia N9
3.069
Samsung Galaxy Note
2.970
Sony Xperia Z1
2.950
HTC One S
2.901
BlackBerry Q10
2.856
Samsung Galaxy S II
2.832
Samsung Galaxy S II Plus
2.801
BlackBerry Z30
2.790
Huawei Ascend P1
2.655
Sony Xperia ZR
2.672
Nokia Lumia 900
2.562
HTC One Max
2.537
Nokia Lumia 720
2.512
HTC One
2.504
Sony Xperia Z
2.462
Samsung Galaxy S III mini
2.422
HTC One (M8)
2.371
Motorola RAZR i
2.366
Samsung Galaxy Note II
2.307
Oppo Find 7a
2.279
Apple iPhone 4S
2.269
HTC Desire 600 dual sim
2.262
LG Nexus 5
2.228
HTC One X
2.158
Nokia N8
2.144
Oppo Find 5
2.088
BlackBerry Z10
2.051
Apple iPhone 4
2.016
HTC One mini
2.003
Huawei Ascend P7
1.992
LG G2
1.976
Sony Ericsson Xperia ray
1.955
Samsung Galaxy Camera
1.938
LG G Pro 2
1.922
HTC Butterfly
1.873
Huawei Ascend P6
1.865
Sony Xperia V
1.792
Sony Xperia U
1.758
Meizu MX3
1.754
LG Optimus 4X HD
1.691
HTC One V
1.685
BlackBerry Q5
1.682
LG Optimus Vu
1.680
LG Optimus GJ
1.666
HTC Desire V
1.646
Samsung Galaxy Ace 3
1.622
Sony Xperia Z Ultra
1.578
Samsung Galaxy Core
1.563
LG Optimus G Pro
1.552
LG Optimus 3D
1.542
Samsung Galaxy Core LTE
1.542
Nokia Asha 302
1.537
Sony Xperia M
1.473
Nokia Lumia 610
1.432
Samsung Galaxy Grand Neo
1.393
Gigabyte GSmart G1355
1.361
Samsung Galaxy Grand
1.321
HTC Desire C
1.300
Nokia Asha 501
1.270
LG Optimus L7
1.269
LG Optimus L9
1.227
Meizu MX
1.221
Sony Xperia E dual
1.203
Samsung Galaxy Pocket
1.180
Sony Xperia tipo
1.166
Samsung Galaxy mini 2
1.114
The Huawei Ascend P7 also offers the rare option to adjust the screen's color temperature. It's a slider that gives you control on whether the screen has a cooler or warmer (blue vs. amber) tint.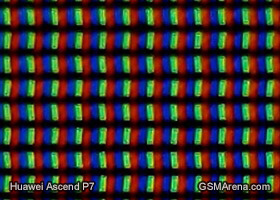 Huawei Ascend P7 uses standard RGB matrix
The Smart Backlight is also available - it assures the automatic brightness control doesn't do rapid jumps when adjusting the illumination level. If switched on, the Ascend P& will calculate the next light transition point in a bright lighting environment and maintain a gradient brightness variation.
Finally, Huawei Ascend P7 also supports Gloves Mode - once enabled you can operate the screen with gloves, but this mode will also reduce the battery life.
Hardware overview
Above the screen is what must be the highest resolution front-facing camera yet - an 8MP shooter with a Back Side Illuminated sensor, face enhancement and dedicated panorama mode. The earpiece and a couple of sensors are also around.



A peek above the Ascend P7's display
The sides are still flat with a nice metallic feel to them. The right side has been redesigned slightly, the power button is now round and has moved between the volume rocker and the card slots. The top slot is for microSD cards, while the bottom one accepts microSIMs. There is nothing on the left.





Huawei Ascend P7 right and left sides
Another change is that the 3.5mm audio jack has moved to the top and is no longer plugged by an eject tool. That tool was quite helpful as it was needed to open both card slots and protected the audio jack from dust.
The secondary microphone for noise cancellation and stereo video recording is right next to the audio jack.
Across at the bottom lie the primary microphone and the microUSB port used for charging, PC connections or USB OTG.
The 13 megapixel camera lens is placed in the top left corner of phone's back. The single-LED flash is next to it too. The aluminum loudspeaker grille is in the bottom left corner.
You can launch the rear camera while the screen is locked and immediately take a picture by double-clicking the volume down key. The whole process from launch to snapping a picture is done lightning fast at 1.3s. We've tried it by ourselves a few times and it is indeed quite handy, but you should point the phone right where you want to shoot and then hit the shortcut. Also we noticed sometimes the camera fails to focus because of the super-fast capturing. Hopefully Huawei will tweak this feature further before the official launch.
Battery life test
Huawei Ascend P7 comes with a 2,500 mAh non-removable Li-Po battery. It is officially quoted at up to 14 hours of 3G talk-time or 422 hours of 3G stand-by.
We ran our traditional battery test and the results are in. The Ascend P7 pulled an overall rating of 53 hours. The 53-hour rating means the Ascend P7 will last two and a little over two days on a full charge with an hour each of calling, browsing and watching video daily.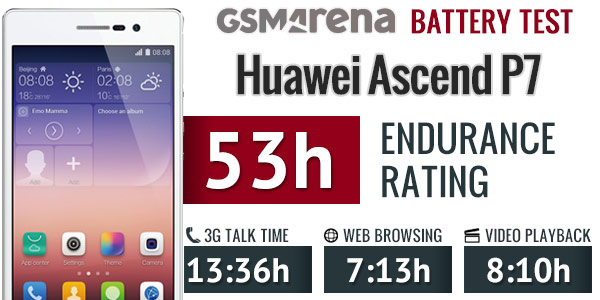 For a more detailed breakdown of the Huawei Ascend P7 battery performance check out our blogpost.
Our proprietary score also includes a standby battery draw test, which is not featured in our battery test scorecard but is calculated in the total endurance rating.
Our battery testing procedure is described in detail in case you want to learn more about it.