User Interface powered by Emotion UI v2.3
In the software department, Huawei has equipped the Ascend P7 with Android 4.4.2 KitKat, skinned with an updated version of their home-brewed Emotion UI v2.3. The result is a very simple, flat interface with no app drawer (think iOS style).
We've already seen this software combo in action on the Ascend P6, although here a much smoother interface with redone icons and a boatload of extras.
We've shot a quick video of the user interface in action:
The default lockscreen has been redesigned and features a nifty "sunshine" effect as you drag your finger across. You customize it to display various wallpapers, widgets, iOS-style shortcuts, and even dual clocks when roaming.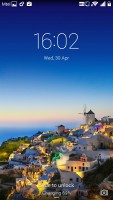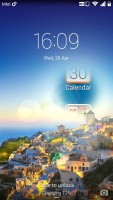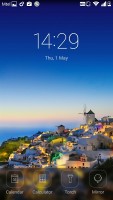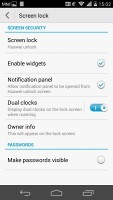 The lockscreen has a wide range of options, including iOS-style shortcuts
Beyond the lockscreen we find a fairly standard Android homescreen with four customizable shortcuts (expandable to five), which are docked at the bottom and are visible on all homescreens.
There are nine homescreen panes at most - and at least a couple of them will be populated by the preinstalled apps. In the absence of an app drawer, anything you install pops up on the homescreen, just as it would on an iPhone. While this means that you don't have to bother creating shortcuts to your apps on the homescreens, it also means that you cannot effectively hide any of your installed apps either. You can, however, group them into folders.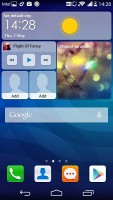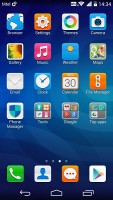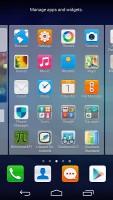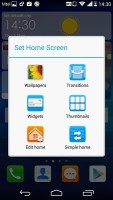 The homescreen is where your apps reside, like it or not
A pinch on the homescreen triggers the familiar Overview mode to let you check out and organize the homescreen panes currently in use, remove or add panes as you please. Widgets are available too - it's mostly the stock Android ones, but Huawei has thrown in some of its own as well.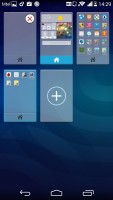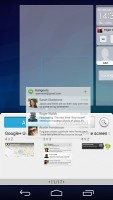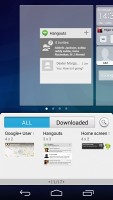 The overview mode • adding widgets
Themes are available as well. A theme will change your homescreen wallpaper, lockscreen style, system icons, system font and the sound profile. You can also adjust things like homescreen transition effects, and even change your wallpapers at random or specific time intervals.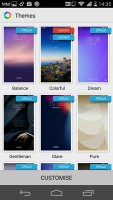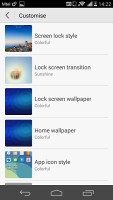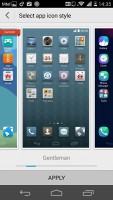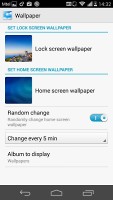 Themes menu • rotating your wallpapers
There's also a Simple homescreen mode that provides an enlarged, simple-to-use interface that's perfect for users who find the default menus too small or confusing.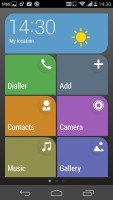 Simple mode is great for people new to smartphones
The notification area features five toggles at the top, which can be expanded to show all 15 available. You can swap around the ones you want visible on the top row, or you can disable them altogether.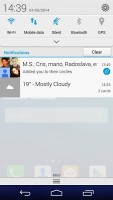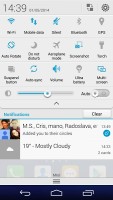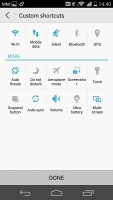 The notification area with toggles
The Power Manager feature that we first saw with Ascend's Mate phablet has been updated with the P7. It shows the time left on your battery (or how much time you need to fully charge it when plugged in), as well as three non-customizable power modes - Smart, Normal and Ultra performance. You can configure which apps are allowed to run in the background, which ones run on startup, and even your battery consumption divided by hardware and software.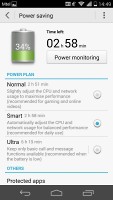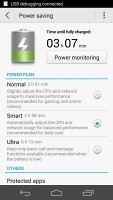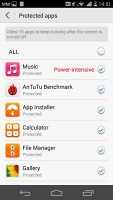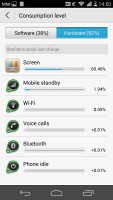 The extensive power management settings
There's also a Gloves mode toggle in the Settings menu, which will increase the touchscreen sensitivity of the Ascend P7 display, but may reduce your battery life.
The P7 features a task switcher that lets you swipe away unwanted apps, and there's a "Kill all" button that also informs you how much memory you've freed up.
Finally, Google Now integrates with your Google account and can access your daily routine, internet searches, email, etc. and give you information relevant to your interests and daily needs.
It provides traffic information to your work or home, knows the scores of sports teams you follow and gives you the weather forecast for your location. It's great for at-a-glance info, but can handle voice input as well. It also has a dedicated homescreen/lockscreen widget.