Standard phonebook
The Ascend P7 phonebook is laid out across three tabs that can be navigated by swipes. An alphabetical list on the right can help you jump to a specific letter or you can just use the search function. Tapping on a contact image brings up a tabbed popup, that'll contain additional tabs if the contact has more information.
As on most Android launchers, you can assign a plethora of contact information including custom ringtones and images. You can link contacts too, if you've added the same person on multiple services.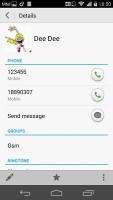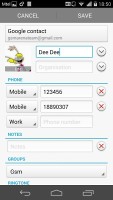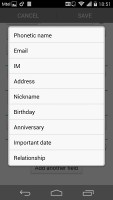 You can add tons of extra contact information
Telephony is excellent
The Ascend P7 held on to signal and in-call sound was just fine. The proximity sensor makes sure the screen stays off when you hold the phone to your ear.
Flipping the phone on its face while it's ringing would mute the call ringing. Alternatively, picking the phone to your ear while it's ringing, automatically answers the call.
The secondary noise cancelling on-board microphone ensures a quieter background for your voice while in call.
The dialer and the call log share the same screen. The dialer offers smart dialing and it works both with names and numbers.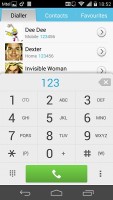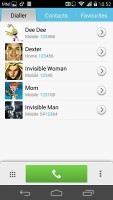 Smart dial works for both names and numbers
We put the Ascend P7 through our traditional loudspeaker test and unfortunately, it only managed a Below Average score, which means you'll likely have a hard time hearing it in noisy environments. Here's how it stacks up to the competition:
| | | | | |
| --- | --- | --- | --- | --- |
| Speakerphone test | Voice, dB | Pink noise/ Music, dB | Ringing phone, dB | Overal score |
| Apple iPhone 5 | 66.8 | 66.1 | 67.7 | Below Average |
| HTC Desire X | 63.6 | 61.6 | 69.6 | Below Average |
| Samsung Galaxy S II Plus | 65.7 | 61.5 | 66.6 | Below Average |
| Huawei Ascend P7 | 63.9 | 66.1 | 70.9 | Below Average |
| Samsung Galaxy S III mini | 66.5 | 63.0 | 76.0 | Average |
| Sony Xperia V | 65.5 | 61.1 | 66.2 | Average |
| Sony Xperia go | 66.5 | 66.1 | 77.9 | Good |
| Samsung Galaxy Grand | 74.1 | 66.2 | 76.0 | Good |
| LG Optimus L7 | 66.7 | 66.6 | 75.6 | Good |
| Motorola RAZR XT910 | 74.7 | 66.6 | 82.1 | Very Good |
| HTC Desire | 76.6 | 75.7 | 84.6 | Excellent |
Messaging
The messaging section is business as usual with all SMS/MMS communication is organized into threads. Attaching a photo, video, audio recording or the like automatically turns your message into an MMS.
The Ascend P7 also comes with Hangouts, which is another way to handle texts. The latest update lets Hangouts integrate your SMS and MMS messages in addition to Gtalk and Google+ conversations.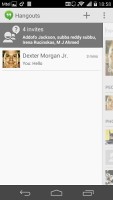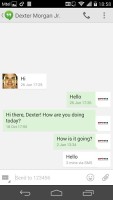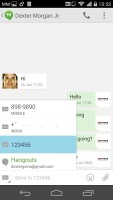 The Hangouts app can also be used for messaging
For email, the Gmail app includes the four inbox options (Primary, Social, Promotions, Updates) that Google recently introduced in their online interface. The default Email app is similar to Gmail, except that it can handle multiple POP or IMAP inboxes, which is useful for when you want to keep track of multiple accounts from one place. Huawei have incorporated more elements from the Gmail app than most manufacturers, so it's an excellent alternative if you need to keep connected several email accounts.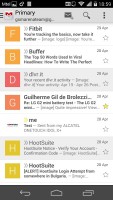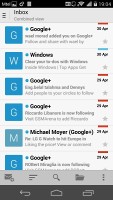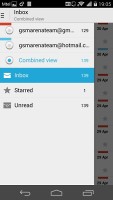 The Gmail app • The generic email client has the same functionality but also with a combined inbox
The Ascend P7 keyboard features some additional settings thanks to its Swype integration, including themes, split keyboard modes, and keyboard height, but sadly many of them are hidden within the input settings menu rather than as shortcuts from the keyboard like on most interfaces. Still, there is support for gestures as well as integration of Google's voice typing with their downloadable language packs.