Decent 13MP snapper
The Huawei Ascend P7 has a 13MP camera for maximum image resolution of 4160 x 3120 pixels. There's a single LED flash to go with it.
The camera interface is a standard affair - you get a still/video camera toggle, a virtual shutter and a shortcut to the gallery on the right. On the left side is an advanced menu where you can choose from different shooting modes, and adjust things like object tracking, smile shutter, touch to capture switch, geo-tagging on/off, ISO, white balance, and more.
The Huawei Ascend P7 camera captures really decent photos, but the camera is not without its flaws.
When the sensor is able to hit an accurate exposure reading, the dynamic range is respectable with only small amounts of overblown highlights and dark shadows. Unfortunately, getting an accurate exposure in high contrast situations was hit or miss. Often we had to use touch focus on an unrelated subject in the scene to get accurate tonal characteristics and balanced exposure.
Another point to make is that the photos have more noise than those by competing 13MP cameraphones and the noise reduction is not as mature as we've seen elsewhere (Oppo Find 7a). On a positive note, it's still relatively light and doesn't smear the fine details on uniformly colored and textured surfaces (Galaxy S4).
The camera module itself has a high detail resolving power and that, coupled with a noticeable tendency of overshaprening the images, delivers visually sharp photos, which we bet will make most users happy. That's especially true when sharing on social networks where photos never get posted in full resolution. But to our discerning eye, at 1:1 magnification the combination of the immature noise suppression and oversharpening adds for an unnatural look.
Another downside is the uneven sharpness (the soft right edge is most noticeable), which suggests an inferior lens has been used. Of course, you have got to remember this is a pre-release unit we are reviewing here, so we are ready to give it the benefit of a doubt as far as lens quality is concerned.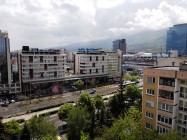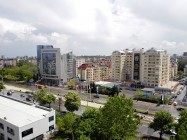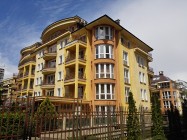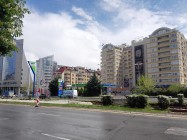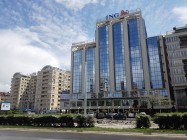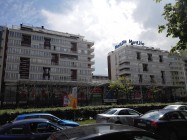 Huawei Ascend P7 camera samples
The Ascend P7 is capable of taking 360-degree panorama shots, which turn out well only moderate glitches in the stitching.
Huawei's front-facing camera snaps fixed-focus 8MP photos. It sounds like a selfie machine and even has a special Beauty shot mode (skin smoothing effect) and Instagram-like color effects too. Huawei has even incorporated a Panorama mode for the front facing camera, although it's rather impractical for group selfies. Still, we find the 5MP front camera on the recently reviewed Oppo Find 7a to produce higher quality photos than the Huawei Ascend P7 (at least in good light where we tested).
And here some 8MP shots snapped with the front-facing camera.
Photo quality comparison
The Huawei Ascend P7 has plenty of smartphones to contend with in our Photo compare tool, which lets you see just how it fares against other 13MP shooters.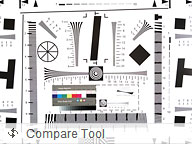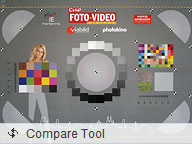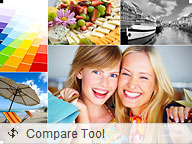 Huawei Ascend P7 in our Photo compare tool
FullHD camcorder offers standard performance
The camcorder interface is practically identical to that of the still camera. Both the rear 13MP and front-facing 8MP shooters record videos at up to 1080p@30fps.
Videos are stored as MP4 files and have a bitrate of a solid 25Mbps for 1080p resolution. There's stereo sound at 96Kbps and the 30fps mark doesn't waver at all.
The video quality is nothing spcecatular. In fact it looks much the same as the one of the Ascend P6, with some added oversharpening.
Despite the generally accurate exposure and contrast, the videos had very poor dynamic range with some very dark shadows and overblown highlights.
The corner softness is more evident in the videos compared to the photos (look to the right edge of the frame). Other than that, the framerate is smooth and the motion is fluid.
Here are is a 1080p video sample, which we've uploaded to YouTube.
And here is an untouched 1080p@30fps video sample for you to download.
Video quality comparison
The video camera of the Huawei Ascend P7 shoots standard 1080p videos @ 30fps. See how it fares against the competition with our video quality comparison tool.