Press conference
Huawei's press conference marks the beginning of the quad-core smartphone era at this year's Mobile World Congress, which yet again is held in sunny Barcelona. The Chinese have raised the expectations high and are keen to put themselves on the Android map.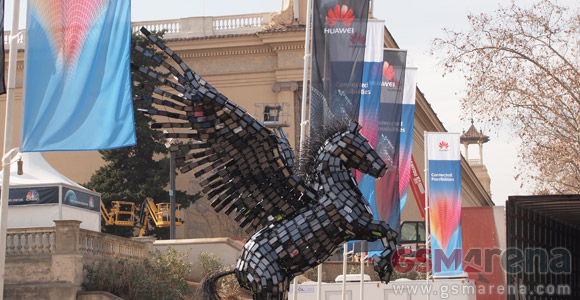 The big small player has grown ambitious to play in the same ballpark as the big Droids from Samsung, LG, HTC, Sony and Motorola. Huawei's punchline is "Incredibly fast and about to take off" put next to their impressive looking pegasus made up of smartphones.
But words alone won't be enough for the Chinese to truly rise above the competition. They need something truly jaw-dropping. This is where the Ascend line-up comes in.
At the stage, Huawei's top brass presented the company's flagship - the Ascend D quad, the Ascend D quad XL, the Ascend D1.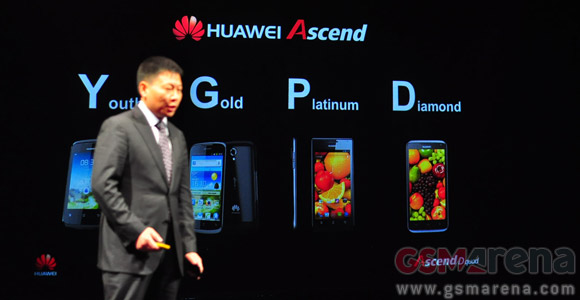 And here's the jaw-dropping moment - Huawei have built their own quad-core chipset, which they say smokes everybody else's hardware out of the game and is the fastest quad-core processor the world has seen. Now Huawei proudly stands next to Texas Instruments, Samsung, Nvidia and Qualcomm in the system-on-a-chip manufacturer list.
Smartphones aren't Huawei's only strong hand. The ace hiding in the Chinese sleeve is a 10.1-inch MediaPad, which in Huawei's world, proudly stands against the iPad.
And we've been out there on the showroom floors to see if their statements hold any ground or is it just catchy phrases for the press release. Let's get to the hands-on.
T
Hahaha i am laughing so hard at this!!! They are the worlds 2nd largest manufacturer, are you living under a Rock??? Btw i am from the Future, nice meeting you!!!
?
huwaii company plz bring ur products in Kenya...i can how you want 2 take over the world dats gud
h
how does google work on this smartphone?