Last week, Huawei announced via social media that it would begin holding pre-order for the Mate 30 series in The Philippines on October 28. Today, customers in the Philippines can start pre-ordering the Mate 30 for PHP 34,990 ($685) or the Mate 30 Pro for PHP 50,990 ($999). Both base models come with 8GB of RAM while storage is 128 GB and 256GB, respectively.
Customers who pre-order from now through Friday November 8 will free accessories including a Supercharge Wireless Charger and a second Supercharge Wireless Car Charger, both worth PHP 5,580 ($109).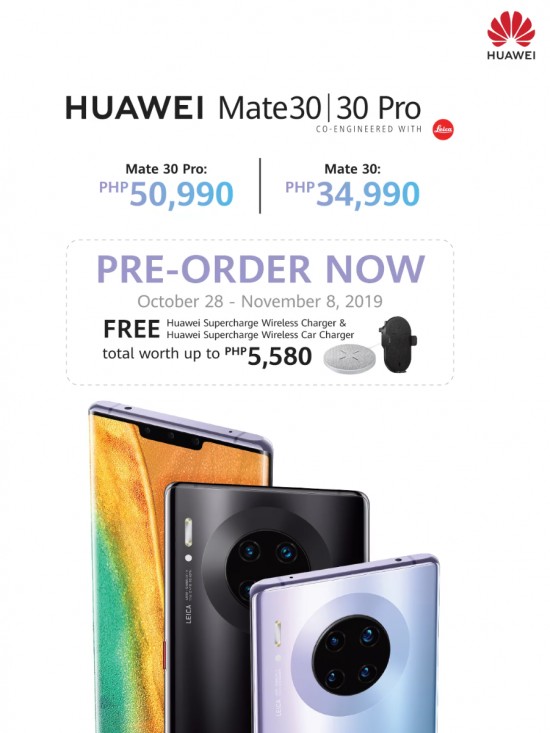 The Huawei Mate 30 Pro (review here) has a 6.53-inch display with 90Hz refresh rate with a resolution of 1176 x 2400 px. It supports HDR10 and Huawei's M-Pen. The phone is powered by the Kirin 990 CPU and a 4500 mAh battery with support for Huawei Supercharge (40W) and Huawei Supercharge Wireless (27W). The phone also features 3D face recognition in addition to an in-display fingerprint scanner.
Although the phone was announced at a launch event in Europe back in September, the Mate 30 series is yet to go on sale in any major Western markets. Currently, the Mate 30 series is available in China and the company's 5G variants of the Mate series just went on sale in Huawei's home market late last week. As per Huawei's Philippines site, Huawei will only sell 4G variants in The Philippines.
Huawei hasn't been able to ship its new phones with Google Play Services because of the US ban, so it hasn't stopped the company from growing in number of sales. The company shipped 200 million devices over a month earlier than last year and it plans to ship 270 million devices by the end of the year.
N
1. LZPlay uses Huawei's own enterprise API to gain the system level privilege and install Google Play Services, but the API itself is not publicly announced and app requires to go through thorough inspection by Huawei to use it. This is exactly the s...
Oh c'mon, check what kind of phone using other tech leaders, from another big brands... Only difference is that they are way more careful what to show in public. And calling now Huawei number one spy is funny after all what we know about Google, Face...