Earlier today the rumors regarding Huawei's future flagship smartphone suggested it would cost just $330, but the company's CEO was quick to debunk them.
Interestingly, at the very same time, a new official image was leaked by evleaks, showing the device in multiple colors, including white, black and pink.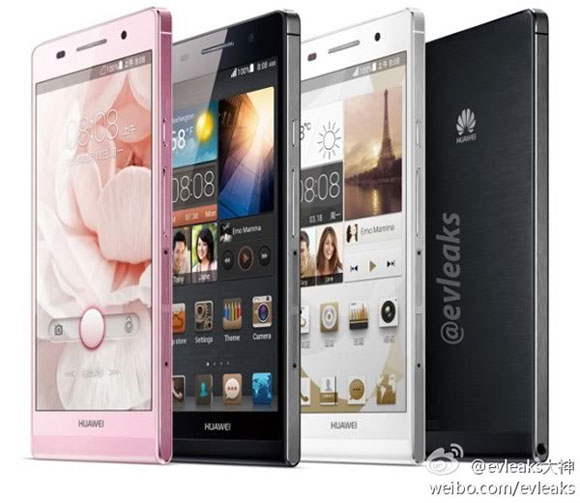 Richard Yu, who is in charge of the management of the Chinese-based smartphone manufacturer, has tuned in today and officially denied the rumors of the Huawei P6 being so cheaply priced. According to him, the more "reasonable price" is around the $490 mark.
However, "those experienced in the industry", as Yu puts them, have said to him that the P6 should be priced at as much as $570.
Moroever, Yu goes on to saying that the Huawei P6's low price bruits were started by a Western company, which he didn't name, to damage the reputation of his company. Here are his exact words on the matter:
Huawei isn't emphasizing on high pricing and high profits. The Huawei Ascend P Series is an affordable smartphone line with nice design. There were rumors stated that the Huawei Ascend P6 will be priced at $330. This is one of the tricks from Western companies to strangle and damage the reputation of high quality devices from China. Please don't get cheated by those rumors. Huawei Ascend P6 has the price for its innovation and design. But it is going to be a "reasonable price". Please wait until Huawei Ascend P6 launched into the market.
Here's hoping that the final price of the smartphone will become official on June 18, when Huawei is expected to unveil it to the world. The Ascend P6 is expected to pack a 1.5 GHz quad-core processor along with 2 GB of RAM, 8 megapixel rear camera, 2 megapixel front camera, 32 GB inbuilt memory and Android 4.1.2 Jelly Bean.
?
its a nice phone, i bought it like 10 days back, speed, touch, sound, camera are awesome! simply, a very good one i'd say !
D
Huawei's phone really looks good and interesting,especially their new phablet Mate, im looking forward for this phone but its not yet available in my region :(
?
Nexus 4 does not availabe at same price in evey region. In my country the price of Nexus 4 is nearly double.
ADVERTISEMENTS