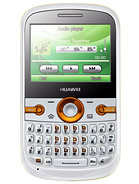 D
I have one of these.

PROS:
Excellent cost / benefit.

CONS:
I had to remove the engine vibration. Cause: The cel seems to be possessed by a ghost. Without any reason, it is vibrating (or biping when this mode is active).

Low battery: Cause: With the configuration optimized for battery life (more detail above), the battery life on standby is a maximum of 48hrs!
s
i have this phone, but it is very slow on internet, that is moving the mouse pointers around the screen
?
i have this phone
it is good for work but not in internet
it is cam was good in the morning but at night u can't see any thing
?
[deleted post]huawei is nice but but the operation is no good becouse other are useless, doe'nt want to work
Total of 28 user reviews and opinions for Huawei G6620.