It is often times hard to escape from the shadow of your sibling - this is especially true for a lot of budget-friendly handsets nowadays that are specifically intended to be a more-affordable substitute for their bigger brothers. The Huawei G8 that we recently reviewed finds itself in precisely this position. It is hard not to compare it to the Mate S and the G8 doesn't have too many arguments there.
But, although the G8 is objectively inferior to the Mate S in almost every way, there is still one department where the budget-friendly model managed to best its flagship counterpart and that is battery life.
The Huawei G8 makes much better use of its 3000 mAh battery pack than the Mate S manages with its 2700 mAh one. The G8's slightly thicker body might not be to everybody's liking, but it did allow for that extra 300 mAh to be fitted and definitely contributed towards there respectable 70 hours endurance rating that it scored.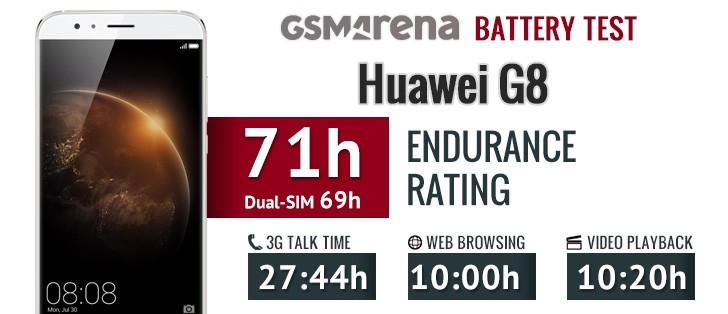 Seeing how the G8 is a dual-SIM device, you can also get 69 hours with a pair of network connections and 71 hours with only one, which is an impressive 9 to 11 hours more than the Mate S. It is also worth noting that the Mate S also has the benefit of a more power-efficient AMOLED panel, which means that the bulk of the superior battery performance can be attributed to a more efficient chipset (the Snapdragon 615 in this case) and also better power management.
Breaking the score down to its components, we find an impressive talk time of almost 28 hours. That is probably the one aspect in which the G8 treads in true flagship territory better than its high-end sibling – the Mate S. It is a huge difference between the two - and it might be a big deal if you still tend to use your phone to talk more than anything else. However, there is note to be made here - sadly, the G8 exhibited rather pool sound quality during our call test.
Talk time
Samsung Galaxy Tab Pro 10.1 LTE
46:44h
Lenovo Vibe Z2 Pro
33:20h
Huawei Ascend Mate2 4G
33:19h
Oppo R7 Plus
30:46h
OnePlus 2
30:29h
Samsung Galaxy S6 edge+
30:29h
Motorola DROID Turbo
30:09h
Microsoft Lumia 640 XL LTE
29:46h
Microsoft Lumia 640 XL
29:46h
Microsoft Lumia 640 XL Dual SIM
29:46h
Microsoft Lumia 640 XL LTE Dual SIM
29:46h
Nokia Lumia 1520
28:34h
Samsung Galaxy Note5
28:34h
HTC One (M8) for Windows
28:34h
Samsung Galaxy Note 4
28:31h
Sony Xperia Z4 Tablet LTE
28:25h
Sony Xperia Z5 Compact
28:23h
Huawei G8
27:44h
Huawei G8
27:44h
Samsung Galaxy S5
27:37h
Sony Xperia Z1
26:53h
Samsung Galaxy S6 active
26:29h
Motorola Moto X Play
26:28h
Samsung P6800 Galaxy Tab 7.7
25:45h
LG G3
25:38h
LG G Pro 2
25:37h
LG G Flex
25:19h
Sony Xperia T2 Ultra
25:16h
LG G2
25:15h
Samsung Galaxy A7
25:12h
Samsung Galaxy A7 Duos
25:12h
Huawei Ascend Mate
25:12h
BlackBerry Passport
25:12h
Motorola Nexus 6
25:03h
Samsung Galaxy A8 Duos
25:02h
Alcatel Hero
25:02h
Samsung Galaxy A8
25:02h
Oppo N1
25:01h
Samsung Galaxy Note 3 Neo
24:52h
Sony Xperia Z Ultra
24:23h
Oppo R7s
24:03h
Apple iPhone 6 Plus
23:49h
LG AKA
23:20h
Sony Xperia Z3
23:13h
Meizu PRO 5
23:10h
Microsoft Lumia 640 LTE Dual SIM
23:09h
Microsoft Lumia 640 LTE
23:09h
Microsoft Lumia 640 Dual SIM
23:09h
Oppo R7
22:58h
Samsung P6200 Galaxy Tab 7.0 Plus
22:42h
Motorola Moto E (2nd gen)
22:36h
Motorola Moto X Style
22:23h
ZTE Nubia Z9
22:20h
Huawei MediaPad 7 Vogue
22:16h
Nokia Lumia 1020
22:13h
HTC One Max
22:13h
Samsung Galaxy Core LTE
22:13h
Nokia Lumia 1320
22:13h
Sony Xperia Z2
22:13h
Lenovo ZUK Z1
22:13h
Sony Xperia C3 Dual
22:11h
Yota YotaPhone 2
22:09h
Meizu MX4 Pro
22:09h
Samsung ATIV SE
22:05h
Xiaomi Redmi Note
21:41h
Samsung Galaxy Note Edge
21:39h
Motorola RAZR MAXX
21:18h
Xiaomi Mi 4i
21:02h
Meizu m2 note
20:55h
LG Optimus G Pro E985
20:45h
HTC One M9
20:44h
Sony Xperia Z1 Compact
20:42h
Sony Xperia Z5 Premium
20:27h
Motorola DROID RAZR MAXX
20:24h
Asus Zenfone Selfie ZD551KL
20:22h
Motorola RAZR i XT890
20:07h
Huawei Ascend Mate7
20:06h
Samsung Galaxy A3
20:04h
Samsung Galaxy A3 Duos
20:04h
Samsung Galaxy E7
20:04h
Oppo Find 7
20:03h
Samsung Galaxy S5 Active
20:01h
BlackBerry Q10
20:00h
OnePlus One
19:56h
Samsung Galaxy Grand 2
19:55h
Samsung Galaxy Mega 6.3 I9200
19:54h
Sony Xperia SP
19:49h
Samsung Galaxy S6 edge
19:48h
Sony Xperia T3
19:48h
Samsung Galaxy S6
19:48h
HTC Butterfly 2
19:23h
HTC Butterfly S
19:14h
HTC Desire Eye
19:11h
Oppo R819
19:03h
Asus PadFone X
18:45h
Samsung Galaxy J7
18:37h
Xiaomi Mi 4c
18:31h
Huawei P8lite ALE-L04
18:25h
Xiaomi Mi 4
18:15h
Samsung Galaxy Note 3
18:12h
Oppo Find 7a
18:11h
Moving on to web browsing and video playback, the G8 managed pretty good scores too. With a web browsing score of 10:00 hours and a video playback one of 10:20 hours, the smartphone isn't topping the charts but it's still doing great for itself.
Web browsing
Huawei Ascend Mate2 4G
16:41h
Sony Xperia E4
16:40h
Samsung Galaxy S6 active
16:25h
Sony Xperia Z4 Tablet LTE
15:05h
Sony Xperia Z3 Compact
14:52h
Sony Xperia Z5
14:35h
Meizu MX4
14:06h
Huawei Ascend Mate7
13:53h
Huawei P8
13:32h
Samsung Galaxy S5 mini
13:14h
HTC Butterfly 2
13:11h
Meizu m1 note
13:05h
Huawei Honor 6
12:59h
Meizu PRO 5
12:51h
Sony Xperia C
12:45h
Motorola Moto E (2nd gen)
12:42h
Nokia Lumia 1520
12:40h
Sony Xperia Z1 Compact
12:37h
HTC One (M8) for Windows
12:31h
HTC Desire 700 dual sim
12:30h
HTC One (M8)
12:29h
Apple iPhone 6s
12:27h
Samsung Galaxy A8
12:18h
ZTE Nubia Z9
12:18h
Samsung Galaxy A8 Duos
12:18h
Sony Xperia T2 Ultra
12:17h
Sony Xperia Z3
12:03h
Nokia XL
11:54h
Motorola Moto X Play
11:52h
Apple iPhone 6s Plus
11:51h
Sony Xperia Z3+
11:51h
HTC Desire 816
11:48h
Sony Xperia C3 Dual
11:47h
LG G2
11:42h
Samsung Galaxy A5 Duos
11:36h
Samsung Galaxy A5
11:36h
Meizu m1 metal
11:33h
Sony Xperia Z2
11:32h
Sony Xperia E4g
11:32h
Motorola DROID Turbo
11:31h
Sony Xperia E1
11:30h
Sony Xperia Z5 Compact
11:20h
HTC One Max
11:20h
Sony Xperia ZR
11:20h
HTC Butterfly S
11:07h
Asus PadFone X
11:07h
LG G2 mini
11:02h
Samsung Galaxy Note 4
11:01h
Nokia Lumia 1320
10:58h
Samsung Galaxy S6
10:56h
Samsung Galaxy S6 edge
10:56h
HTC Desire 510
10:53h
Microsoft Lumia 532
10:52h
Microsoft Lumia 532 Dual SIM
10:52h
Motorola Moto G 4G
10:52h
Microsoft Lumia 950 XL
10:50h
Microsoft Lumia 950 XL Dual SIM
10:50h
Lenovo ZUK Z1
10:46h
Samsung Galaxy Note5
10:43h
Oppo R7 Plus
10:39h
Huawei Honor 7
10:38h
LG AKA
10:38h
Nokia Lumia 830
10:36h
Apple iPhone 6
10:29h
Samsung Galaxy S6 edge+
10:25h
Meizu MX4 Pro
10:24h
Microsoft Lumia 640 Dual SIM
10:23h
Microsoft Lumia 640 LTE
10:23h
Microsoft Lumia 640 LTE Dual SIM
10:23h
Nokia Lumia 630
10:18h
Microsoft Lumia 640 XL LTE
10:14h
Microsoft Lumia 640 XL
10:14h
Microsoft Lumia 640 XL Dual SIM
10:14h
Microsoft Lumia 640 XL LTE Dual SIM
10:14h
BlackBerry Passport
10:12h
BlackBerry Q5
10:04h
HTC Desire Eye
10:02h
HTC One (E8)
10:02h
Nokia Lumia 635
10:00h
Huawei G8
10:00h
Huawei G8
10:00h
HTC One
9:58h
Apple iPhone 5s
9:58h
Apple iPhone 5
9:56h
Meizu m2 note
9:54h
Samsung Ativ Odyssey I930
9:54h
Sony Xperia M2
9:48h
Sony Xperia E3
9:48h
Samsung I9190 Galaxy S4 mini
9:47h
OnePlus One
9:46h
Samsung Galaxy Note 3 Neo
9:43h
Huawei Mate S
9:43h
Alcatel Hero
9:40h
Samsung Galaxy S5
9:39h
Samsung Galaxy Core LTE
9:37h
vivo X5Pro
9:34h
Xiaomi Mi 4c
9:32h
LG G Pro 2
9:31h
Xiaomi Mi 4
9:31h
LG G Flex
9:31h
Samsung Galaxy A7 Duos
9:30h
Video playback
LG G Flex
19:57h
Oppo R7 Plus
18:04h
Samsung Galaxy S6 active
18:03h
Meizu PRO 5
18:02h
Huawei Ascend Mate2 4G
18:01h
Samsung Galaxy Note 4
17:52h
Motorola RAZR MAXX
16:35h
Samsung Galaxy J7
16:22h
Sony Xperia Z3 Compact
15:03h
Sony Xperia Z4 Tablet LTE
14:58h
Samsung Galaxy E7
14:57h
Motorola DROID RAZR MAXX
14:17h
Lenovo ZUK Z1
14:14h
Oppo R7s
14:05h
Huawei Ascend Mate7
14:04h
Apple iPhone 6s Plus
13:57h
Samsung Galaxy S6 edge+
13:53h
Samsung Galaxy Note5
13:51h
Motorola DROID Turbo
13:41h
Samsung Galaxy Note 3
13:32h
Nokia Lumia 1020
13:12h
Samsung I9190 Galaxy S4 mini
13:12h
Sony Xperia T2 Ultra
13:12h
HTC One Max
13:11h
Motorola Moto E (2nd gen)
13:04h
Sony Xperia Z5 Compact
13:04h
Sony Xperia C
12:53h
Huawei Honor 6
12:51h
Samsung Galaxy Premier I9260
12:51h
Samsung Galaxy S5 Active
12:51h
Samsung Galaxy A8 Duos
12:45h
Samsung Galaxy A8
12:45h
Meizu MX4 Pro
12:41h
Nokia Lumia 1520
12:31h
Samsung I9505 Galaxy S4
12:30h
BlackBerry Q5
12:28h
Sony Xperia C3 Dual
12:22h
Huawei Ascend Mate
12:18h
Sony Xperia Z2
12:16h
Samsung Galaxy S6
12:12h
Samsung Galaxy S6 edge
12:12h
Samsung Galaxy Tab Pro 10.1 LTE
12:10h
Motorola Moto X Play
12:06h
LG AKA
11:54h
Sony Xperia Z3
11:47h
Samsung Galaxy Note 3 Neo
11:38h
Samsung P6800 Galaxy Tab 7.7
11:37h
Asus Zenfone Selfie ZD551KL
11:32h
Samsung I9500 Galaxy S4
11:29h
Samsung Galaxy Note II N7100
11:27h
Huawei Mate S
11:26h
OnePlus One
11:23h
HTC One (E8)
11:16h
Apple iPhone 6 Plus
11:15h
Oppo N1
11:15h
Samsung Galaxy S5
11:15h
BlackBerry Q10
11:15h
HTC One (M8) for Windows
11:15h
Meizu m1 note
11:09h
Samsung Galaxy S5 mini
11:02h
Asus PadFone X
11:01h
Xiaomi Mi 4c
10:47h
Apple iPhone 6s
10:46h
BlackBerry Passport
10:46h
vivo X5Max
10:44h
vivo X5Pro
10:41h
Samsung Galaxy Note Edge
10:41h
Microsoft Lumia 950 XL Dual SIM
10:38h
Microsoft Lumia 950 XL
10:38h
Samsung Galaxy J2
10:35h
LG G Flex2
10:35h
HTC Desire Eye
10:35h
HTC Desire 816
10:34h
Apple iPhone 5s
10:31h
HTC Butterfly 2
10:26h
LG G2 mini
10:23h
Huawei G8
10:20h
Nokia Lumia 735
10:20h
Huawei G8
10:20h
Apple iPhone 5
10:12h
HTC One (M8)
10:11h
Xiaomi Mi 4i
10:11h
Samsung Galaxy K zoom
10:08h
Samsung ATIV SE
10:07h
Sony Xperia M2
10:04h
HTC First
10:03h
HTC One
10:02h
Motorola Moto X
10:01h
Sony Xperia Z1 Compact
10:01h
Motorola Nexus 6
10:01h
Nokia Lumia 635
10:00h
Nokia Lumia 630
10:00h
Huawei P8lite ALE-L04
10:00h
Samsung I9105 Galaxy S II Plus
10:00h
Samsung Galaxy Express I8730
10:00h
Samsung Galaxy A7 Duos
9:58h
Samsung Galaxy A7
9:58h
Nokia Lumia 830
9:58h
Sony Xperia T3
9:56h
HTC Desire 510
9:54h
Nokia 808 PureView
9:53h
Overall, apart from the exquisite exterior, materials and built quality, the battery life is certainly one of the most appealing aspects of the Huawei G8. For our two cents and a detailed account of our concerns with many other aspects of the handset, be sure to check the in-depth review.