Display
There is a peculiar thing about the display like on other Huawei phones. A thin black frame runs around the display and when the screen is off, it gives the illusion that the bezels are super slim. It's really an effective trick that helps a lot in the aesthetics department.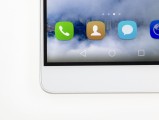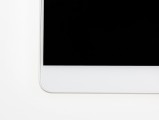 Slimming bezels: a black frame surrounding the display makes bezels seem thinner
Honor went with a 5.5 inch, LCD IPS display with a resolution of 1080x1920px.
The phone also offers optional software level sunlight compensation. It would temporarily brighten up the detail in the dark parts of the screen content, which would otherwise be tough to see in direct sunlight.
Colors don't shift when turning the device about, but there is some contrast shift when looking at the device at an angle.
The color representation of the Honor 5X's display is quite good for a phone of this price range though its default wallpaper does not do the display any favors.
In reality, colors look vibrant without being too saturated, and the brightness is quite generous even in direct sunlight.
While this display is generously bright in good light (473.1nits), it does not get as dim as some other devices can (6.1nits). This is not a deal-breaker, though, unless you plan on often using this device in pitch black rooms.
With the default display settings, the Honor 5X showed a very good contrast ratio of 1:1072.
The max color deviation (DeltaE) was 11.3 and the average one was 4.3. The whites were the most inaccurate with a slight bluish tinge but nothing major.
The 5X does let you manually change the color temperature of the display. When we played with it we were able to reduce the average and max deviations to DeltaE 2.3 and 5, respectively. There was minimal loss in screen brightness when adjusting the color temperature to a slightly warmer one.
Display test
100% brightness
Black, cd/m2
White, cd/m2
Contrast ratio
Huawei Honor 5X
0.441
473.1
1072
Xiaomi Redmi Note 3 (MediaTek)
0.42
403
953
OnePlus One
0.75
598
799
Meizu m2 note
0.42
473
1108
Meizu m1 metal
0.50
390
780
Motorola Moto X Play
0.41
620
1520
LG G3
0.72
570
789
Samsung Galaxy J7
0
358.00
∞
Asus Zenfone 2 ZE551ML
0.44
390
879
Lenovo K3 Note
0.24
432
1793
Apple iPhone 6 Plus
0.52
705
1361
Huawei Mate S
0.00
372
∞
Connectivity
The Honor 5X features two SIM tray slots; one is a microSIM and the other a nanoSIM. It is capable of 42.2/11.5 Mbps on HSPA+ and LTE Cat4 @ 150/50 Mbps. The specs sheet lists the device as compatible with LTE band 12. Unfortunately, Honor has told us that it hasn't any plans to certify the Honor 5X for T-Mobile's 700MhZ band 12 at this time.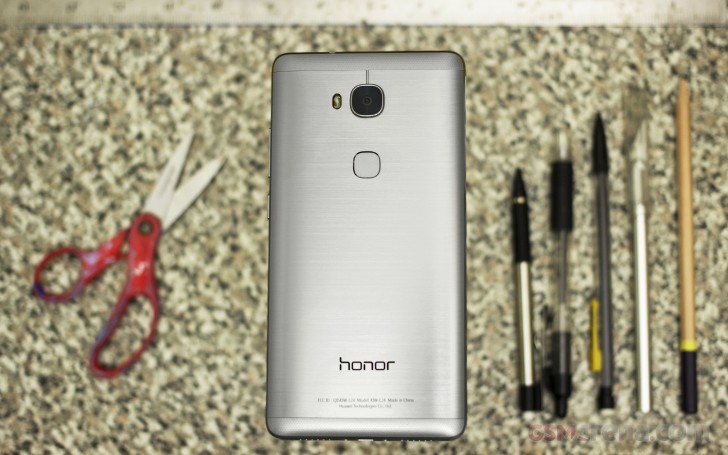 There are a couple of places in the connectivity department where Honor has found ways to cut cost. Among the common myriad of connectivity options like Bluetooth 4.1 A2DP and FM Radio, there is no NFC, also there is the omission of 5GHz dual Wi-Fi, which isn't horrible, but is often found on many smartphones.
Don't expect there to be any TV output via the microUSB port, though perhaps TV out options are becoming more and more phased out by mirroring devices like smart TVs, Miracast dongless, and the Chromecast. Of course, the case might differ in other regions around the world.
Battery life
EM UI offers many battery saving options that can help your phone sip battery to the very last drop. Right off the bat, as you begin using your device, the Honor 5X scopes out potential battery hogs and reports them to you via a notification. From here you can either ignore further alerts for that app, or you can force close the app immediately.
Facebook and Twitter, for instance, are not protected by default, which means they get terminated upon putting the phone to sleep, all you have to do is head to the Protected Apps window and whitelist the apps that you expect push notifications from.
This is a bit of a nuisance, alternatively, the apps could have been pre-protected so they work properly, or the apps could have been excluded from pre-installed apps so they'd be protected upon installation.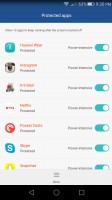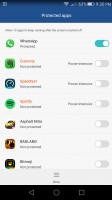 Apps must be white-listed or "Protected" so the UI does not terminate it when asleep
There is also even an Ultra Power Save mode baked in which will disable all data, extra connectivity like Wi-Fi and Bluetooth, and only allow you to make and receive calls, send or receive SMS, or look through your contacts.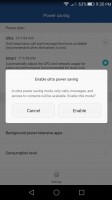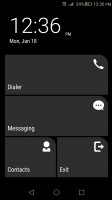 Ultra power save mode only lets you access the dialer, SMS, and contacts
The Honor 5X comes with a generous 3000mAh battery which is just at the middle of what the 5.5 inch 1080p market offers with phones like the Xiaomi Redmi Note 3, Meizu m2 note, and the Lenovo K4 Note. When looking at the overall scores of the devices in this niche, the Honor 5X did a bit better than most devices with an overall score of 76 hours - probably thanks to EM UI's excellent battery saving features.
The Honor 5X did well for a device of its price. It gave us 9:16h of video playback, 10:00h of web browsing, 29:50h of call time. This battery draw, combined with the standby time, gives us an overall score of 76 hours, which is about how long the phone would last you if you used it for an hour of calling, web browsing and video watching per day.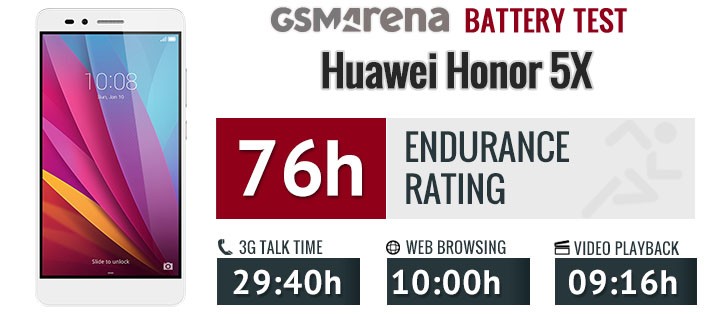 Our proprietary rating denotes the number of hours the phone will be operational if you are to make an hour of 3G talks, web browsing and video playback per day. Such usage pattern is of course entirely artificial, but we've established it so our battery results are comparable across devices.
The proprietary score also includes a standby battery draw test, which is not featured in our battery test scorecard but is calculated in the total endurance rating. Our battery testing procedure is described in detail in case you want to learn more about it.