EmotionUI makes KitKat unrecognizable
Much as expected, the Honor 6 comes with Huawei's heavy overlay on top of Android 4.4.2. The company's customizations run very deep and the experience is pretty far detached from stock KitKat. It's a pleasant interface nonetheless, sporting flat icons with rounded corners for a consistent overall look.
What's most notable and has become the norm for phones originating in certain parts of the world, is the single-level interface with no app drawer. Instead, all apps appear straight on the homescreen. You can obtain a general idea of the Honor's take on Android in the brief video below.
The lockscreen is the usual affair at first glance, with a digital clock and date, as well as a camera shortcut located in the bottom right. It does possess some additional flair though, with two distinct unlock effects and the possibility for alternating wallpapers. A swipe from the bottom opens a drawer of iOS-style shortcuts and weather info.
Beyond the lockscreen we find the homescreens, of which you can have up to nine. A pinch gesture shows you a thumbnail view of all of them, where you can add or remove panes and rearrange them, as well as set one as default. They cannot be cycled though, which may end up being an issue if use up all nine of them. You do get a nice set of possible transitions to customize your experience.
You'll quickly notice that there's no app drawer, with the approach having its pros and cons. While it means you don't need to bother creating shortcuts of your apps, the downside is that you can't hide apps you don't want to be immediately seen. Of course, you can always toss away the unneeded ones in some folder.
Widgets are supported, naturally, and the ones you've downloaded get their own tab.
You get a dock at the bottom, where you can store up to five shortcuts, with folders supported too. Or you can leave it empty, if that's your thing. The phone evenly distributes whatever number of items you choose to have. If your app icons get scattered all over the place, a shake gesture will restore order.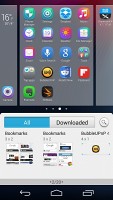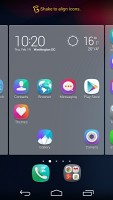 Widget menu • Shake-to-rearrange feature
Three themes are also on board, each one with its distinct look, but you can mix and match elements for an end result that suits your style. A Simple mode is available, with large tiles instead of icons, suitable for inexperienced owners on in-car use.
The notification area sports a two-tabbed interface with actual notifications on the left, and quick toggles on the right. The shade differentiates finger swipes between the two areas and opens the respective tab. The toggle tab has a two level interface with 15 shortcuts immediately visible, the rest accessed with a tap on the downward arrow. A brightness slider with auto option is also present.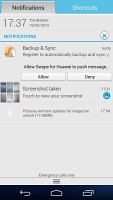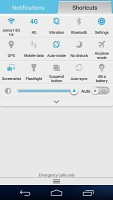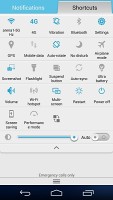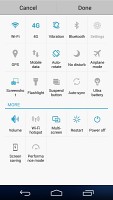 Notification area with toggles
A power saving app is available with three preset power plans and an optimization wizard, which advises you to tweak energy-consuming features such as GPS and touch vibration. You also get an editable list of programs, allowed to run with the screen off.
Huawei likes things neat and tidy and the settings menu features a two-tabbed interface as well, with the most used options grouped on the left, while on the right you can get access to more obscure settings.
The Honor 6 features a task switcher that lets you swipe away unwanted apps, and there's a "Kill all" button that also informs you how much memory you've freed up.
Finally, Google Now integrates with your Google account and can access your daily routine, internet searches, email, etc. and give you information relevant to your interests and daily needs.
It provides traffic information to your work or home, knows the scores of sports teams you follow and gives you the weather forecast for your location. It's great for at-a-glance info, but can handle voice input as well. It also has a dedicated homescreen/lockscreen widget.