Synthetic benchmarks
The Honor 6X is equipped with 3GB or 4GB, depending on the market and amount of internal storage available. This amount of RAM is nicely paired with a Huawei's in-house, HiSilicon CPU offering: The Kirin 655 octa-core chip. This chip consists of two quad-core clusters: four performing cores clocked to 2.1GHz + four efficient cores clocked to 1.7GHz.
This chip comes with an i5 co-processor which is able to take over more specific tasks that require minimal power such as counting steps, low-power MP3 playback, and speech recognition. This helps to squeeze as much juice out of the 3,340 mAh battery as possible.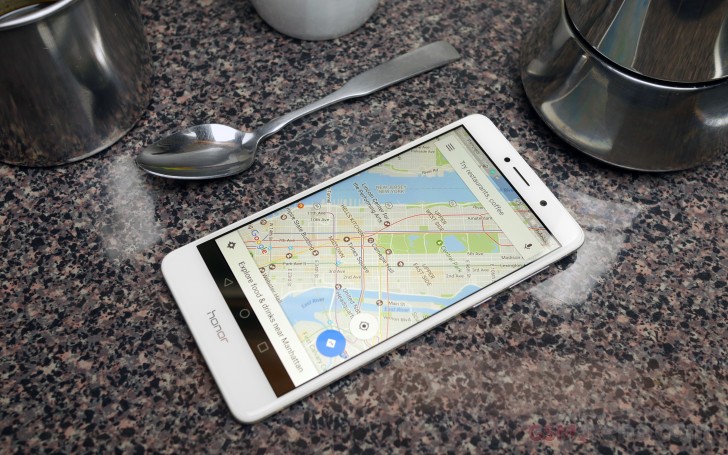 Honor has also outlined maintenance features within the UI which manages file fragmentation and purges unnecessary files to keep the smartphone running just as it did the first day it was removed from its box. This is similar to what Huawei offered with the Huawei Mate 9. And the 6X's Nougat update should improve on this aspect.
Let's take a look at the Kirin 655 next to some other mid-range devices that utilize various mid-range processors like the Snapdragon 430, Snapdragon 617, Helio P10, and a couple of higher-level Snapdragon chips.
Let's start with an overall benchmark test, Antutu 6, which takes into account RAM, graphics, storage, multitasking, and raw CPU power. The Honor 6X was bested by the Alcatel IDOL 4S and the Huawei Nova. We threw the IDOL 4S in there to check out how the Kirin 655 performs against the higher-end Snapdragon 652 and the Huawei Nova performed better than the 6X, even though the Nova has a Kirin 650 CPU.
AnTuTu 6
Higher is better
Alcatel IDOL 4S
82744
Huawei nova
65021
Huawei Honor 6X
57012
Huawei P9 Lite
52768
Lenovo Moto M
51831
Motorola Moto G4 Plus
45190
Lenovo K6 Note
44972
Samsung Galaxy C5
44438
Huawei Honor 5X
35469
In the Basemark OS 2.0 test where the playing field is more level, the Honor 6X topped out all the other mid-range devices (minus the Snapdragon 652-powered IDOL 4S). Like the Antutu 6 test result, here we can see that the Honor 6X out-performs the 5X by about one-third. Keep an eye on the Huawei Nova which runs a Snapdragon 625. This is more or less the Snapdragon equivalent to the Kirin 655.
Basemark OS 2.0
Higher is better
Alcatel IDOL 4S
1647
Huawei Honor 6X
1309
Huawei P9 Lite
1242
Huawei nova
1218
Huawei Honor 5X
874
Samsung Galaxy C5
815
Motorola Moto G4 Plus
799
Lenovo K6 Note
288
In multi-core performance, the Kirin 655 in the 6X beats even the Snapdragon 652 in the Alcatel IDOL 4S. The Honor 5X scored about the same as the Lenovo K6 Note, even though the K6 Note runs a lower-end Snapdragon 430 CPU.
Single-core results flip the top three multi-core scores around. A single core in the SD 652 easily outperforms lower-end CPUs. The SD 652 does have four larger Cortex-A72 cores while the Kirin 655 uses a total of eight Cortex-A53 cores.
GeekBench 4 (multi-core)
Higher is better
Huawei Honor 6X
3351
Alcatel IDOL 4S
3169
Huawei nova
3105
Lenovo Moto M
2921
Huawei Honor 5X
2035
Lenovo K6 Note
2027
Motorola Moto G4 Plus
1822
GeekBench 4 (single-core)
Higher is better
Alcatel IDOL 4S
1472
Huawei nova
842
Huawei Honor 6X
801
Lenovo Moto M
771
Motorola Moto G4 Plus
669
Lenovo K6 Note
635
Huawei Honor 5X
616
GFX bench uses various GPU-intensive scenes to score the graphics performance of devices. The playing field is even more level when using the 'offscreen' versions of the benchmark. It renders the graphic evenly across devices as to more accurately compare test results across devices with varying resolutions.
The Honor 6X scored more than most, in the various GPU tests. It topped the charts across the board, but it did have the IDOL 4S sweating a bit in the offscreen Car scene test. The onscreen test is where things take a different turn, the IDOL 4S performed slower than the 6X did because the IDOL 4S has a QuadHD resolution screen (more than twice the pixels to push). Moving more pixels around results in slower graphics performance.
GFX 3.1 Car scene (offscreen)
Higher is better
Alcatel IDOL 4S
5.6
Huawei Honor 6X
4.6
Huawei nova
3.5
Huawei P9 Lite
2.8
Samsung Galaxy C5
2.6
Motorola Moto G4 Plus
2.6
Lenovo Moto M
2.5
Lenovo K6 Note
2.5
GFX 3.1 Car scene (onscreen)
Higher is better
Huawei Honor 6X
4.8
Huawei nova
3.7
Alcatel IDOL 4S
3.4
Huawei P9 Lite
3
Motorola Moto G4 Plus
2.8
Lenovo Moto M
2.7
Samsung Galaxy C5
2.6
Lenovo K6 Note
2.4
GFX 3.0 Manhattan (1080p offscreen)
Higher is better
Alcatel IDOL 4S
15
Huawei nova
10
Huawei Honor 6X
8.4
Huawei P9 Lite
7.8
Lenovo Moto M
7.1
Lenovo K6 Note
7
Samsung Galaxy C5
6.4
Motorola Moto G4 Plus
6.4
Huawei Honor 5X
5.6
GFX 3.1 Manhattan (1080p offscreen)
Higher is better
Alcatel IDOL 4S
9.3
Huawei nova
6.3
Huawei Honor 6X
4.8
Lenovo Moto M
4.7
Huawei P9 Lite
4.6
Lenovo K6 Note
4.4
Samsung Galaxy C5
4.2
Motorola Moto G4 Plus
4.1
The Huawei Nova did better with graphics than the 6X did, although the performance of these two devices is pretty much on par with each other. Like the Basemark OS II 2.0 test, the Honor 6X is still about a third better than the 5X in overall performance. Likewise, we can expect the Kirin 655 to perform about the same as the Snapdragon 625.
Basemark X
Higher is better
Alcatel IDOL 4S
14651
Huawei nova
10511
Huawei Honor 6X
8458
Huawei P9 Lite
7681
Lenovo K6 Note
7480
Lenovo Moto M
6732
Motorola Moto G4 Plus
6380
Samsung Galaxy C5
5039
Huawei Honor 5X
5009
Basemark X (medium)
Higher is better
Alcatel IDOL 4S
24507
Huawei nova
21345
Huawei Honor 6X
16712
Huawei P9 Lite
15754
Lenovo K6 Note
15232
Motorola Moto G4 Plus
11566
Huawei Honor 5X
10107
Samsung Galaxy C5
9598
Even so, don't expect to play many graphic-intensive games along the likes of Asphalt 8, or Riptide 3, as you might find them more enjoyable on higher-end devices. Still, this phone, like many other midrange devices, is quite capable of playing all kinds of casual and high-profile games.
Likewise, everyday performance is cake for this phone. The Honor 6X, like many phones with Huawei's in-house chips, runs quite cool during prolonged use. When playing games from extended amounts of time, you can expect warmth to the touch. We've seen phones get much warmer in the past.
Switching between apps or simultaneously updating a multitude of apps presents no challenge for the Honor 6X's Kirin 655. Heck, it even powers up pretty fast. Huawei has done a wonderful job with the software-to-hardware optimization of its UI.