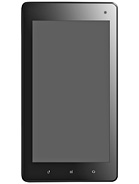 M
Request for Software , My tablet has virus i have been trying from last 8 months, could not get the same.

if any one can send us the software to update it will be great to use again and help from your end .

this tablet loves my son .
X
I've had the unit for more than 6 months now, this is not a cellphone, its a multi media, multi function tablet much like a laptop computer only smaller. Like a loptop, I can surf the net bcoz its wi-fi capable, download videos, apps, photos and music. I can as well play music, watch videos, view photos and enjoy many different apps. It can also take photos and record videos with its primary and secondary cameras. Memory capacity can be expanded with a micro sd card up to 32G. Battery life is very good. It is very handy to bring anywhere specially when you need something to fight boredome. A very good gadget as far as I'm concerned.


s
kenny, 19 Jun 2012is the phone a Ruim base or need to programm ur line inside. kenny.india
t
Abu, 27 Oct 2011Hey guys, if you compare this IDEOS Tab to Samsung Galaxy Tab 7, which one is better?of course samsug is the best , ideos 7 not support arabic I have it and I am feeling sorry for buying it .
R
am blown only god kowns why,man i think this phone is really cool!!!!!!!!!!
A
Hey guys, if you compare this IDEOS Tab to Samsung Galaxy Tab 7, which one is better?
D
im using Huawei s7 slim everywhr i go everybody is suprised, everybdy wanna touch it.. It put me on the spotlight. Even at the college i experience the same thing.. Guys im afraid my phone will not last due to high volume of dis people who wanna touch nd scrool da menu. Even in a taxi i experiece da same thing. day by day i answer dis question "is that a phone or computer"? lol. Please guyz help my phone wil b damaged so must i not show them this phone or what?

Total of 10 user reviews and opinions for Huawei IDEOS S7 Slim CDMA.