Yu Chengdong (aka Richard Yu), Executive Director, CEO of Huawei's Consumer Business Group, posted on Weibo that the Huawei Mate 20 phones have passed 10 million shipments. Since they were first available in November, this milestone was reached in just 5 months.
This matches the achievement of the P20 family, which also surpassed 10 million shipments in 5 months. Both beat the older Mate 10 phones, which took 10 months to get to this point. Going even further back, the Mate 9 flagships managed 5 million units in 4 months.
The Huawei Mate 20 Pro was honored at the MWC last month, it won the title "Best Smartphone" at the annual GLOMO awards.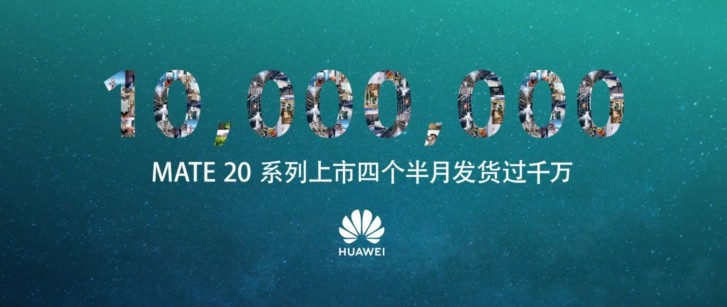 Anyway, Yu also promised more breakthroughs in 2019 and is looking forward to sharing "the joy brought by scientific and technological progress". The company already unveiled the Huawei Mate X, which is both its first 5G phone as well as its first foldable phone (and it won the Best New Connected Mobile Device GLOMO award).
PS. Huawei didn't make it clear if the "Mate 20" family includes the premium mid-ranger Mate 20 lite, which launched in September.
Source (in Chinese)
?
I dont know what Dxo is for sure and no one is actually. But yes i think they get paid for advertise. But i just answer to a question before :P
D
do you know what you are talking about?get a life
d
dxo is a joke. go create your own phone then pay millions of dollar dxo you will see your phone to be top camera phone
ADVERTISEMENTS