The Huawei Mate 20 RS Porsche Design has taken a tentative first step on the Old Continent. Clove UK has started taking pre-orders for the luxury flagship and expects to have units in stock on November 16.
It's best not to ask about the price. Really, skip over to the next paragraph. Still here? Okay then – the 8/256GB model will cost you £1,920 (VAT included). Clove isn't offering the pricier 512GB model (yet).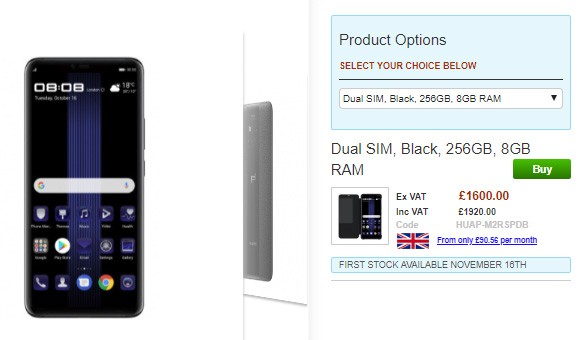 We snooped around other stores for the Mate 20 RS, but found nothing. Not that we were hoping to get a better deal.
Though a better deal will soon exist. The luxury flagship will cost €1,695 on the mainland (yes, it's less in euro than in pounds). It should be available on November 16, hopefully a few more stores will start offering it by then.
Would like 1 free. Huawei should make some gifts for customers who love their brand.
Well many. Because Mate 20 X is avaiable only in ASIA compared to this mate RS porsche design which can be bought on all markets.